Around Halloween, there's a different meaning when A-listers are asked, "Who are you wearing?"
It shouldn't be too much of a surprise that actors, pop stars, models and pro athletes get into the Halloween spirit: All of them have had to perform while wearing costumes of one kind or another to win over millions of fans. For Halloween, however, it's often a one-night-only engagement — unless they have to appear in costume at several late-October events, but you get the idea.
However, some stars are better at this than others. Maybe it's the dedication to the creative spirit year after year. Maybe it's because they execute wild ideas to perfection. Or maybe they, too, just want candy.
RELATED: Relive 10 of the most awesome Halloweens on TODAY in GIFs
Of course, the TODAY anchors know a little something about next-level Halloween costumes, but we'll limit this rundown to 15 hallowed celebrities who don't work in Studio 1A and on the TODAY Plaza. They're listed in no particular order.
1. Ellen DeGeneres
Whether she's playing Amal and George Clooney at the same time (as she did last year), or channeling her inner Nicki Minaj (as she did in 2013), Ellen DeGeneres may be the TV personality who generates the most Halloween-costume intrigue on an annual basis — other than the TODAY anchors, of course.
2. Channing Tatum
"Pretty sure I terrified all the children at our daughter's Halloween carnival today," reads the caption to this photo posted earlier this month on more than one of Tatum's social-media platforms. "[By the way], I'm pooh bear in case anyone can't tell." Oh, we got it, Channing, thanks. He earns extra candy for a 2013 #ThrowbackThursday post that shows him dressed as a "Where the Wild Things Are" character.
3. Heidi Klum
The supermodel has wowed photographers for years, and not just when she's striking poses in high-fashion magazines or the Sports Illustrated swimsuit edition, but her ornate costumes through the years may be even more memorable. The "America's Got Talent" judge's bold Halloween looks have included a fly (2014), Cleopatra (2012) and a skinless human body (2011), but her old-woman costume (2013) alone may have won her a lifetime achievement award, about 60 years in advance.
4. Lady Gaga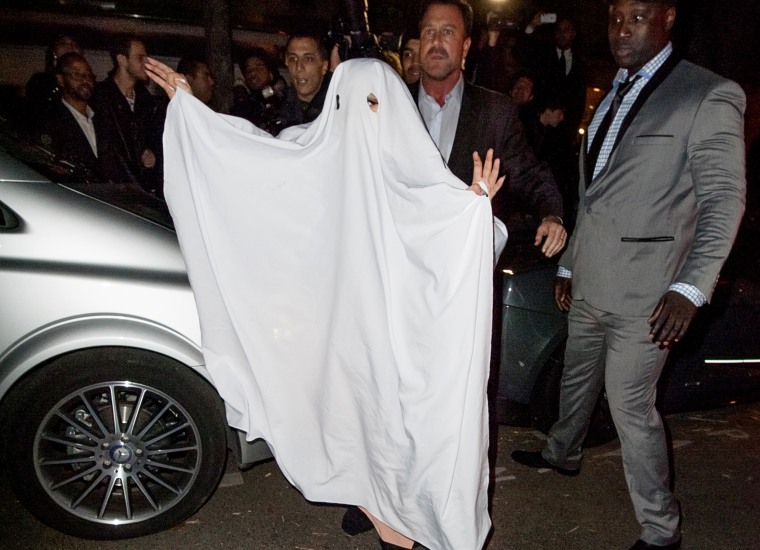 The easy thing for Lady Gaga to do would be to wear something expensive and avant-garde for a costume-congruent holiday. But in 2013, in typical Gaga style, she surprised her fans. By cutting two eye holes in a white bed sheet or tablecloth and tossing it over her head, she fashioned the same ghost costume you may have worn as a 5-year-old. Touché!
5. Katy Perry
The "Firework" singer routinely embraces intriguing costume concepts. Like that time in 2012 she was Jane Lane, a.k.a. the deadpan BFF of the titular character from MTV's "Daria." And while it wasn't for Halloween, she paid tribute to the legendary Freddie Mercury in 2008 by dressing as the Queen front man for her 24th birthday. But let's face it: She's mainly on this list because of that 2014 Cheeto costume. And not just any Cheeto, but a sad Cheeto who snuggled with a teddy bear and sang Céline Dion's "All By Myself" to her Instagram followers. Awww.
6. Jessica Alba
The actress gets points for both creativity and versatility, as she knows how to pull off a clever costume both solo (as Dora the Explorer in 2009) and with her family (as the Incredibles in 2012).
7. Beyoncé
The 20-time Grammy-winner has rocked some awesome costumes before and after giving birth to daughter Blue Ivy Carter. In 2011, a pregnant Beyoncé caused quite a buzz as queen bee, and last year, she dressed as a "Rhythm Nation"-era Janet Jackson — posing with Blue Ivy, who moon-walked into our hearts as Michael Jackson.
8 and 9. Neil Patrick Harris and David Burtka
NPH, Burtka and their kids are well on their way to being inducted into the Family Halloween Costume Concept Hall of Fame, assuming that exists. In 2013, they dressed up as four "Alice in Wonderland" characters, with the dads as Tweedledum and Tweedledee and their kids, Harper and Grace, as Alice and the White Rabbit, respectively. They may have upped the ante the following year, when they impressed as an

Happy%20Halloween%20from%20Gotham%20City!!%20pic.twitter.com/3gzmG44iEf