Thursday was the final night of "X Factor" auditions, and not a moment too soon. Two-hour tryout tracks run together to the point where it all blends into a medley of pop/hip-hop/country twee.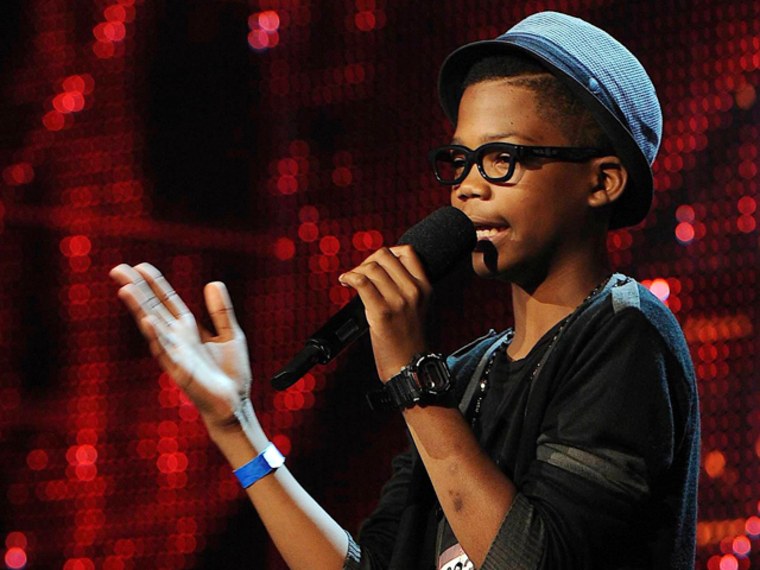 At least Newark, the first stop of the night, offered something unique. For starters, the crowd seemed quicker to break out the boos, and some of the unsuccessful acts had to feel like they were trapped in a remake of the Gong Show. But at least Simon Cowell was happy to be there.
"Ever since I watched 'Jersey Shore,' I had to go to New Jersey," Simon said.
Sadly, Snooki and the gang couldn't make it to try out. Cross-promotion fail! But it did offer the incandescent 14-year-old Brian Bradley.
Brian was precocious -- or arrogant and annoying. It depends on what you thought of him blaming his lack of a record deal on "politics, man," and picking a fight with Simon. But his original song, which featured a lot of him yelling "Stop looking at my mom!" was surprisingly good.
"You are arrogant, obnoxious, argumentative ... but you are one of the most talented young people I've heard in a long, long time," Simon said. The performance also impressed fellow judge L.A. Reid, who could have used him while at Def Jam records to create half of this generation's Kris Kross. And it ended any possibility of his mom getting a date in the foreseeable future.
Other notables: Liliana Rose Andreano became the first reality show contestant ever to audition with "You Are My Sunshine," and did so without getting laughed on the stage. She may be too quirky even for this show, but she was pleasant to listen to. Kelly Warner cuts hair in a nursing home and didn't grate on the nerves with "Hallelujah," so she advanced.
Cari Fletcher got points from Nicole Scherzinger for being beautiful, which is why Nicole is not a judge on "The Voice," and advanced unanimously despite Simon's lukewarm response.
Also, either Nicole is really annoying or she's done something to make the producers mad. When the otherwise forgettable teen duo Ausem auditioned, Nicole could seemingly not make up her mind. She finally agreed with Simon and L.A. to send them through (and Paula agreed as well), but was it really worth the airtime watching her hemming and hawing? Be decisive! Judge!
After that, San Francisco raced by like a turbocharged cable car. And speaking of cars, Tora Woloshin wants to own her own her own auto shop someday. Did the judges like that more than her version of "I Want You Back?" Who knows. But she was funky and fun and she made it to boot camp.
Simon thinks he can turn Brennin Hunt into a great artist despite the fact that he wasn't crazy about his original song, and he'll get the chance to prove it. Then Nick Dean sang his own original, and the 14-year-old was fine in a "Big Time Rush" kind of way. If you don't know what that reference is, you probably won't vote for him, but the kids watching the Disney Channel will.
But the best San Francisco had to offer was the final singer, 16-year-old Jazzlyn Little. She took the concept of the soft-sell a little too far, meekly saying she had one YouTube clip with about 500 hits, but sang a powerful "I'm Goin' Down" by Mary J. Blige.
"That's why we made this show, to find people like you and give them a platform," Simon said. And also, to make billions of dollars.
But to do that, a lot more people are going to have to start watching. Hopefully for Simon's sake, next week's boot camp episodes will be more compelling than the auditions were.
What did you think of Thursday night's acts? Share your thoughts on our Facebook page!
Related content: