Oh, 2013, in many ways we cannot wait to flip the calendar over to a new year. Sure, you brought us some wonderful entertainment — Sandra Bullock in "Gravity," the long-awaited finale of "Breaking Bad" — but you also brought us sledgehammer kisses, celebrity meltdowns and more. Here's a look at the happenings we're happy to leave behind.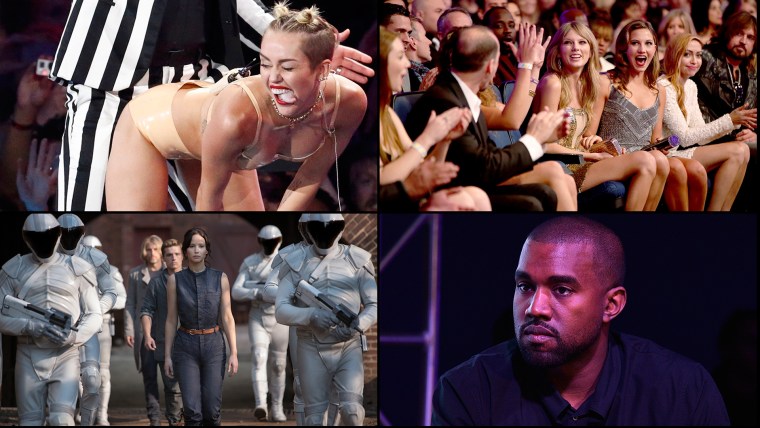 Gross-out reality shows
We don't doubt that a man has a 132-pound scrotum, or that a couple is so cheap they share dental floss, but do we really need to build TV shows around them? Topics that once lived only in the Weekly World News tabloid now get national broadcast attention, and this is a trend we'd like to see canceled. —Gael Fashingbauer Cooper

Monitoring weight loss of new celebrity moms
Pregnancy and giving birth is tough, and while celebrity money allows them to make it easier in many ways (nannies, palatial nurseries, private hospital suites), we don't envy star moms whose every pound lost or gained is chronicled on magazine covers for all to see. Sure, looks are their life, but bodies that just created new humans deserve a break. —G.F.C.
'Teen Mom' spin-offs
MTV's docuseries now boasts three versions of "Teen Mom," as well as specials "Being Maci" and "Amber Behind Bars." Enough is enough: The franchise is no longer about the difficulties about being a young, unwed mother — it's all about the drama. —Anna Chan

Twerking
Although the provocative moves have been around for decades, twerking didn't reach full pop-culture oversaturation (or enter your parents' vocabulary) until 2013, when Miley Cyrus co-opted the hip-hop staple and turned it into her signature routine. Since then, Cyrus and a long line of post-VMA imitators have twerked the shark. It's time to drop it like it's hot. —Ree Hines

Celebrity selfies
Ah, selfies — the perfectly posed self-portrait taken at just the right angle, in just the right light, doing just the most casually cool thing to make us look amazing. But the selfie isn't simply the domain of teens, tweens and attention seekers of all ages anymore — stars have gotten in on the act too, spending their off-camera time in front of their phone's camera with look-at-me glee. Enough already! —R.H.

Battlin' Alec Baldwin
Alec Baldwin spent the year fighting: he took on reporters, the paparazzi, American Airlines, Twitter, and a stalker in court. Along the way, he made several troubling, offensive remarks and ultimately lost his new MSNBC talk show. May 2014 be the year Baldwin stops yelling and goes back to showing us why he's an Emmy-winning and Oscar-nominated actor. —Maria Elena Fernandez

24-7 Kanye
Kanye West is one of the biggest names in music, but his love-hate relationship with fame is enough to induce whiplash. He hates being mocked by Jimmy Kimmel, but pulls out all the stops for his proposal to Kim Kardashian (with whom he made a crazy-cheesy music video for "Bound 2"). Time to stop taunting the media beast, Kanye, and take a well-deserved rest out of the spotlight. How can we miss you if you never go away? —Randee Dawn

The hip-hop star is no stranger to hit records, fashion statements and controversy.
Going online, then complaining about TV spoilers
It's true, not everyone has time to watch all the TV shows they enjoy as they air. But the angry online rants as others discuss the latest developments? Spoiler alert: They're lame! Don't expect the rest of the world to protect you from spoilers — especially if you're still on season two of "Breaking Bad." —A.C.

Stretching out beloved book series
Saying farewell to beloved characters is wrenching, but movie directors are making us wish we could wave a wand to speed things along. "Harry Potter" and "Twilight" started the phenom of splitting one book into multiple films; "Hunger Games" finale "Mockingjay" gets the treatment next. But worse is taking a novel ("The Hobbit") and bloating it into three long (if beautiful to watch) individual films. Yes, we know studios want to wring every last dollar out of fans. But must they be so obvious while doing it? —R.D.

'Glee'
With "Glee's" final season coming to a close, we can expect a spring full of nostalgia for a show that really only had a short run as a standout, then survived as a vehicle for guest stars and drawn-out plots. Our wish for 2014: that the inevitable farewell coverage is kept to a minimum. After all, we have spin-offs to look forward to. —Courtney Hazlett

Foam fingers, crotch-grabbing, and other stunts
You know what really makes people a fan of a singer? Singing. How 'bout we keep more to that, skipping the crotch-grabbing and barely PG foam-finger pointing that has all been done before? —C.H.

But with the above in mind...
We don't seriously have to gasp all through 2014 every time Miley Cyrus bends at the waist, do we? Her outfits are tiny and her tongue won't stay in her mouth, but playing into Miley's every twerk makes it seem like we learned nothing over time from the once-shocking days of Elvis or Madonna. —Kurt Schlosser

The "Hannah Montana" star is a money-making sensation in music, TV and film.
Taylor Swift at awards shows
The "imma-let-you-finish" diss heard 'round the world is something we're still paying for when it comes to awards shows. Thanks, Kanye. No matter if the country star is a nominee or just a random guest, clapping-dancing-singing-giggling Taylor Swift seems to be the only attendee worth showing on camera. Here's an Oscar for the show producer who finds a fresh angle in 2014. —K.S.

Country music's young superstar is making a splash from Nashville to Hollywood.