We can hardly contain ourselves in the office when an amazing animal story comes to our attention. 2012 was full of stories that not only made us smile, laugh, and sometimes tear up a little, but that clearly touched you strongly enough for you to pause and click that little 'like' button on our Facebook page.
See what made you and your fellow Facebookers express yourselves with our 12 most-liked animal stories below.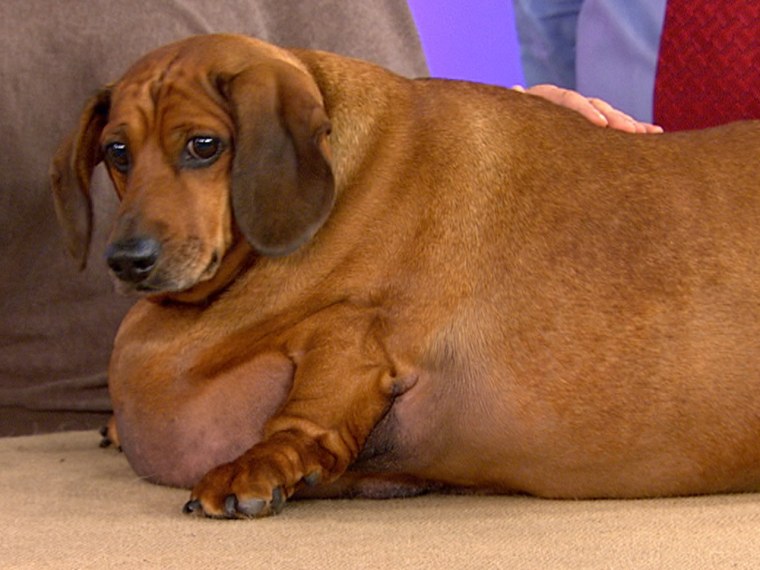 12. Obie the obese dog works toward weight loss
With 12,403 likes on our Facebook page, Obie's struggle with losing weight captured the hearts of TODAY viewers. He weighed twice the average for a dachshund at 77 pounds. We've been keeping up with Obie's struggle, which included a custody battle in October, and wish the best for this overweight pooch!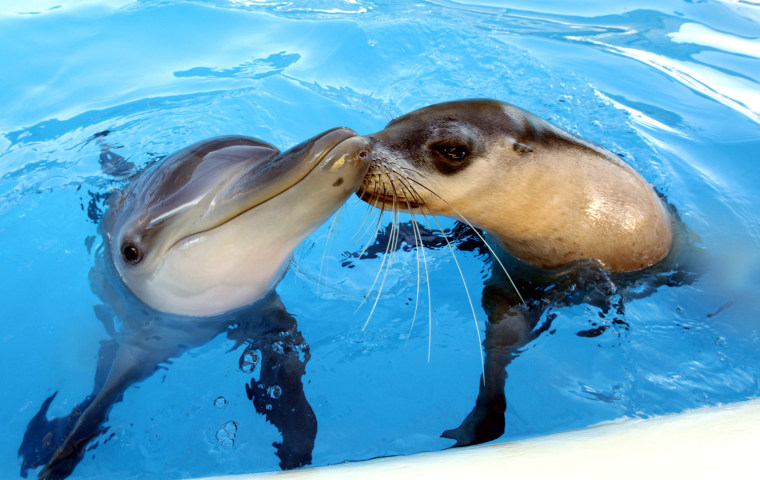 11. Dolphin and seal are underwater BFFs
When we see two different animal species become unlikely best buds, we just can't resist sharing their story with you! Jet the dolphin and Miri the seal have been inseparable since they were only two months old. While their friendship may be unlikely, especially since in the wild they would be competing for fish, it was not surprising that this post received 13,130 likes on our Facebook page.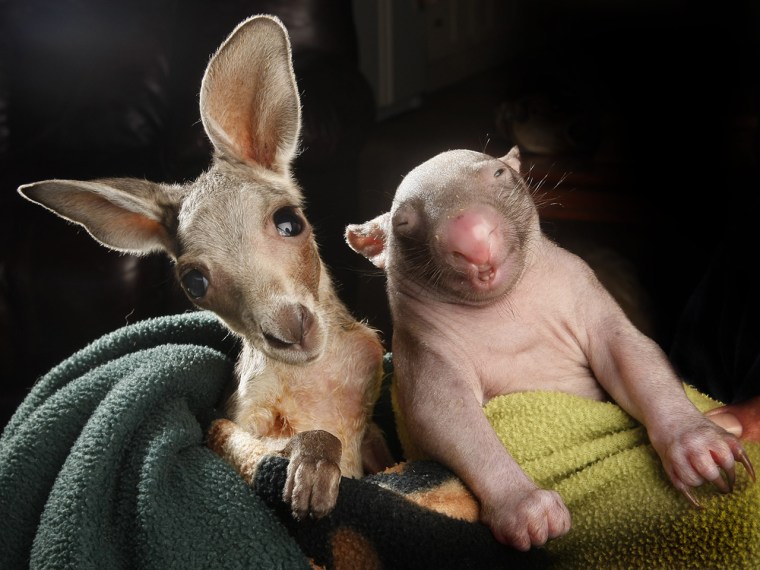 10. Cuddle buddies! Orphaned kangaroo and wombat become best friends
Another unlikely animal friendship that captured our hearts and yours in 2012 was that of Anzac, an orphaned 5-month-old kangaroo, and Peggy, an orphaned 5-month-old baby wombat. These two both lost their mothers but ended up forming a bond with each other. 14,445 people liked this story on our Facebook page.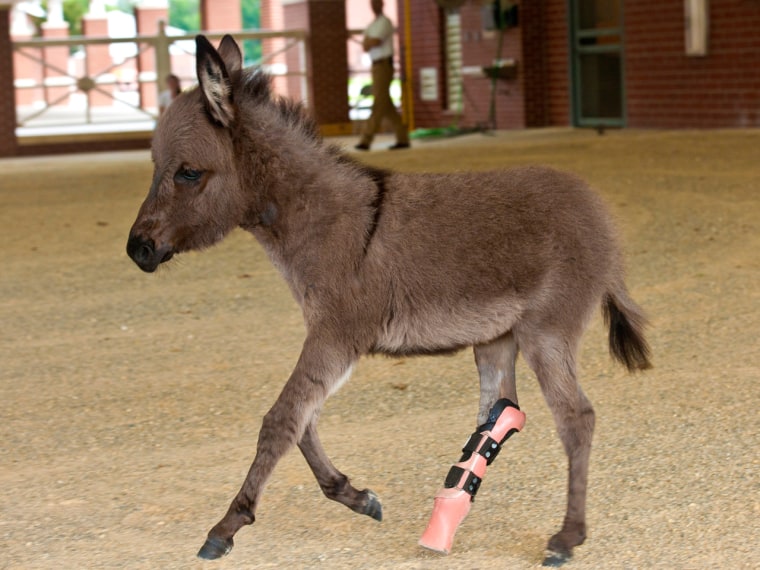 9. Meet Emma, the tiny donkey with a pink prosthetic leg
It's clear this inspiring recovery story was irresistible, getting 14,734 likes on our Facebook page. This miniature donkey foal was born with a deformed leg and was finally able to walk after a custom-fit pink prosthetic was made just for her. I dare you to look at the above photo and not smile!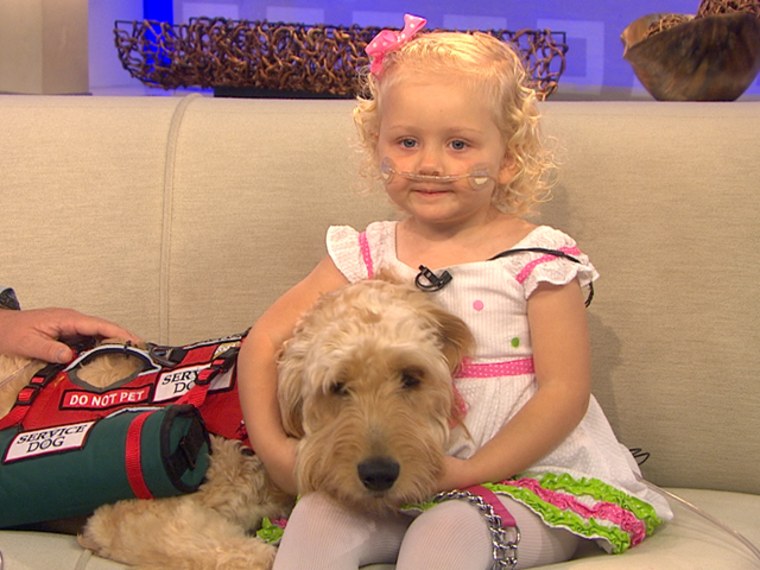 8. Girl's best friend is a dog who carries her oxygen
This touching story illustrates how much a dog really can be a kid's best friend. Suffering from a rare lung disease, 3-year-old Alida is able to live more of a normal life thanks to her service dog Mr. Gibbs. Her amazing story garnered 15,264 likes on our Facebook page.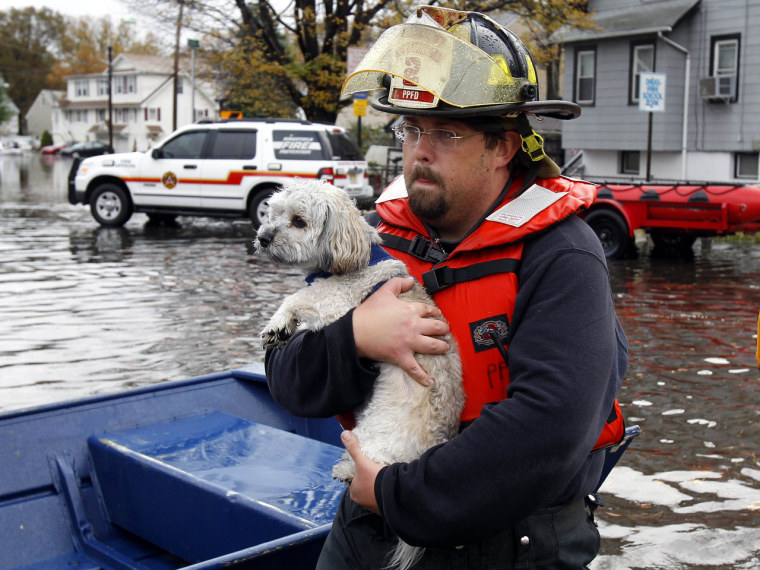 7. Rush is on to rescue animals stranded in Sandy's wake
Everyone pulled together to help people and animals alike in the wake of Hurricane Sandy. This touching story of rescue workers helping animals stranded by Sandy, with resources on how you can help, received 16,580 likes on Facebook.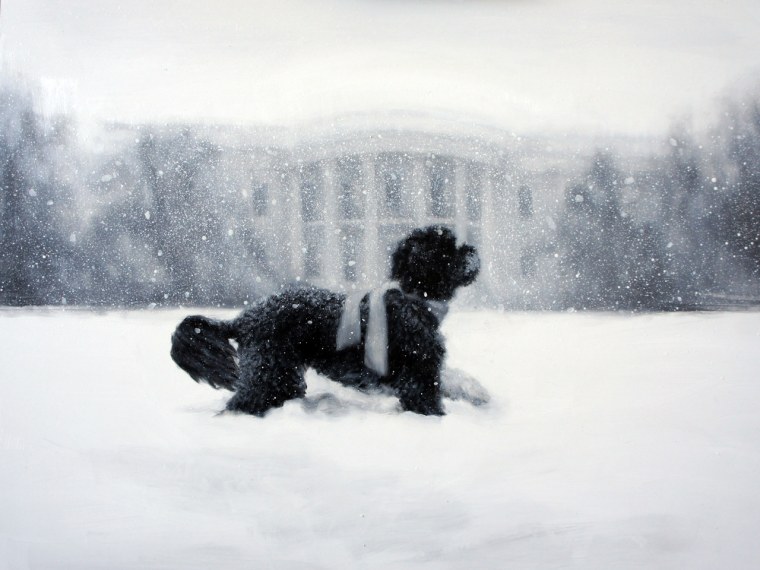 6. The 2012 White House holiday card stars Bo!
Who can resist the adorable first dog? This beautiful wintry image of Bo earned 18,322 likes on Facebook.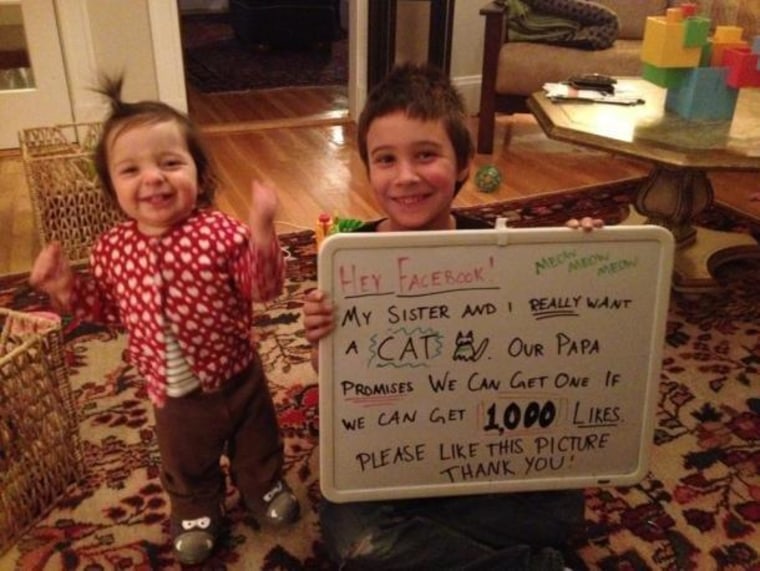 5. Facebook campaign gets kids 100,000 'Likes,' 1 cat
Our story about two adorable kids adopting a shelter cat thanks to their social media-savvy mom and more than 100,000 Facebook users received 21,061 likes on our Facebook page. From the happy looks on their faces in the photo above, we can only image what they looked like when they reached their goal!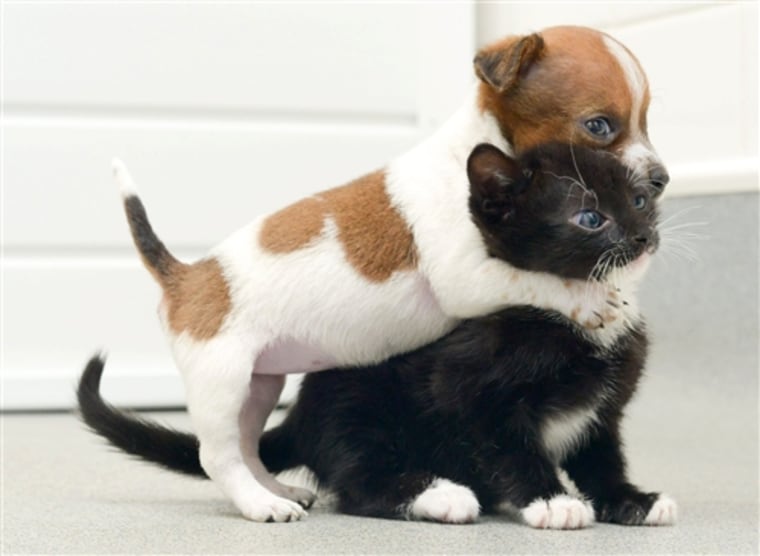 4. 8 photos of a puppy and kitten who think they're sisters
There really isn't anything more we can say about this cute story that got 23,981 likes on our Facebook page other than: Awww!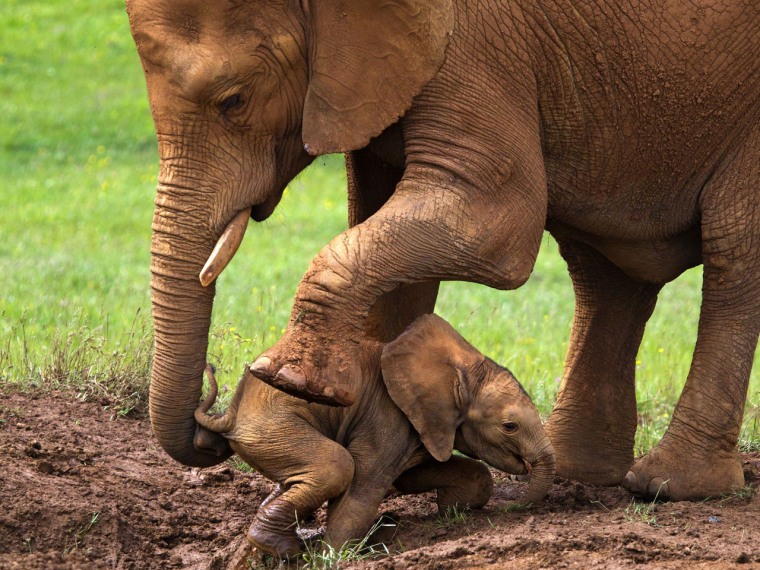 3. A mother's determination: Elephant rescues baby trapped in mud
No matter what the species, this story showed that a mom will do anything for her child. On our Facebook page this heartwarming story received 29,556 likes.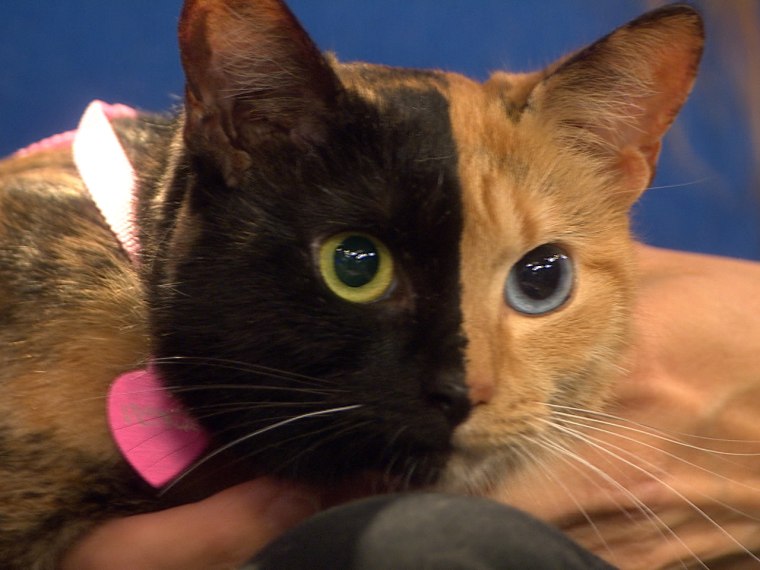 2. Two-faced kitty is drawing double takes across Web
Don't worry, Photoshop had nothing to do with this cat's striking features! Venus, a cat with two different color eyes and fur that is divided right down the middle between black and ginger, became a viral sensation on Reddit, Facebook and in a YouTube video with more than 600,000 views. This story received 38,773 likes on our Facebook page.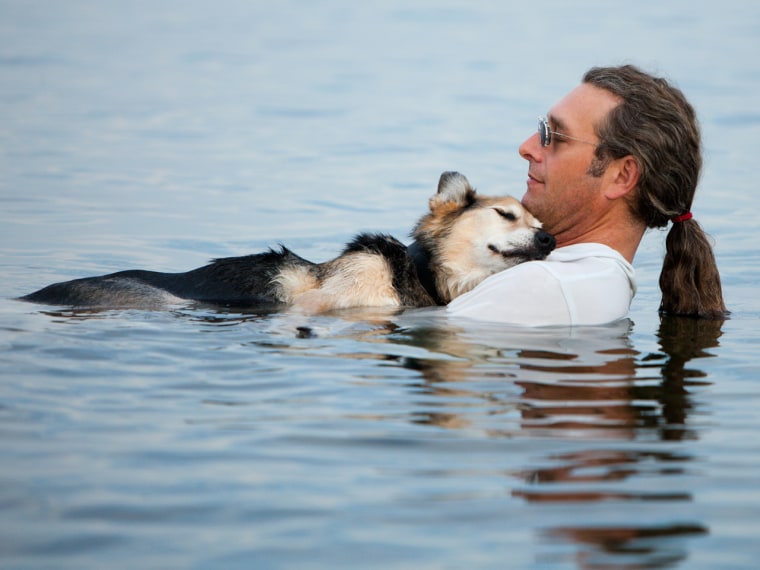 1. In loving arms: Man floats his sick dog to sleep, becomes Internet sensation
How can I put into words how this story of unconditional love touched us all? For 19 years John Unger's loyal companion was his dog Schoep and when he learned his dog had severe arthritis and might have had to be put down he was devastated — and also determined to help alleviate his friend's pain. He brought Schoep to a lake, where he hoped his dog could feel weightless and relaxed.
A photo of his caring act was uploaded on Facebook and soon went viral. The story received 51,909 likes on our Facebook page, and the reaction was felt by Unger himself. Strangers began reaching out to help and when we last caught up with Unger the resulting treatments had helped Schoep immensely.
What TODAY animal story of 2012 did you like most? Tell us which one of the stories above you liked most or if you enjoyed a different one more in the comments below!
TODAY.com producer Lisa Granshaw just can't get enough of these inspiring, adorable animal stories. She is excited to see what animal stories 2013 will hold!
More from TODAY Pets:
Dog lost in the snow for two weeks is found after search goes viral
Owner of viral sensation IKEA monkey wants him back
Video: Boy, beaver wave to each other at zoo
Your 11 top animal stories of 2011