A black Labrador retriever named Blue has saved Byung "BK" Kang's life so many times, he's lost count.
The two served on more than 300 combat missions while serving together in the United States Marine Corps on a deployment to Afghanistan from 2011-2012. Blue, a military dog trained to detect bombs called improvised explosive devices, was so good at her job that she found one on their very first mission.
"That IED could have taken a couple of our guys out," Kang, 31, told TODAY. "So from there, Blue started getting trust and the respect of my platoon."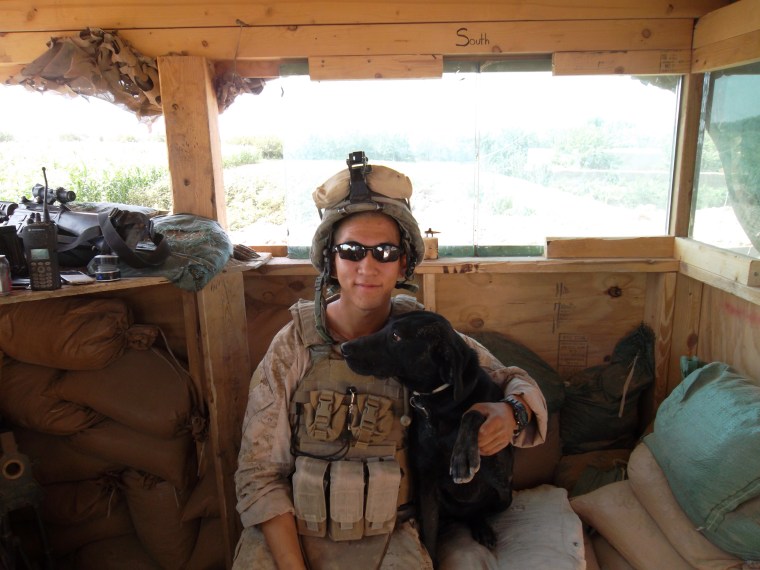 As Blue's handler, Kang could read the dog's body language to know when she wanted to investigate a possible IED. He'd allow her to run ahead of the group — anywhere from four to 60 Marines and enlisted medical specialists, Navy corpsmen. When she'd lie down as a final indication that she'd detected an explosive, he'd call her back for her reward: playing with a toy.
Sometimes, there was time for emergency ordnance disposal technicians to confirm the existence of the IED and work to dismantle it. Other times, they'd take a step back for a security halt and get ambushed, needing to find a different path.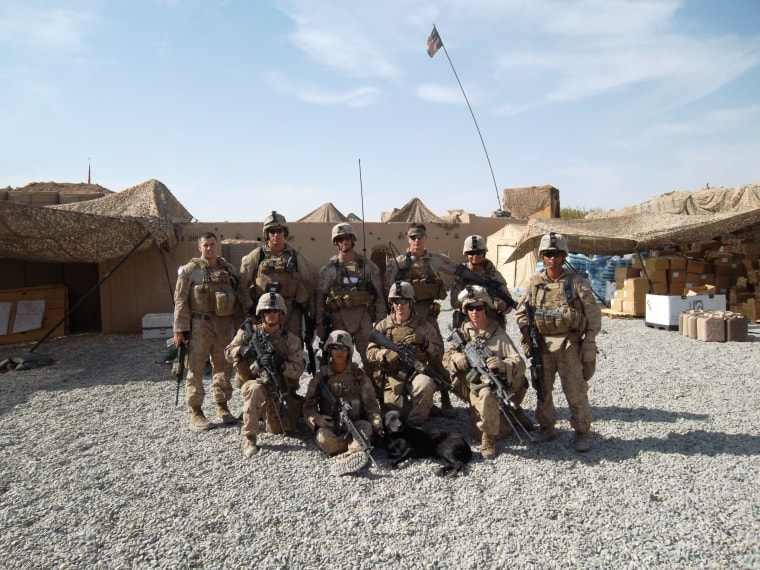 "Since we knew Blue is effective, it was almost impossible for a squad or a platoon to go out without Blue," he said. "Sometimes we went on three patrols per day and by the time we'd get back we're all exhausted because we've been walking miles and miles in over a hundred degrees of heat in Afghanistan. So we did our best. Every chance, we tried to go out to possibly save the Marines and sailors."
Overwhelmed with gratitude to Blue for repeatedly saving his life and the lives of his fellow soldiers, one night in Afghanistan, Kang made a promise to the dog.
"I told her, 'What you've done for me and my guys over here in Afghanistan, we cannot pay back. So I'm going to give you a good home where you can cuddle all day, not worrying about going to war and finding bombs.'"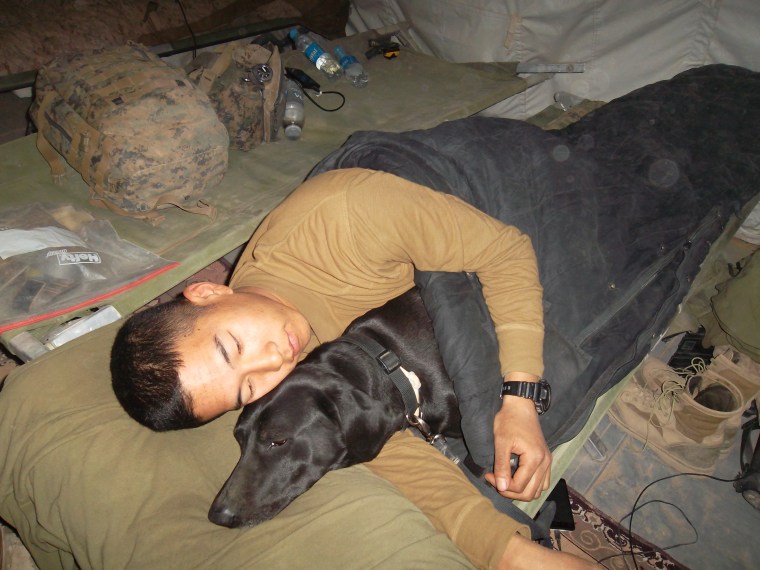 After their tour ended, Blue was reassigned. Kang lost track of her, but he never forgot his promise. In fact, one of his first conversations with his future wife, Wendy, was about his plan to adopt Blue once she retired from service.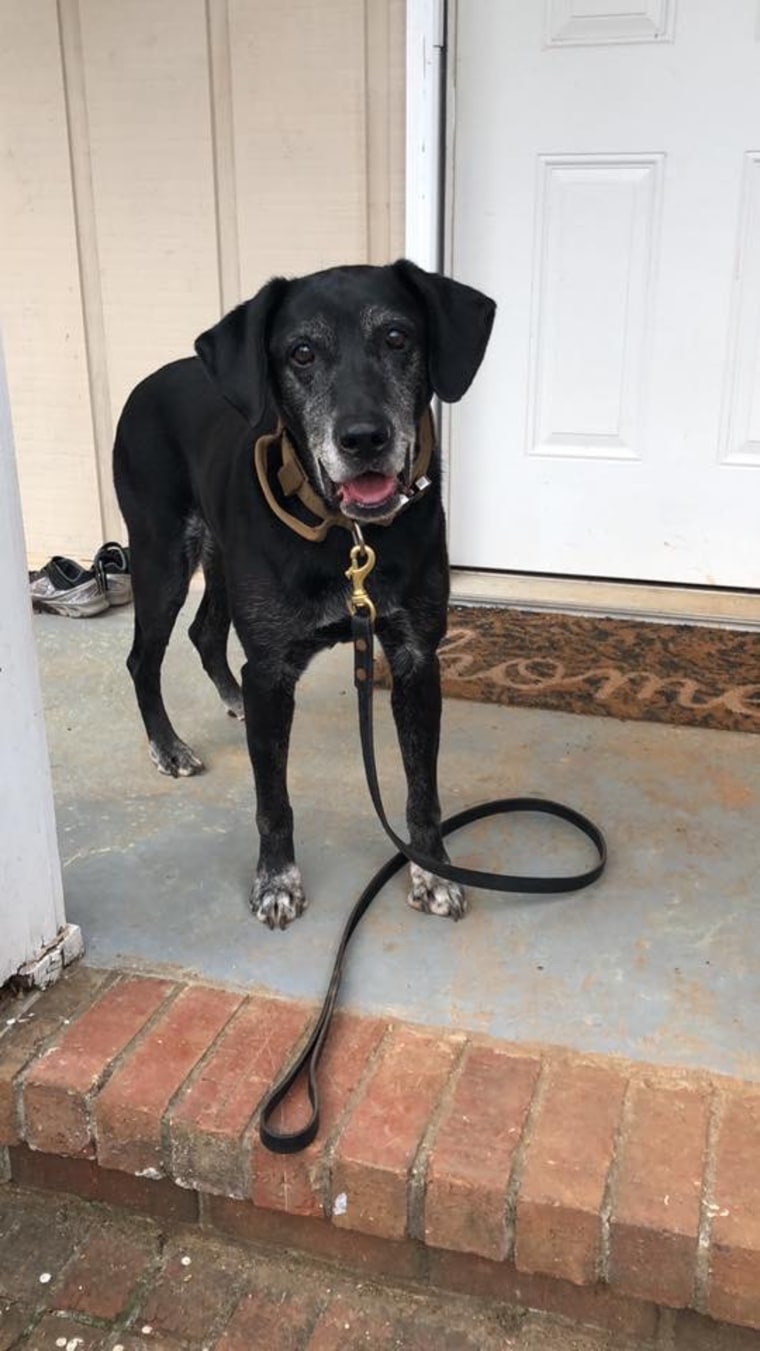 Wendy Kang, herself a Marine veteran, used her connections with other female Marines to help track down Blue and to facilitate her adoption when she was finally retired. They welcomed her home in November 2018.
"I did everything in my power to make sure that we could get Blue home," Wendy Kang told TODAY. "After all the stories I've heard, I know for sure Blue is one of the reasons why BK is standing here with me and he's alive."
Now Blue, 11, enjoys retirement in Georgia with the Kang family, which includes two sons, five dogs and two cats. Her favorite pastime is cuddling.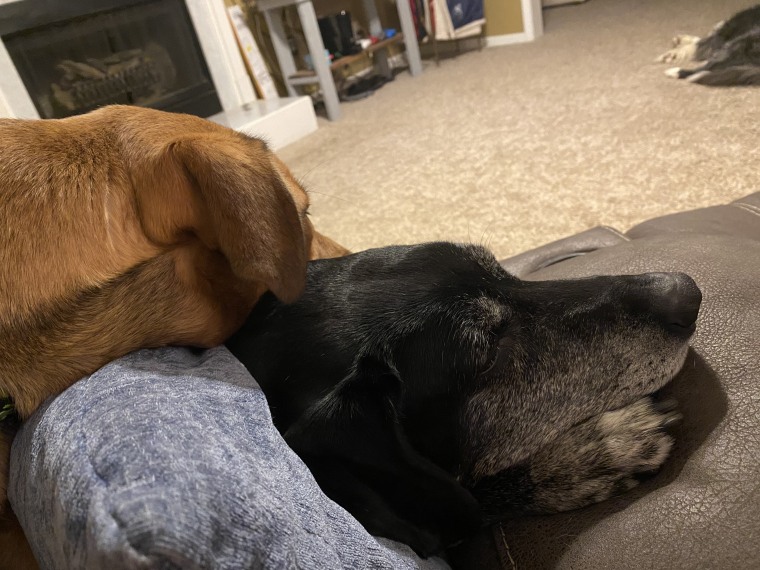 Earlier this year, Blue had a cancer scare. Fortunately, the mass in her mouth turned out to be benign, but the experience motivated the Kangs to submit an application to the 2020 American Humane Hero Dog Awards. Blue is now a semifinalist in the military dogs category of the competition.
"Military dogs work side-by-side with our warriors, facing the same trials and dangers in order to keep our nation safe," said Dr. Robin Ganzert, president and CEO of American Humane, in an email to TODAY. "Their valor and sacrifices deserve to be better recognized. I urge everyone to read their remarkable stories, and all of the other stories about the best of our best friends at www.HeroDogAwards.org."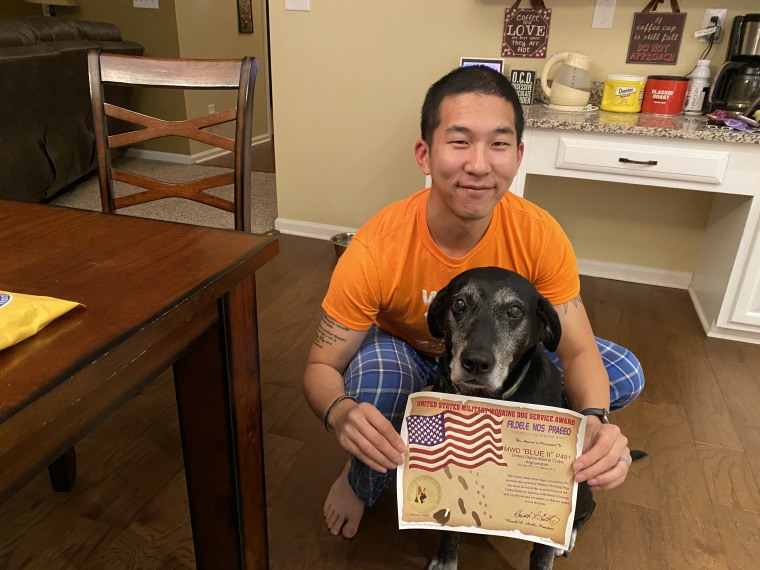 Byung Kang said he's grateful not just for Blue but for all military dogs.
"These working dogs, they will give up their life for us," he said. "So we should be thankful to them and respect them and above all, trust the dog because dogs will not lie."