OK, for the sake of full disclosure: My two giant dogs and my giant cat are pretty darn spoiled. They are allowed on any and all furniture — (and their favorite furniture happens to be me). They also keep me on a tight leash when it comes to the precise timing of their feedings, play outbursts and other whims.
But even I had to gasp a little when I read about stern-looking Karl Lagerfeld's besotted relationship with his white Siamese kitten, Choupette, (pictured above, from Twitter). In an interview with Women's Wear Daily, the Paris-based fashion designer gushed about the fluffball who regularly joins him for meals on the table, knows how to use an iPad and has her own personal maids who double as her diarists. See for yourself: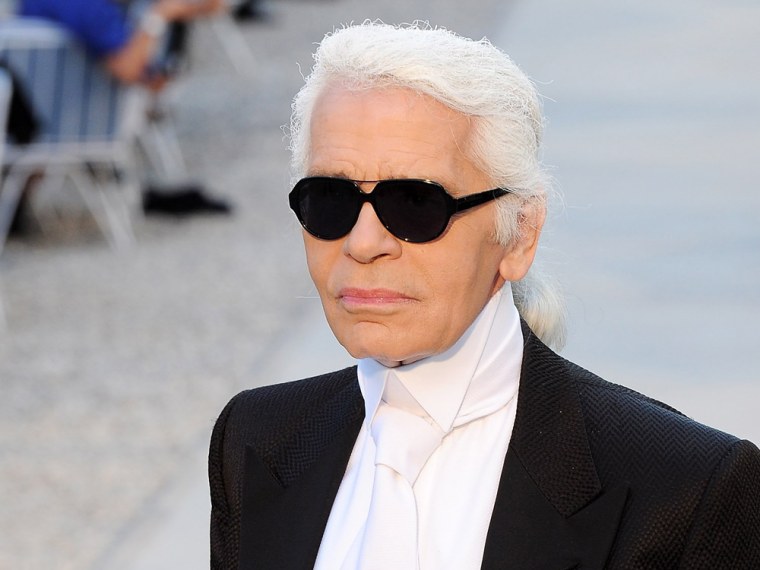 "She is a famous beauty," Lagerfeld said of Choupette. "She is nine months old. [Model] Baptiste [Giaconi] gave her to me for Christmas to watch for two weeks when he was away but then I refused to give her back. I thought she was too cute. She is like a kept woman. She has a strong personality. She has lunch and dinner with me on the table, with her own food. She doesn't touch my food. She doesn't want to eat on the floor. She sleeps under a pillow and she even knows how to use an iPad. She has two personal maids, for both night and day. She is beyond spoiled. ...
"We do keep a diary. When I am not there, the maids take down, in little books, everything she did, from what she ate, to how she behaved, if she was tired, and if she wasn't sleeping. In the nine months, we already have almost 600 pages. ... I think it could be funny to make a little book of Choupette's diary."
WOW. (Hey, umm, maids? We should talk! How did you score that gig???)
For those of you wondering what's in Choupette's diary, the feline is sharing her thoughts on Twitter. While we don't know who exactly is behind the feed, we do know that there are a few priceless quotes. "Don't be confused, Daddy gushes more over me than he does Kate Middleton," @ChoupettesDiary tweeted on Friday. "There's only room for ONE princess in the Lagerfeld chateau."
Even though Lagerfeld is so smitten with Choupette, alas: Lagerfeld-designed styles for felines apparently are not inevitable.
"I don't like animals in human clothes," Lagerfeld told WWD. "I think that's very circus-like."
All right, now it's your turn! Do the four-leggeds in your life enjoy their own fair share of decadence? How do you spoil your furry family members? You can totally tell us!! No judgments here, we promise!! Please share your comments and fun stories here in the comments section.
TODAY.com writer Laura T. Coffey also lets her cat Diego sleep on her head. Here's where to find Laura on Facebook and Twitter.
More: