Ric Browde arrived in Puerto Rico on Friday with a couple thousand pounds of water, diapers, food and other supplies packed into his rented cargo plane. He left with a plane full of dogs and cats, bound for New Jersey. This was the first step in their journey to new lives on the U.S. mainland.
Browde is president and CEO of Wings of Rescue, a nonprofit that deploys volunteer pilots to evacuate animals from places where their lives are at risk. He's been flying basically nonstop since the end of August, when Hurricane Harvey hit Texas — and expects Friday's mission is just the beginning of the animal airlifts out of this devastated island.
"We just want to do what's best," Browde told TODAY. "Make sure that we are doing the right thing."
Many of these animals had been part of The Sato Project, a Puerto Rican animal rescue group, before Hurricane Maria devastated the island about a week and a half ago.
The Sato Project is a charity dedicated to rescuing Puerto Rico's stray, abandoned and mistreated dogs — getting them medical care, and then finding them homes, often with families in the States. Much of that effort has been focused on a place known grimly as Dead Dog Beach.
Chrissy Beckles, The Sato Project's founder and president, was in New York on the day that Hurricane Maria tore through Puerto Rico. She returned to the island a few days later to find the group's headquarters — like so many of the island's buildings — had been completely destroyed, along with food, leashes and other supplies.
"The organization has essentially lost everything in this storm," Beckles said in an email.
Going to Dead Dog Beach, Beckles got more bad news. Thanks to a spay/neuter initiative and other efforts, there were only three dogs still known to be living there just before the storm. But there was no sign of those three, and "we are coming to terms with the fact that they did not survive," she said.
There's been plenty more animals needing The Sato Project's help in the 1 1/2 weeks since — Beckles has taken in a heavily pregnant dog and a badly injured puppy — and she knows there will be so many others, given how many stray dogs are thought to be on the island.
Being able to send so many of the group's animals to safety on an airplane is literally a lifesaver.
"It is a source of unbelievable relief for our tiny team to be able to evacuate our dogs off the island," said Beckles.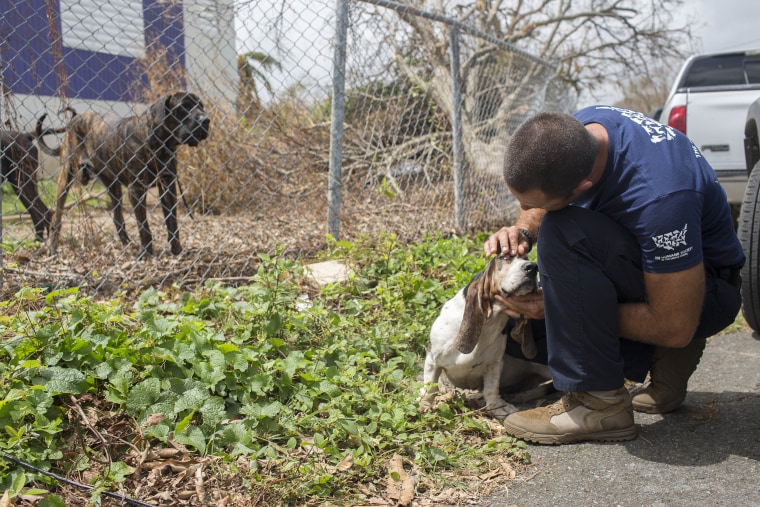 These rescue flights are thanks to a partnership between a number of nonprofits, including the Humane Society of the United States — which is sponsoring the flights, and working with shelters to evacuate animals (not lost pets; these are cats and dogs that were in the island's shelters and rescues before Maria hit.)
HSUS also has staff on the ground including, among other places, on the island of Vieques. Located 8 miles from Puerto Rico's main island, Vieques is known for its solitude and wild horses; now it's described by The New York Times as "ravaged."
"We're there to stay until things get better," said HSUS shelter outreach and policy engagement director Kim Alboum.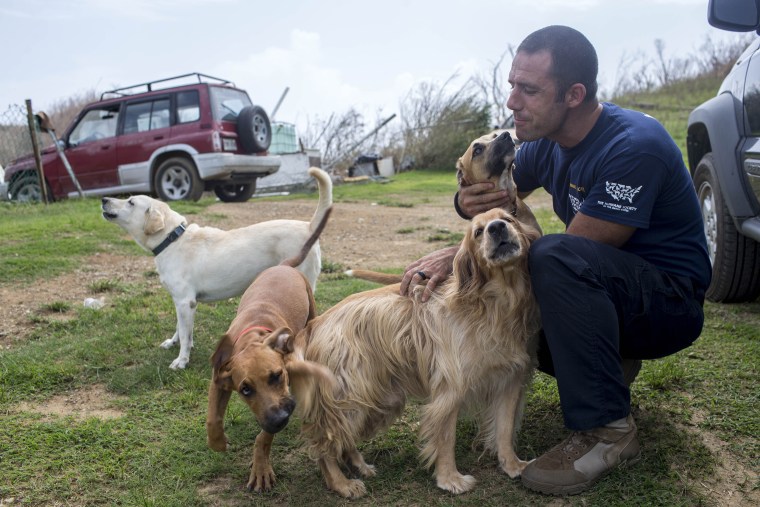 Those first 91 cats and dogs were delivered to St. Hubert's Animal Welfare Center in Madison, New Jersey, in the wee hours of Saturday. The next day, another flight brought in about 40 more, spokesperson Debra Miller told TODAY.
Anywhere from 600-1,000 Puerto Rican animals are expected to be coming to St. Hubert's in the near future. They will get medical examinations, and then be dispatched to partner shelters and rescues to go up for adoption.
The Sato Project's Beckles says seeing Browde's airplane take off with her animals on board was "one of the greatest moments of my life."
"That was my feeling," she said, "to see those dogs flying to safety."
It certainly won't be the last such moment. Browde plans to fly over many more planes filled with supplies to Puerto Rico, and returning with cats and dogs relying on this opportunity for a second chance.
"Because if I don't do it, who is going to?" Browde said. "We're going to keep coming until there's no need to come."