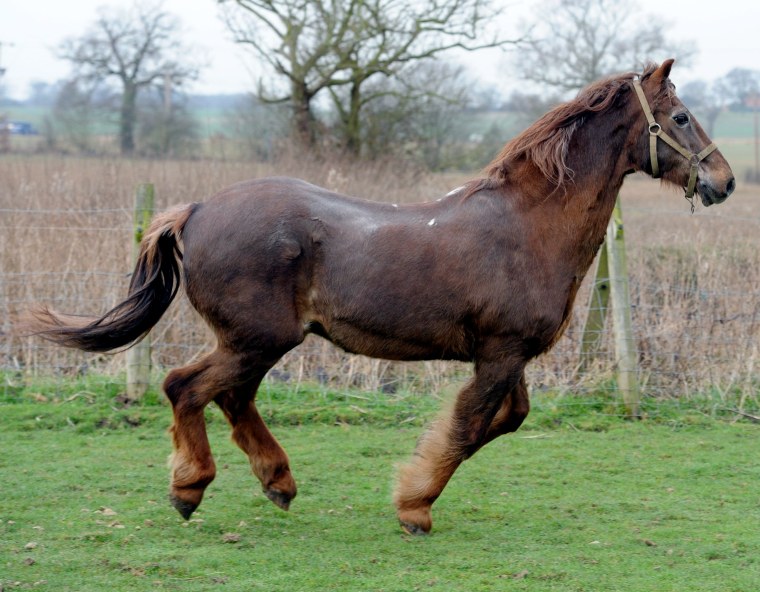 Horses can live to their 30s, and even 40s, but it's a real shocker when one makes it past 50. Shayne, a thoroughbred in the United Kingdom, has reached his 51st birthday and is still going strong, his owners said.
The horse is believed to be the oldest in the world, although his owners, the Remus Memorial Horse Sanctuary, haven't applied for recognition of the title and do not have a birth certificate.
While his mane is laced with grey, the elderly steed can still keep up with the other horses at the stable.
"Shayne is a really good boy. He is still very active, sometimes we forget how old he is. I guess his secret to a long life is taking it easy in his old age and enjoying his retirement," Essex, U.K., sanctuary founder Sue Burton told The Sun newspaper. The facility took in the horse 5 years ago after his previous owner's other horse died. Shayne, who has a touch of arthritis like any senior, spends five to six hours a day out in the fields. He is fed a high calorie diet of fiber, alfalfa nuts, sugar beet and chaff and eats four to six times a day.
Although Shayne may be the oldest horse at the sanctuary, he is by no means the only elderly resident. Remus has several other horses in their 30s and 40s and they are treated to a spa-like existence that would make any human jealous.
"We do a lot of holistic work with them including reiki, shiatsu, Bach flower remedies, natural selection herbs, and aromatherapy, and try to enrich their environment as much as possible to make their lives more interesting," Burton told TODAY.com. "We like to think the secret of our success is in allowing the animals to relax and to ask nothing of them."
More:
Woman battles for 3 hours to save her stuck horse from rising tide
Genuine horsepower: Man buys mare at car auction
World's oldest dog dies in Japan  
Rachel Elbaum is a London-based writer and riding enthusiast.