When Lilly Grasso recently brought home a letter from her Naples, Fla., middle school, her mother, Kristen Grasso, became angry. The letter claimed that Lilly's body mass index, or BMI, was 22 and she was at risk for being overweight. The 11-year-old star volleyball player carries 124 pounds on an athletic 5-foot-3 frame and eats healthy foods.
"It says 'at risk,' and then it tells you to go to their website, and when you do that, the 'at risk' then turns to 'Lilly is overweight,'" Grasso said on TODAY.
She believes her daughter is a healthy weight and that the Florida Department of Public Health in Collier County made a mistake by sending what's known by some as a "fat letter" home with her daughter. She thinks that children might feel bad by being labeled as overweight or fat, even if they are healthy.
But Deb Millsap, public information officer of the Collier County Health Department, and Dr. Joan Colfer, the department director, told TODAY that while the letters are sent home with the students, they are in sealed envelopes addressed to the parents. Students can open the letters, but that means they are reading their parents' mail.
The letter included BMI — which uses height and weight to determine if someone is within a healthy range — and information on students' vision and hearing and whether they are at risk for scoliosis. The data come from a regular screening process that occurs when students in are kindergarten, first, third, and sixth grades. Florida is one of 21 states that have laws requiring BMI screenings. Millsap said the health department is currently in the middle of screenings for this school year, but last year the department tested 13,454 children. About 25 percent had possible vision issues, less than 1 percent had possible hearing problems, 2 percent had scoliosis, and 43 percent had BMI issues, either above or below normal numbers. Parents can opt out of the screening for their children, but Millsap and Colfer said not many parents do.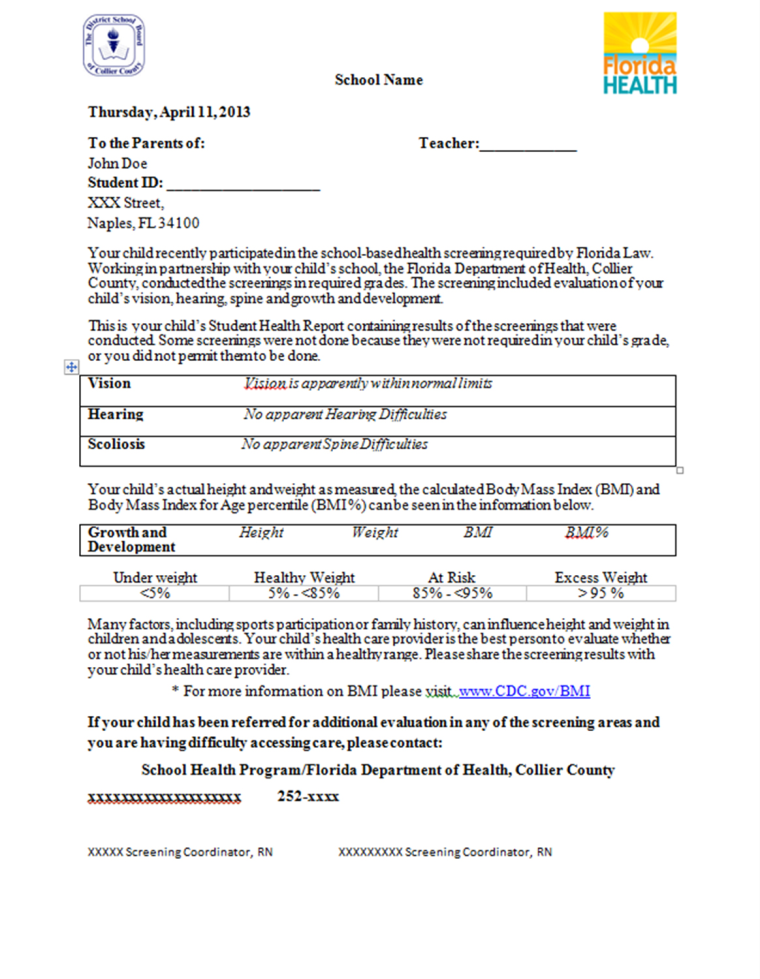 "We do not want kids to have self-esteem issues," said Millsap. "Right on [the] letter it says sports may impact the results."

Athletic children and adults might have a higher BMI because they have more muscle mass. BMI provides a rubric for doctors to work with, but does not provide an entire picture of a person's health.  
"Because of the obesity crisis, we have to have some tool. The CDC will say [BMI] is not perfect," Colfer told TODAY. "These are simply screen tests, it is not a diagnosis."
Dr. Michael Flaherty, a clinical associate in pediatrics at Tufts University School of Medicine, published a report in the journal Pediatrics "'Fat Letters' in Public Schools: Public Health Versus Pride," that looked at screening letters. He said there is little evidence they cause eating disorders or unhealthy eating habits — or an increase in peer bullying.
But, he said, "There remains to be any studies demonstrating BMI screening's effectiveness in leading to increased referral to weight management treatment programs or declines in chronic disease."
In an email to TODAY, Flaherty also noted that "fat letter" is inappropriate because these letters apply to all students regardless of weight. "Much of the criticism has centered not only around the letters themselves, but the concept that [BMI] is so erroneous that the childhood obesity epidemic has been overstated."