/ Source: TODAY Contributor
Christy and Frankie Sanchez were heartbroken. The couple had made the eight-hour drive with family from their home in El Paso, Texas, to see their oldest son, Frankie Jr., graduate from Air Force basic training on May 25th in San Antonio. They hadn't seen their son in more than seven weeks — and now, they were going to miss his ceremony.
Frankie, 55, suffers from Amyotrophic Lateral Sclerosis, more commonly known as ALS, a progressive disorder that affects the function of nerves and muscles and has an average survival time of three years from diagnosis. The night before his son's ceremony, Frankie went to the emergency room when the breathing machine he is dependent upon abruptly stopped working.
His doctors told the Sanchezes that Frankie would die if he left the hospital without a new machine. "It was the middle of the night and there was no one available to deliver a new machine," Christy told TODAY Parents. "We were going to miss the ceremony. We were completely devastated."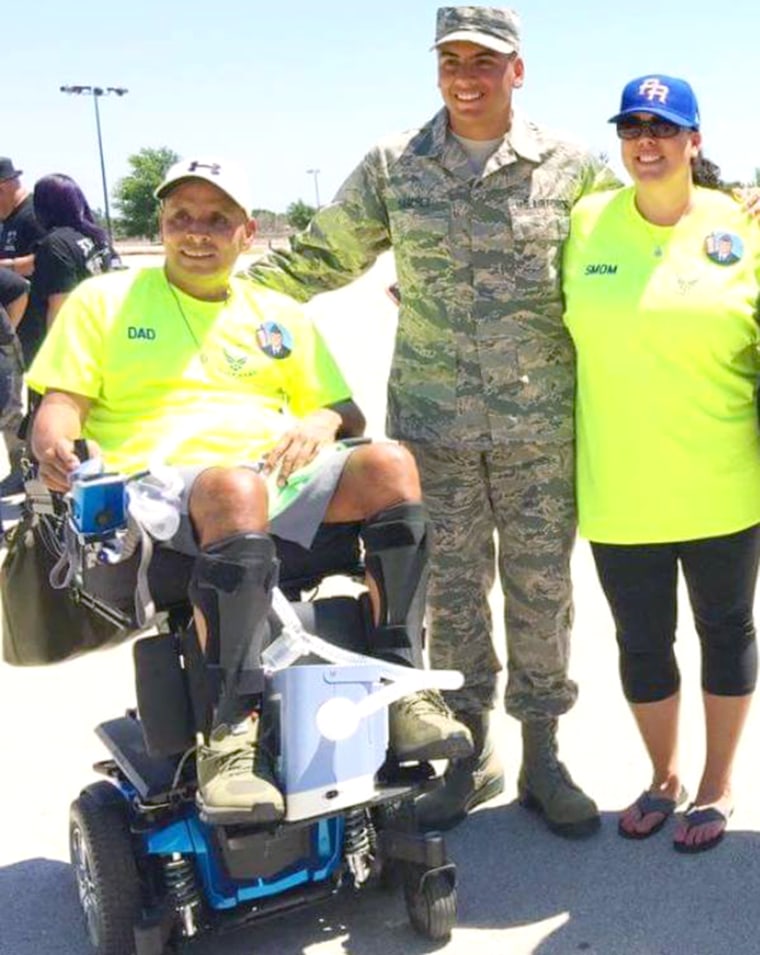 But the next morning, a respiratory therapist walked into Frankie's room with a new machine just in the nick of time. "We hadn't slept, we hadn't eaten, we hadn't showered or changed clothes," said Christy. "We checked out of the hospital at 9:46 a.m. and raced over to the base and got to our seats with about 10 minutes to spare."
Though Frankie Jr., 19, had plenty of support in the audience from both friends and family, Christy knew that the person he really wanted to be there was his dad. "Having us there was most important, given my husband's condition," she said.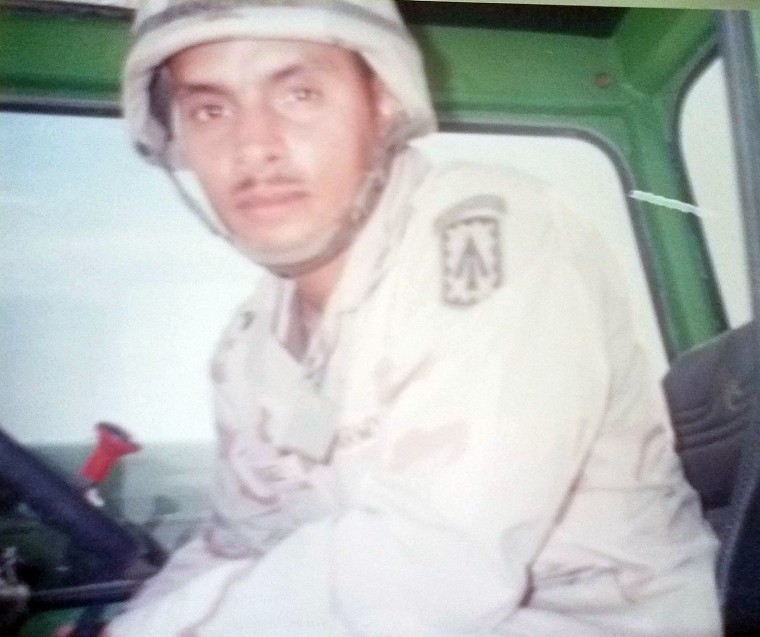 Once they reached the ceremony, Frankie had another goal to accomplish. A retired Army veteran himself who served for over 22 years, Frankie was determined to get out of his power wheelchair and be the one to "tap out" Frankie Jr. At basic training graduation ceremonies, the graduates traditionally stand at attention and wait until someone comes and 'taps them out' to release them.
"My father has been and will always be my best friend and right-hand man," Frankie Jr. told TODAY Parents. "I can always count on him for anything. Before leaving to basic training, we made a promise to one another. We promised that if I finish basic training on time that he would be there to see me graduate and tap me out. So what a feeling to hold that promise and follow through with it."
"We knew that 'tap out' was going to be special," said Christy. "As parents, we sacrifice so much for our children — our own needs get put aside for the betterment of our kids. Getting to that ceremony was the most important thing in our minds. We are so grateful to the entire hospital staff and the company that brought us a new machine so we could make it in time for the tap out."
Christy posted the video of her husband and son on the Facebook page of Grown and Flown, a website for parents of older children and young adults, where it has been liked more than 8,000 times.
"For me personally, it was more than just a tap out," Frankie Jr. told TODAY Parents. "It was the father and son bond that we've shared ever since I was a little boy. To see that man get up out of his wheelchair and walk on his own two inadequate legs was beyond honorable."
Frankie Jr. now moves on to tech school in Texas. The Sanchezes have two other sons, college student Jeremy Thomas, 19, and high school student Matthew Thomas, 17. Christy said that she and Frankie are trying to make the best of their situation with the time he has left.
Never miss a parenting story from TODAY.com! Sign up for our newsletters here.
"ALS is 100 percent fatal. There is no treatment and there is no cure. We live with those thoughts every single day," she said.
"His legs are losing strength every day, and he wears leg braces that allow him to take a few steps without his feet dragging. His balance is almost gone; he has to hold on to me or the wall or to any available furniture if he needs to walk more than two or three steps. His breathing is not good, and he has become mostly dependent on his trilogy breathing machine. He takes it off to eat and can have it off for a few moments at a time but needs it about 95 percent of the time now."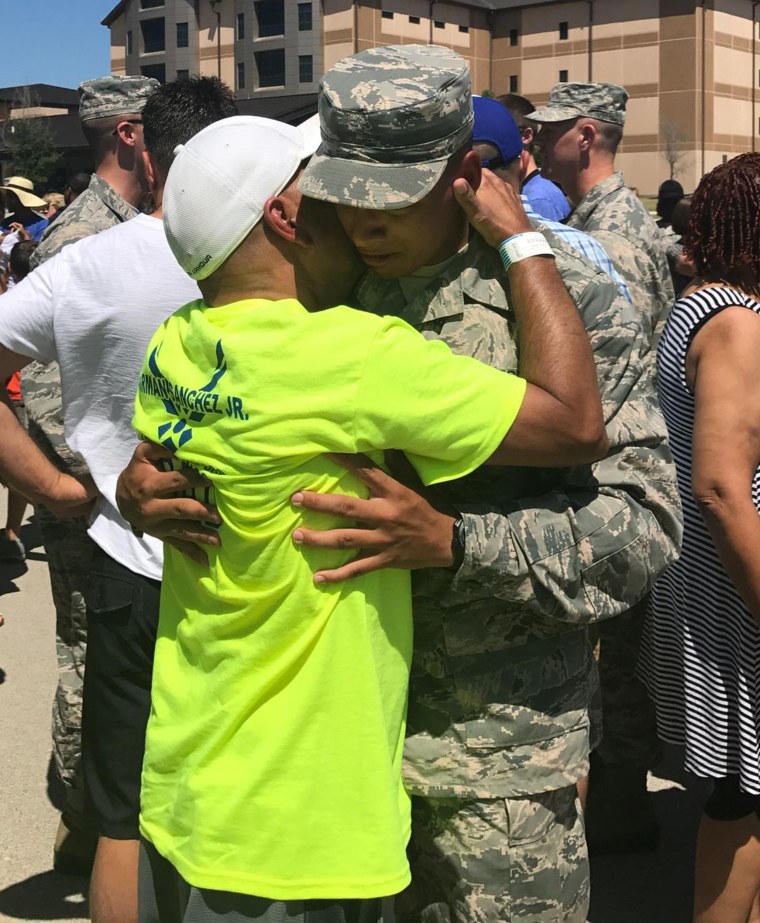 Still, Frankie's heart and mind are "stronger than ever," his wife said. "He makes me laugh every single day. We cry everyday, but we also dance and laugh and enjoy every minute we have together, just like we always have," she said.
The moment with their son at his graduation represents the amount of love and pride they have for their son, Christy said. "My husband had already been diagnosed with ALS when our oldest son decided to join the Air Force. It was a very brave and courageous decision, and my husband and I gave our son our blessing for him to start his life and follow the path that he felt was best for him," said Christy.
"We tell one each other in the hardest of times that we're Sanchezes, and we'll never give up," said Frankie Jr. "No matter how hard it'll get or seem in the moment, we stand tall and keep pushing forward. That's why I devote myself and thank him for what he has done for me. I will always love that man tremendously. A.S.N.F. — A son never forgets."