A baby girl who made history when she was conceived during an in vitro fertilization (IVF) treatment live on TODAY is making her grand television debut nine months later.
Little Chloe Lee Manion smiled while her parents, Jessica Menkhausen and Derek Manion, cried as they showed off the infant they had waited for so long to join their family after battling fertility issues.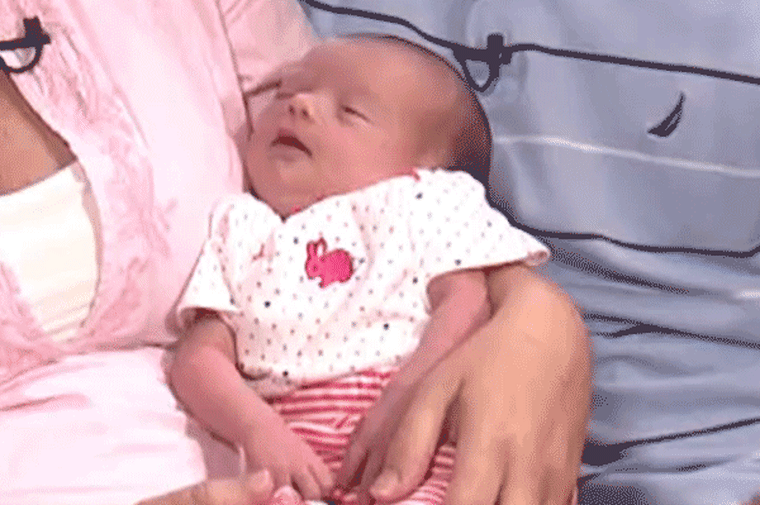 "She is just the love of our lives and everything that we hoped and prayed for," Jessica told TODAY's Savannah Guthrie on Tuesday.
"Just hearing the story all over again, it makes me get choked up thinking about it. The first time we got to hold her was just as emotional."
The baby girl was born via C-section eight days ago after a 16-hour labor.
"It's a great example of when science and love and aspirations all come together. It's pretty extraordinary," said NBC's chief medical editor Dr. Nancy Snyderman.
Watch: Jessica and Derek get IVF on live TV
The journey started last fall when Menkhausen underwent IVF in September as part of #BornTODAY, a week-long series focusing on babies. After struggling to conceive for nine years and enduring two ectopic pregnancies, she wanted to share her story with other women who were having the same challenges.
Watch: Jessica and Derek find out she's pregnant
Jessica had her eggs harvested at St. Luke's Hospital in St. Louis, Missouri. Then, for the first time on live TV, cameras captured the moment of conception when Manion's sperm was injected into Menkhausen's eggs in a petri dish and implanted into Menkhausen.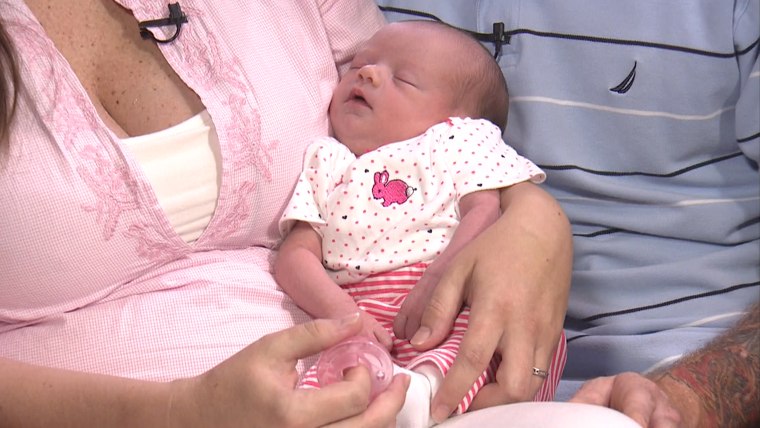 The couple found out in October that Jessica was pregnant and learned in February they were going to have a girl.
Jessica had a routine pregnancy, but a week before her due date, a sonogram revealed the baby was small, with her growth in the 10th percentile. Her doctors were concerned the placenta was giving way, so they decided to induce labor on Jessica's due date — a development that was not at all related to her IVF procedure.
Chloe weighed 6 pounds 5 ounces when she was born. A week later, Derek beamed with pride as he gazed at the little girl, and admitted the couple is getting "very little sleep."
Jessica has written a letter to her daughter expressing her joy about finally becoming a mom.
"I wanted to be able to show her the journey that we took to conceive her and to bring her into this world. I wanted to write her a letter and let her know how we're feeling right now," Jessica said.
"I want her to be happy. I want her to have a full life with mom and dad always there for her and just to be able to follow her dreams and do what she wants in life."
Meanwhile, Jessica and Derek are preparing for another happy occasion. They're planning to get married on Sept. 20.