/ Source: TODAY Contributor
College professor Sydney Engelberg became an Internet sensation last week after a photo of the Jerusalem, Israel educator holding the crying baby of one of his students during a lecture went viral. Engelberg, however, says he's no baby whisperer, and the key to his baby-calming success was simply showing a little care and concern, things he believes both babies and the world are looking for more of.
"I don't have any childcare secrets. I think it is simply a matter of experience and transmitting a sense of security and calm, which babies naturally respond to," Engelberg told TODAY Parents.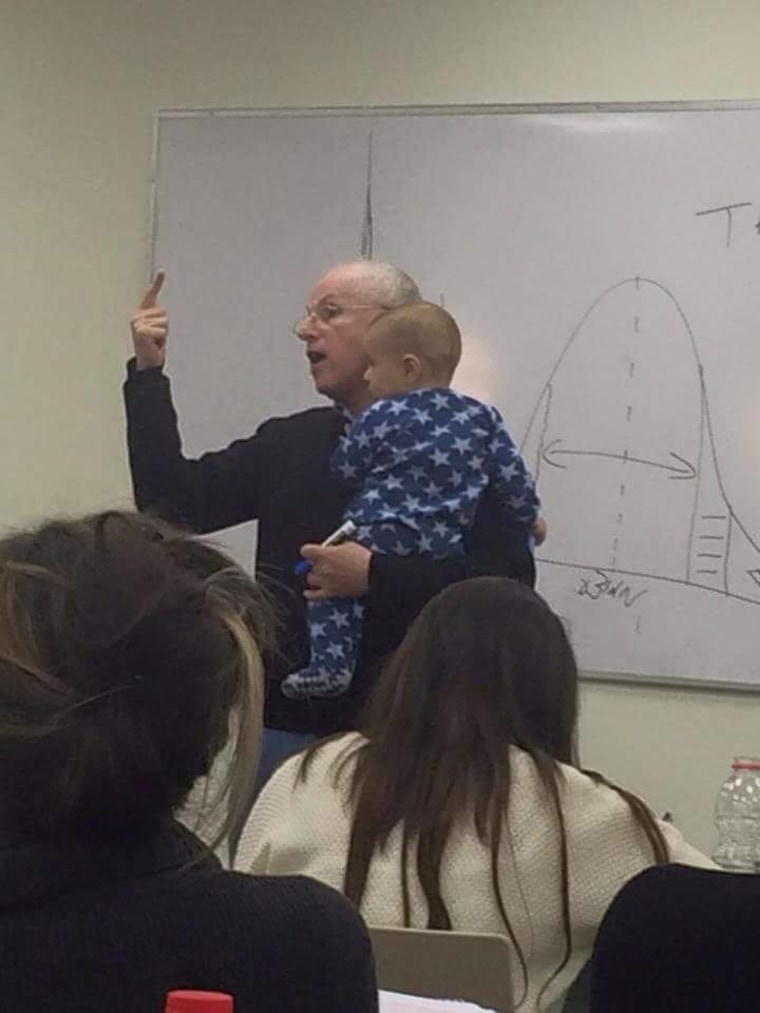 Engelberg says many of his students are young parents, and that given the fact that children are often present during his lectures, he did what came to him naturally and spontaneously when the infant began to disrupt his class.
"The situation that day was nothing unusual. The baby was in class with the mother and became restless. In such situations the mother would typically leave the room, but as I did not want her to miss the class, I simply picked up the baby—which I have done many times in the past—and calmed it down as I continued teaching," said Engelberg.
Quieting a fussy baby during one of his lectures is so normal for Engelberg that the 67-year old professor, who has four children and five grandchildren of his own, says he's not sure of the time frame in which the photo was taken, only that he believes it happened within the last nine months. And, the professor says he wasn't aware the photo was taken until one of his former students posted it online, where his daughter, Sarit Fishbaine discovered the photo and posted it to Facebook, calling her father, "the best in the world."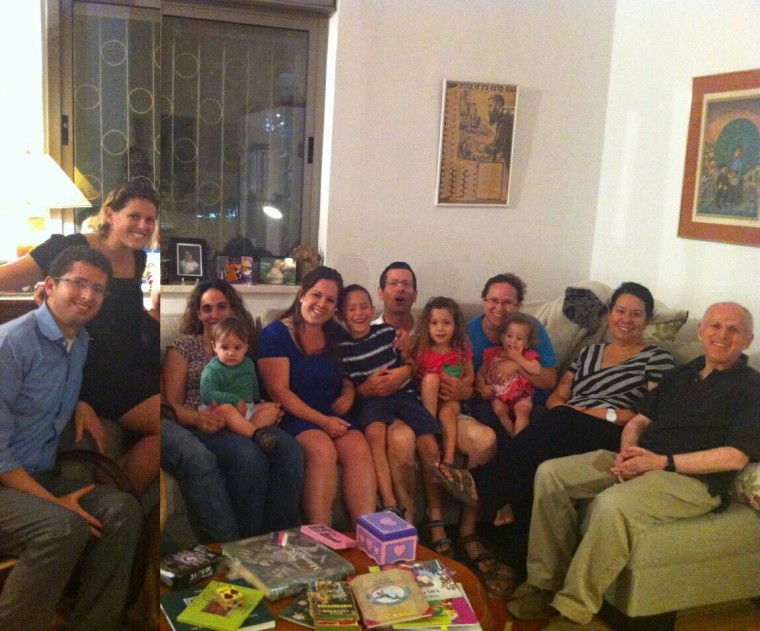 The photo was later posted by Imgur user justagreatdude, where to date it has received over one million views.
Engelberg says he's astonished to see that something as natural as holding a baby has created what he calls, "a tsunami of reactions." Still, Engelberg, who teaches Organizational Psychology at The Hebrew University, Jerusalem and Ono Academic College, holds that he did nothing special.
"My motivation was very simple. On a basic level, I love babies and wanted to help out. On a more sophisticated level, one cannot teach leadership and organizational behavior merely as content—you have to teach the value base as well and that means not just talking about values, but acting on them," said Engelberg.
The teacher believes that the photo went viral because, with so many reports of bad things happening, people are looking for signs of good in the world.
"…In a world with so much inhumanity—ISIS, corruption, Ferguson, and so on—people are looking for symbols of decency, humanity, caring and integrity. Apparently the photo resonated with these needs, and showing care and concern rather than authority or aloofness really resonates with people worldwide," Engelberg told TODAY Parents in an email. "All I want people to know about me is that they should maintain perspective – I haven't created world peace, I am just a man who was in the right place at the right time."