After much murmuring and supposition over the last few months, it is now official that the third royal Cambridge baby is on the way.
There are many potential royal baby names that Baby #3 could have, but a more important question to ask is: What do we know about the Duke and Duchess's established naming style?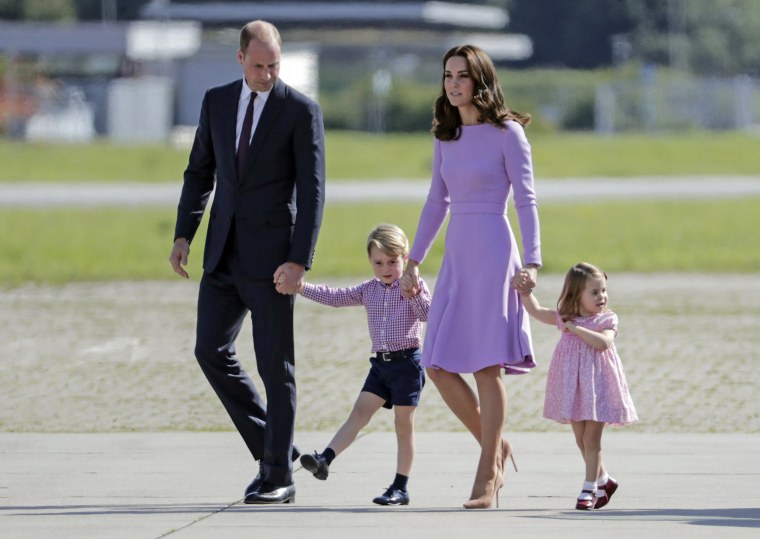 1. All six of the names they have used for their children have royal precedence. George and Charlotte in particular have a distinctly Georgian feel.
2. Both George and Charlotte were popular English names at the time of their births. George was #12 in England in 2012 and Charlotte was #23 in 2014, so odds are that the Cambridges will go for another "current" name. Mary is adorable and very royal, but an outlier at #249.
3. Some of the names they have used subtly honor family members. In George's case, he shares a middle name (Louis) with his father. Charlotte shares her mother's and maternal grandmother's middle name (Elizabeth) — all three are "C. Elizabeth" — Charlotte is aunt Pippa's middle name, and Diana of course speaks for itself.
4. Repeating names of extended family members is clearly not an issue. William has maternal first cousins named George, Alexander, and Louis and Charlotte has a middle name of Diana. That said, they have avoided names currently in use among the more immediate royal family (i.e. the Queen's children and grandchildren) so Anne, Andrew, Edward, Beatrice, Eugenie, Louise and James won't likely be first-name choices.
RELATED: See Princess Charlotte show off her curtsy skills
Based on all this information, I've compiled a list of baby names which I think best fit the criteria outlined above. There is a wider pool for girls than boys, as most of the official royal male names are all currently "in use" by the immediate royal circle.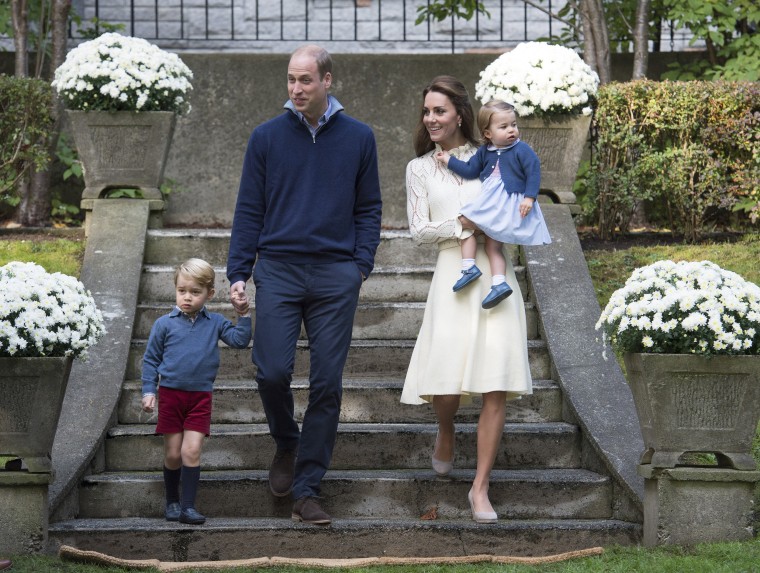 Most likely candidates fitting their style:
Alice — This is the bookies' favorite already, and it's a great bet. Alice is a thoroughly royal name, and the princesses who have borne it have been highly admirable. Queen Victoria's daughter championed women's causes and nursing and even managed field hospitals herself during the Austro-Prussian War. Her granddaughter, Princess Alice of Battenberg, also devoted herself to charity, organized shelters for orphans and worked in soup kitchens and sheltered Jewish refugees during WWII. This Princess Alice is Prince Philip's mother, and therefore William's great-grandmother. Alice is currently at #24 — sitting right next to Charlotte in the ranks.
Never miss a parenting story with TODAY's newsletters! Sign up here
Amelia/Emily — Amelia and Emily are currently at #1 and #3 in England so they certainly qualify as currently popular. Both names also get both the "royal" and "Georgian" stamp from Princess Amelia (1711-1786), daughter of George II, and Princess Amelia (1783-1810), daughter of George III, who were both called Emily familiarly. Both Amelia and Emily sit really nicely stylistically alongside George and Charlotte.
Sophia — Another name which ticks the boxes of being popular, royal and Georgian. Britain nearly had our own "Queen Sophia I." Sadly, the heir to the throne, Electress Sophia of Hanover, died weeks before she would have become queen in 1714, making way for her son George I. Princesses with the first or middle name Sophia followed soon after her. Sophia currently ranks at #12.
Eleanor — Eleanor was the royal name extraordinaire back in the Middle Ages, borne by three Queens of England and numerous royal princesses. It also retains a Georgian flavor as the name was popularly used in the 18th century — Princess Amelia (1711-1786) was fully Amelia Sophia Eleanor. The name is #52 in England at the moment and is showing early signs of being on the rise again.
Matilda — Like Eleanor, Matilda was a medieval royal powerhouse. We even (briefly) had our very own ruling Queen Matilda for a while. While it hasn't been used as a royal first name since the Middle Ages, it has been used as a royal middle name — and a Georgian royal middle name at that — such as for Princess Caroline Matilda (1751-1775) and Princess Sophia Matilda (1777-1848). Matilda is currently #27 in England very close to Charlotte.
Isabella — With three medieval Queens of England and several princesses with the name, Isabella has perfect royal credentials. The downside is that it has not been used as a royal name since the 15th century, but at #8, it ticks the box of being popular, royal and traditional.
Arthur — Arthur is the bookies' favorite for a boy already and, as with Alice, it's not hard to see why. If we discount the names currently used by the royal family (Charles, Henry, Edward, William, James etc), then Arthur is the highest ranking of all the royal names left over at #35 in England and rising. Not only is it famous for the legendary King Arthur, we almost had an actual "King Arthur" when Henry VII gave it to his eldest son. Sadly, we were deprived when he died aged 15. Queen Victoria later reintroduced the name to British royalty when she gave it to one of her sons.
Frederick — A Georgian royal name which is another kingly name we never had. Frederick Louis, Prince of Wales, was the eldest son and heir of King George II. When he predeceased his father, his son, George III, became king instead. Frederick was also used by several other princes and was the second name of both King George V and King George VI. Frederick currently ranks at #75 in England, but with Freddie at #17, it feels even more current.
Albert — We have Queen Victoria to thank for making Albert a royal British choice. Devoted to her husband, Prince Albert, she was determined that all her "male English descendants" would have the name. She determinedly gave the name to all her sons (first or middle) and pestered all her children to use it as well (most of them complied). She even went as far as to decree that the Prince of Wales's first son be called Albert Victor even before informing his parents. The last royal to bear Albert as a first name was the Queen's father, King George VI, but it is also one of Prince Harry's and Prince Andrew's middle names. Albert is a fashion-forward choice at the moment — currently #69 in England and on a steep upward curve.
Outliers:
Victoria — Victoria is second of the bookies' favorites for a girl at the moment, but for me it is a bit of an outlier. Yes, it's royal — borne by a ruling queen — but as royal names go it's a relatively modern one and, unlike Charlotte and George, which were popular names in the 18th and 19th century, Victoria was always rare. Even during Queen Victoria's reign, it was pretty uncommon (usually around #140-170). Having made it into England's Top 100 in the 1970s, Victoria peaked at #7 in 1984 and declined from that point until it reached #105 in 2006. Since then it has gained a little ground at #88 but has certainly plateaued.
Alexandra — Another of the bookies' favorites, Alexandra is royal but was only introduced to British royalty when Alexandra of Denmark married Prince Albert Edward (later Edward VII) in 1861. It ranks at #116 and is declining. Given that George has the middle name Alexander, I don't see them using the feminine form.
Grace — The bookies have Grace as their fifth girls' name option at 16/1 odds. Here's the thing, Grace isn't a British royal name which feels like that would rule it out straight away. Thanks to Grace Kelly (aka Princess Grace of Monaco) it does have a royal slant for many, however. If we ignore the fact that Grace doesn't have credentials in British royalty, it does tick the boxes of being currently popular (at #14) and it was a popular favorite in the Georgian era. George, Charlotte and Grace — stylistically and historically — do work nicely together.
Henry — Henry is fifth on the bookies' list for a boy with 16/1 odds. It is perfectly royal, classic and, at #13, currently popular. The only problem is that it breaks the rule of being currently used by the immediate royal family as it is William's brother's name. As he goes exclusively by Harry, however, a Prince Henry wouldn't cause much confusion for the rest of us, but I feel it may be a little too close for the Cambridges.
Alfred — Alfred the Great was (as his name implies) a notable Anglo-Saxon king. Since then, the name has been also borne by a son of George III, and a son and grandson of Queen Victoria. It ticks the boxes of royal credentials and not being currently "nabbed" by royalty. It ranks at #114 at the moment, however, which feels quite removed from Top 30 favorites George and Charlotte. That said, Alfred is rising and Alfie, at #14, does make Alfred look more modern.
Middle name fodder:
Caroline — Two Georgian queens and three princesses bore the name Caroline. Popularity wise — at #674 – it feels a little out of step with George and Charlotte, but it would be a perfect royal choice to honor Catherine's mother Carol. If they want to continue the "C. E" tradition for girls, Caroline Emily is a possibility.
Mary — Very sweet, very royal, Mary doesn't feel "current" enough (at #249) for their taste as a first name, but there is no reason that it won't make the middle name cut, especially given that the Queen has it as a middle name.
Frances/Francis — Princess Diana's middle name was Frances and Catherine's father's middle name is Francis. Boy or girl, Francis/Frances makes a great middle name option to honor both grandparents.
James — A perfectly kingly name, James feels a little too close to use as a first name (but never say never!). It's not only the name of Catherine's brother but also Prince Edward's son. Who knows, perhaps they will opt for both Henry and James as middle names to honor both paternal and maternal uncle in one fell swoop.
Michael/Philip — Either maternal grandfather or paternal great grandfather could possibly get an honor middle name.
Eleanor Nickerson is a regular columnist for Nameberry and author of the blog British Baby Names.