/ Source: TODAY Contributor
When Eric and Kristin Moan's twin daughters, Dylan and Hayden, were born at 23 weeks gestation, the couple's NICU nurses suggested they bring in a stuffed animal to use in photos as a way to show the girls' weekly growth.
Kristin Moan says her husband went to a local store and returned to the NICU with two Mr. Potato Head dolls. The new parents spent the next four months taking photos of their micro-preemie daughters alongside the plastic toys.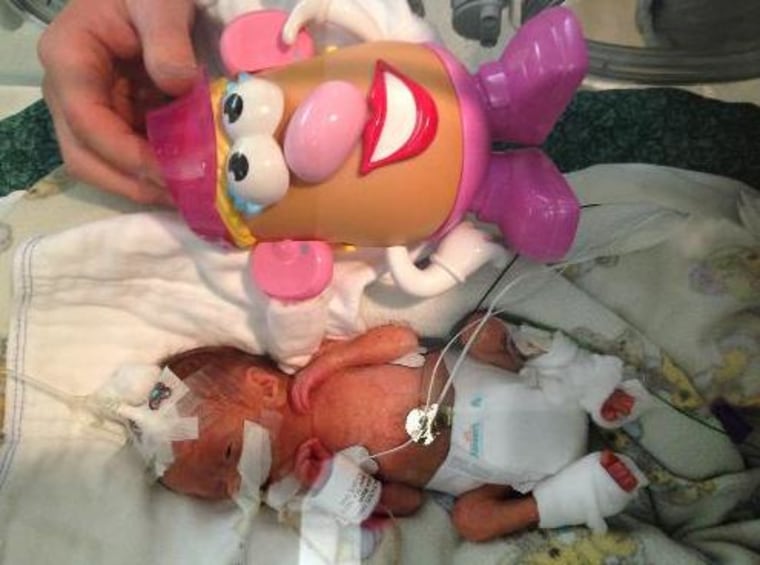 "It gave us something to look forward to," Moan, who lives in Minnesota, told TODAY Parents. "People were curious how the girls were doing, and it was our way to share with everyone how they were growing."
Never miss a parenting story with the TODAY Parenting newsletter! Sign up here.
Today, at age 5, Dylan and Hayden are healthy and thriving — and plan to start kindergarten next year. The Moans, grateful for their successful stay in the NICU, have found a way to help other families during their time of need.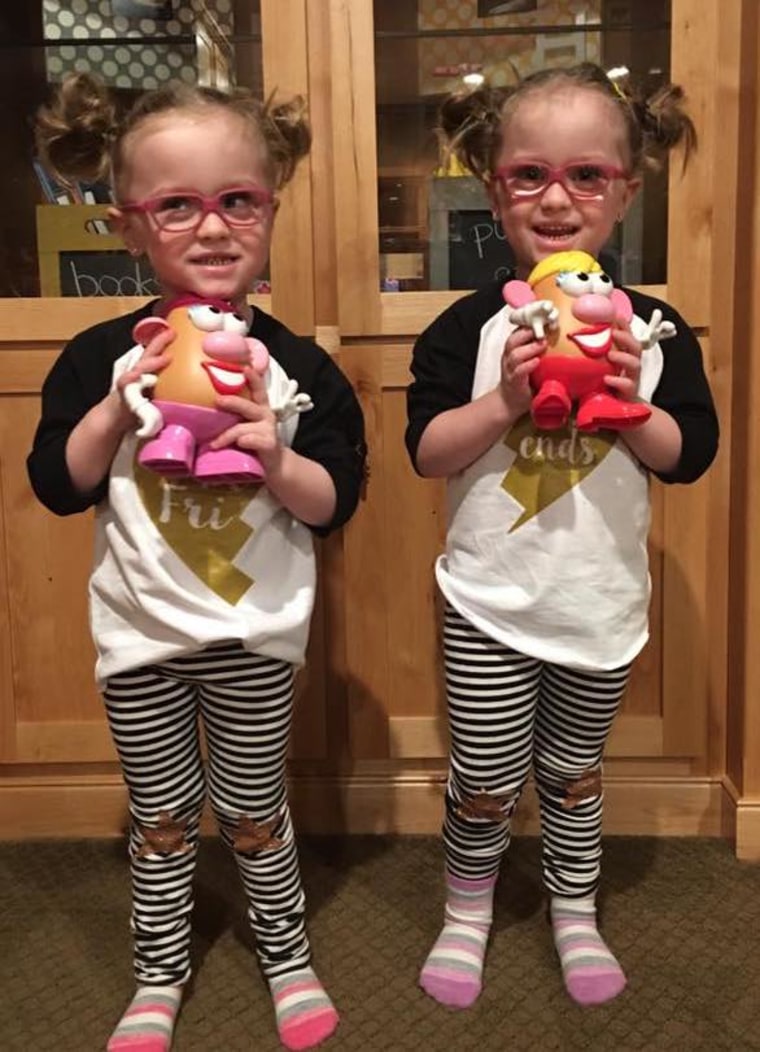 The Moans started the Potato Head Project, a non-profit organization that mails Mr. and Mrs. Potato Head dolls to premature boys and girls across the country. Since Dylan and Hayden's birth, the organization has sent more than 1,000 packages to other families with preemies facing a stay in the NICU.
"It gives them a sense of hope," said Moan, explaining that through toy drives, financial donations and other methods of fundraising, the Potato Head Project has been able to make a positive difference in the lives of many families. "It gives them something to look forward to while they're waiting to know when they'll be able to bring their babies home."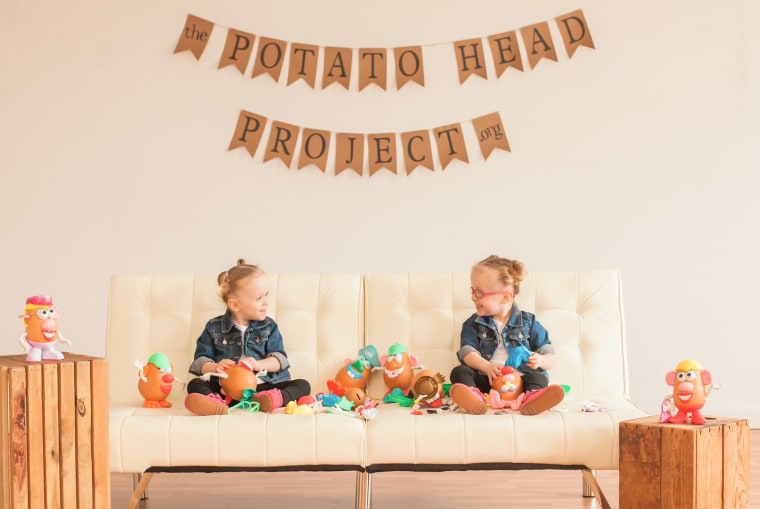 Nick and Chelsie Bohlman's son, Henry, received a Mr. Potato Head from the organization after he was born prematurely. Chelsie Bohlman says the toy was an instrumental part of tracking Henry's growth during his time in the NICU.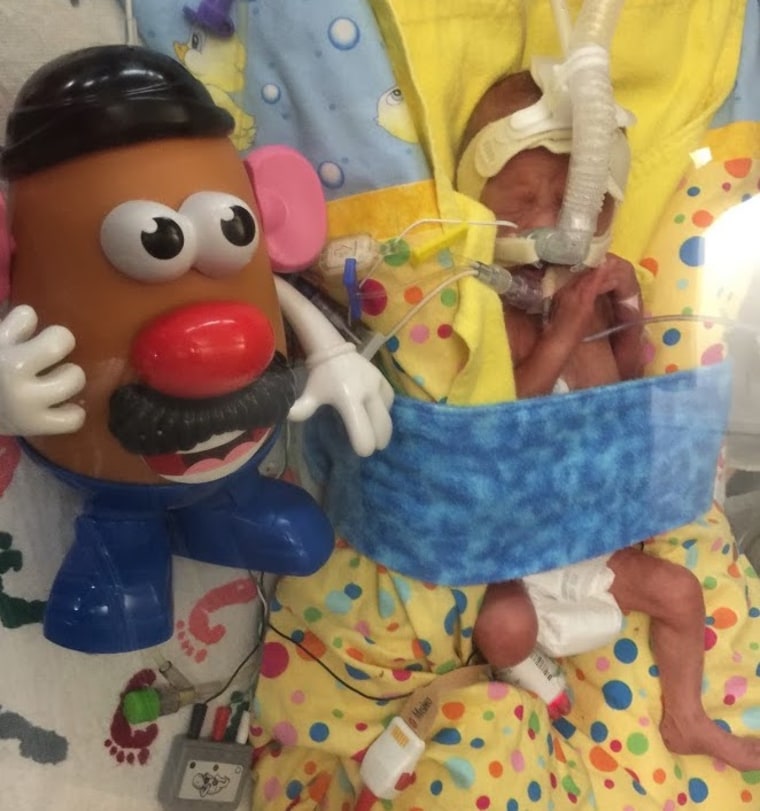 "It was refreshing to have something to look forward to doing with Henry," said Bohlman, who took weekly photos of her son with his Mr. Potato Head. "Bottom line, Mr. Potato Head gave us hope when sometimes, things felt very scary — a simple hope that our baby boy would grow to be bigger than this toy that towered over him when they first met."
After their son, MJ, was born premature at 24 weeks gestation, Joe and Heather White also received a Mr. Potato Head doll in the mail from the Potato Head Project.
"MJ was born weighing 1 pound, 12 ounces and was 12 3/4 inches long — just a wee bit bigger than Mr. Potato Head himself," said Heather White. "Every picture taken with your Mr. Potato Head shows a growing little bundle of joy. It's amazing to look back at the photos and see how small they were in the beginning and how far your little one has come."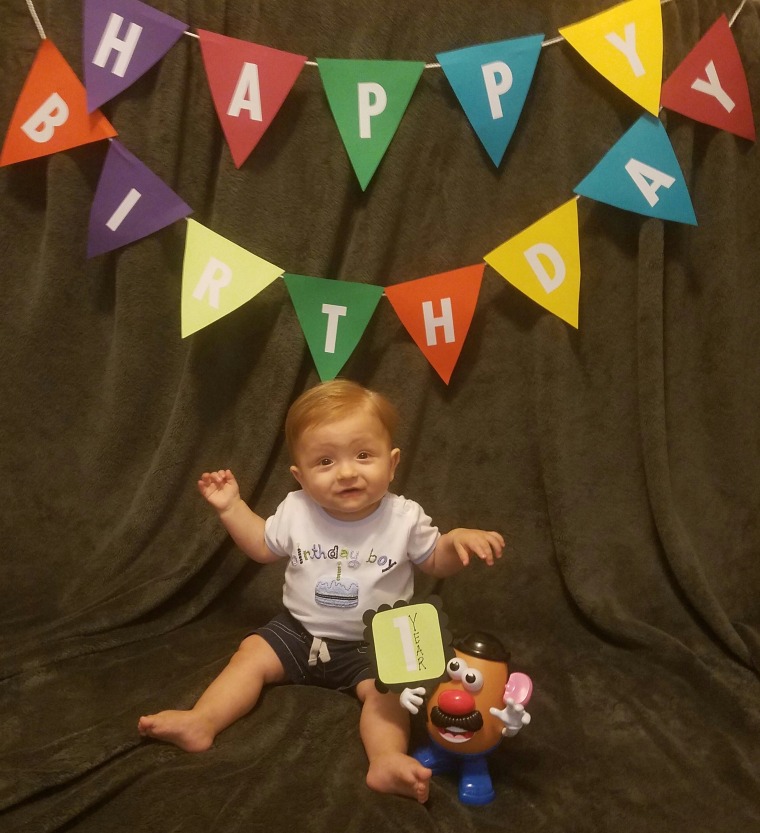 Moan says her daughters are finally old enough to understand the project, and get excited about helping to package up Potato Head dolls and send them in the mail.
"They know what isolettes are and what the NICU is, and they know these babies are really sick," said Moan. "They don't know a world that's different than everything they went through themselves."
"As I get further from the NICU," Moan continued. "It's important for me to remember why I'm so heavily involved — it's to provide hope to families like ours."