What's that thing parents say about how they love all their kids the same? University of Colorado head football coach Deion Sanders thinks that's all a lie.
The outspoken Sanders, 56, has taken the college football world by storm by leading his Buffaloes to a 3-0 record and a No. 19 national ranking, but his comments about how he ranks his own children have also raised eyebrows.
Two of Sanders' kids play for him — quarterback Shedeur and safety Shilo.
"It's tough. My kids' rankings are tough," he said after running down all the good things four of his five kids have recently done while speaking to the media in his postgame interview after his team beat Colorado State, 43-35, in double overtime this past weekend.
"I'm the only one that's honest about ranking my kids," he continued. "You guys act like you all love them the same and you don't."
Sanders is a football legend, winning two Super Bowls and earning enshrinement in the pro and college football hall of fames. A gifted athlete, he also played Major League Baseball and famously once hit a home run in a major league game and scored an NFL touchdown in the same week, becoming the first person to do so.
Sanders — or "Coach Prime," as he's now known — had reason to beam as a coach and a father after Shilo returned an interception 80 yards for a touchdown and Shedeur threw for four touchdowns, igniting their team in a come-from-behind win against their instate rivals.
Sanders has daughter Deiondra, 31, and a son, Deion Jr., 29, both with his first wife, Carolyn Chambers. He shares Shilo, 23, and Shedeur, 21, with his second wife, Pilar Biggers-Sanders, as well as daughter Shelomi, 19.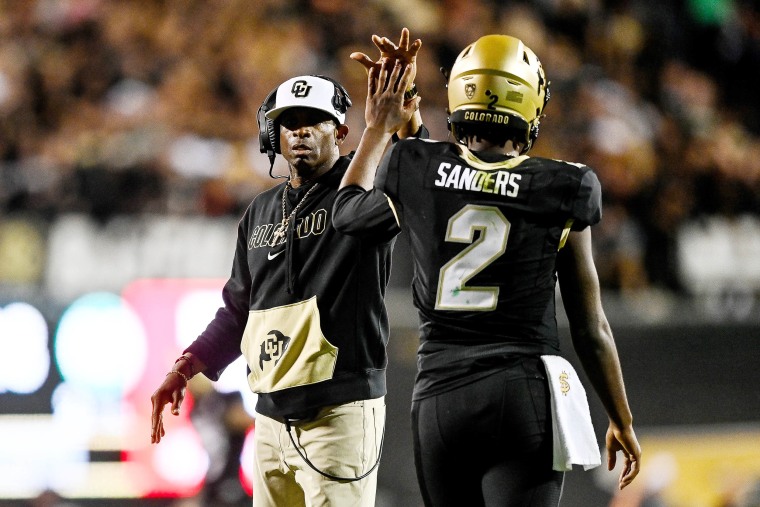 Shelomi plays on the women's basketball team at CU. In addition, Deion Jr. "oversaw the social media engagement and continues to cover the Buffs through his Well Off Media brand," according to his father's biography on the Buffaloes' team page.
Sanders has embraced the child rankings before. He wished Deion Jr. a happy birthday in a since-deleted Instagram post in September, calling him "my favorite son" and setting the record straight about where each kid stood in the pecking order.
"Your (sic) the #1 son #1 on the kids rankings currently," he wrote before writing the order of his kids from one through five.