Michael and Hannah Carmack decided to try for one more kid … and got pregnant with quadruplets.
"I had to convince Hannah it was a good idea to have a second child," Michael tells TODAY.com. "Imagine how she reacted when she found out we were having four!"
On March 14, Hannah, 29, gave birth to two sets of identical twins: girls, Evelyn and Adeline, and boys, David and Daniel. The babies were born via cesarean section at the UAB Women and Infants Center in Birmingham, Alabama. 
"My wife is a rock star," Michael says.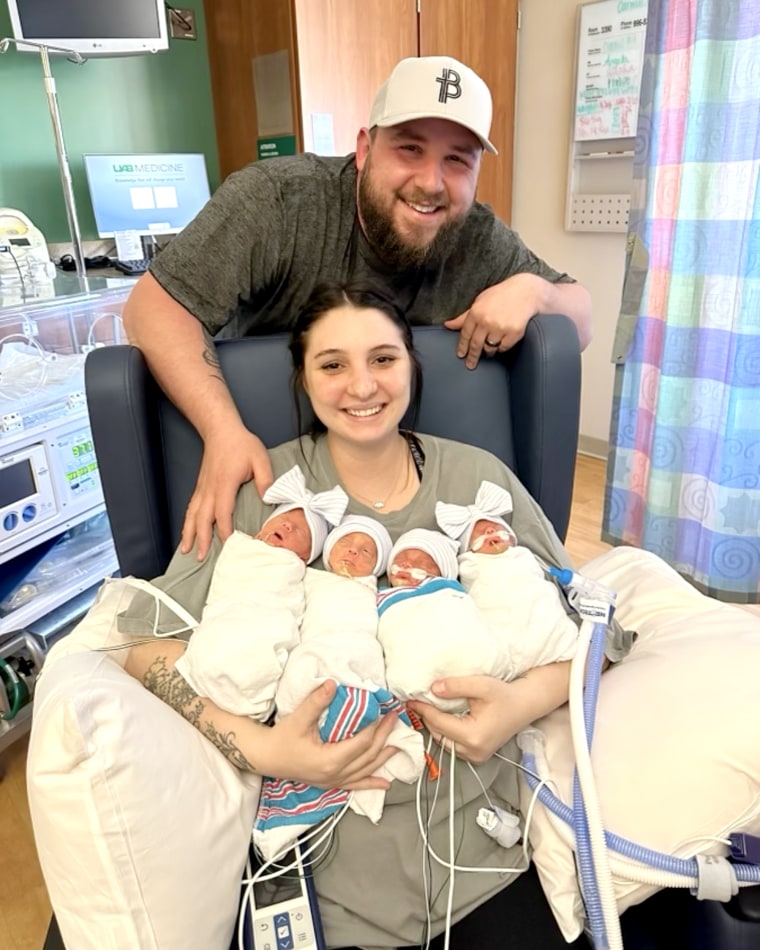 The Carmacks got the surprise of their lives at Hannah's first pregnancy scan. Michael remembers how Hannah, a veterinary technician, immediately identified two sacs on the screen.
Dr. Meghana Limaye, MD, maternal-fetal medicine specialist in the Department of Obstetrics & Gynecology at NYU Langone Health, calls spontaneous quadruplets an "incredibly rare situation."
"There were only 148 deliveries of quadruplets or higher order multiples in the US in 2021," Limaye, who did not treat the Carmacks, tells TODAY.com. "The rate of triplets or higher is only 80 in 100,000 births. Additionally, to have two sets of identical twins, meaning that both embryos split after fertilization, makes it even more rare."
The odds of conceiving spontaneous quadruplets falls between 1 in 512,000 to 1 in 677,000 according to the Journal of Family and Reproductive Health.
"She was like, 'Twins?' But the ultrasound tech didn't respond. Then Hannah goes, 'Is it three?' Then the ultrasound tech put her hand on Hannah's knee and said, 'Sweetie, it's four,'" Michael recalls. "I started laughing. Hannah started to cry."
She wasn't crying happy tears.
"You know, I always wanted a big family, but that wasn't Hannah's dream," Michael, a drug and rehabilitation counselor, explains. The couple are also parents of an 8-year-old daughter named Emily.
After the appointment, Michael called their pastor and scheduled an emergency meeting. 
"He thought we were getting divorced," Michael says, with a laugh.
Michael and Hannah sat with their pastor for more than an hour and discussed how they were feeling about growing their family from three to seven.
"What I think Hannah came to realize is, 'This is not normal. We had been chosen for something by God," Michael says. 
They left the church feeling strong and united.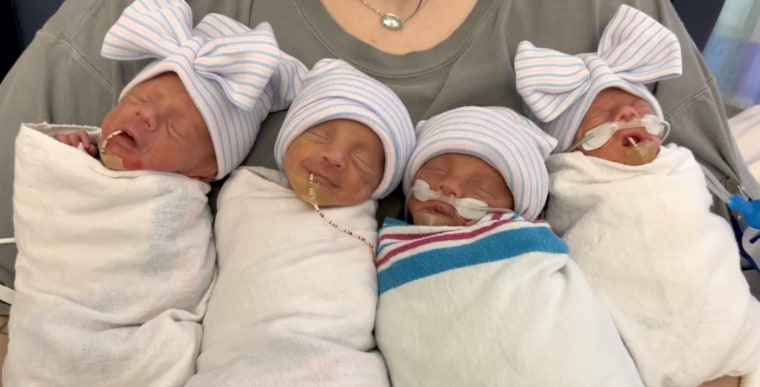 Evelyn, Adeline, David and Daniel were born at 27 weeks gestation. The smallest baby was Adeline, who weighed 1 pound, 10.5 ounces, while Evelyn, the largest of the bunch, weighed 2 pounds, 9 ounces. 
The infants, who need assistance with eating, are expected to remain in the hospital until their technical due date in June. The Carmacks are currently remodeling their 1200-square-foot home to make room for their new family members. Michael started a GoFundMe to help with the cost.
"Evelyn just got transitioned to a crib two days ago," Michael says, noting that all the babies are now breathing on their own and "doing great."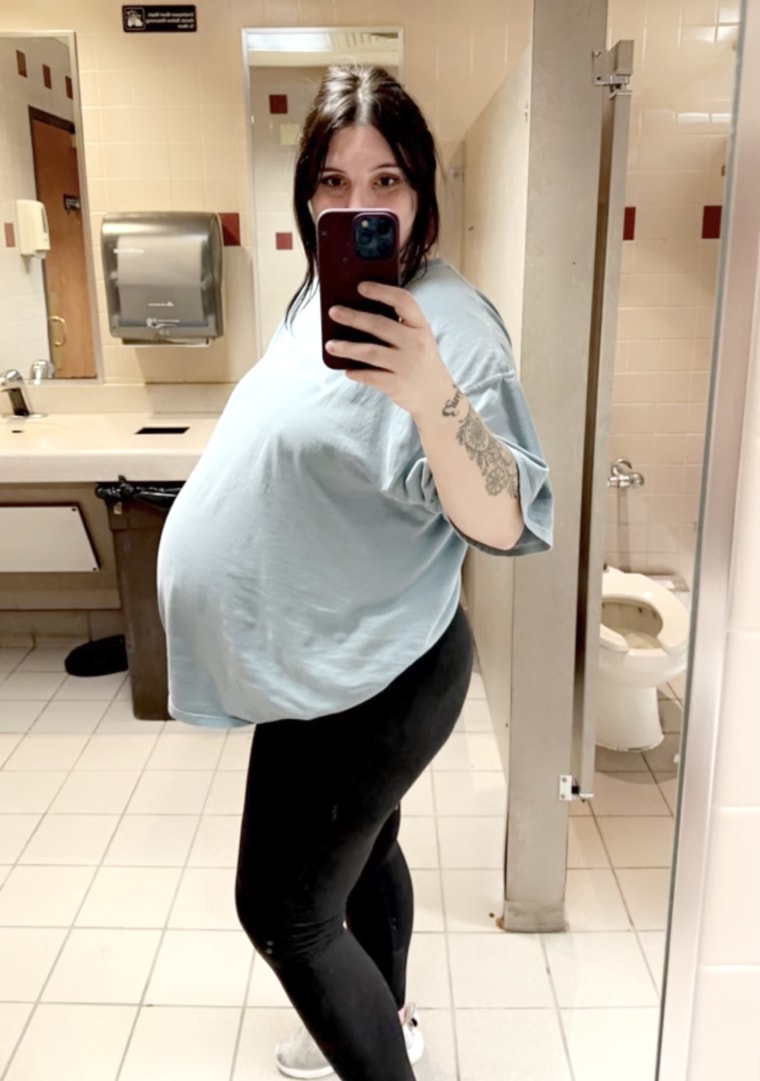 At nearly 2 months old, the siblings are developing their own unique personalities. Evelyn is the "sweet, smiley one," which came as a surprise to their parents.
"We thought she was going to be tough, because in the womb she was always kicking her sister in the head," Michael says.  
Daniel and Adeline's dynamic is funny to watch, according to their dad. 
"They're in the same room and he's always trying to get closer to her. He loves her, and she's like cutting her eyes at him," Michael says. "When we did skin-to-skin with them, she'd always be trying to inch away from him."
Michael says he is in awe of Hannah and how she cares for the quads, while continuing to work nights as a vet tech to help cover the costs of their home renovations.
"Hannah persuades the nurses to let her hold more than one baby at a time because she knows how important it is for them to hear and feel her," Michael gushes. "She has a connection with these babies like no one else."