/ Source: TODAY Contributor
The world may appear to be filled with violence and hatred, but it's also filled with wonder and excitement — just ask Guy Raz and Mindy Thomas.
Raz hosts two news podcasts for National Public Radio and has covered high-profile news stories such as the death of Osama Bin Laden and the Sandy Hook Elementary School shooting.
But it's his latest gig as co-host of NPR's first podcast for kids, "Wow in the World," that has Raz feeling inspired these days.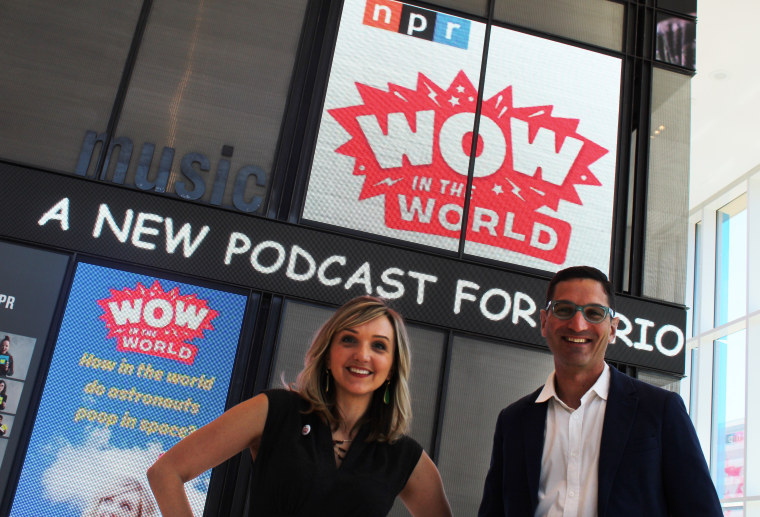 "It's not just a violent world, but it's a world with messages that conflict with our values," Raz told TODAY Parents. "Messages of hate and division, messages of war and violence ... But as someone who loves NPR and loves the news, it's always really troubled me that I couldn't really expose my kids to what's happening in the world."
Until now.
In May 2017, Raz and his co-host, Sirius XM radio personality Mindy Thomas, launched "Wow in the World," a weekly podcast from NPR and Tinkercast that encourages kids and their parents to put down their screens and learn about science in a unique way.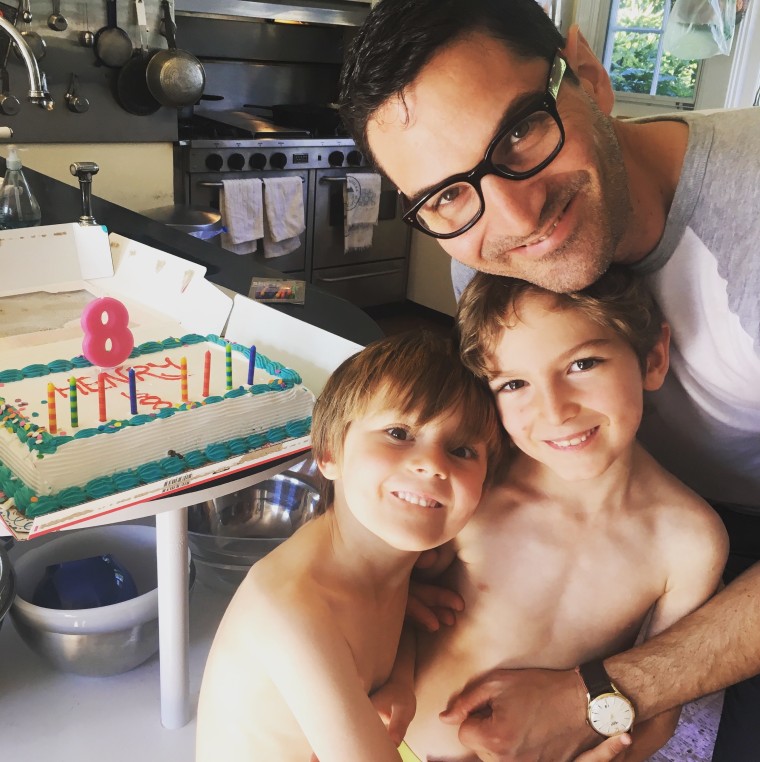 "It's really a chance for me and Mindy to recognize that kids need agency in the world," said Raz. "They're going to inherit the world, and we felt like there should be a space for them to experience the world and the things happening around the world in a way that really contextualizes it for them."
Never miss a parenting story on TODAY.com! Sign up for our newsletter here.
Raz himself is a parent to two boys, Henry, 8, and Bram, 6, and says his favorite part about delivering zany science stories is the energy and excitement kids and parents have for the podcast. Each week, the podcast receives more than 150 phone calls from kids around the world.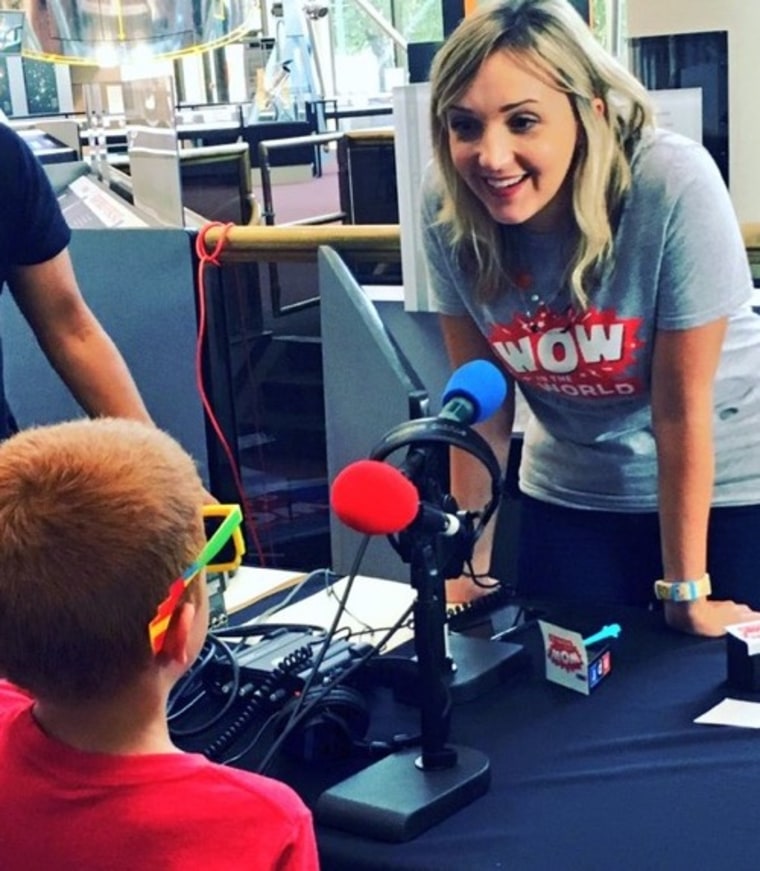 "When you create something for an audience of kids, there's no judgment," said Raz. "Kids are just filled with joy and are naturally curious. They're not cynical, they're open to all kinds of ideas and they're open to discovery in a way that's so inspiring."
"We truly listen to every single call," said Thomas. "You get kids from India or Scotland or the Midwest and you realize kids are all the same everywhere — they're all curious and creative and funny."
Thomas, who hosts "The Absolutely Mindy Show" on Sirius XM radio, says her own kids, Rhett, 9, and Birdie, 7, are among the podcast's biggest fans.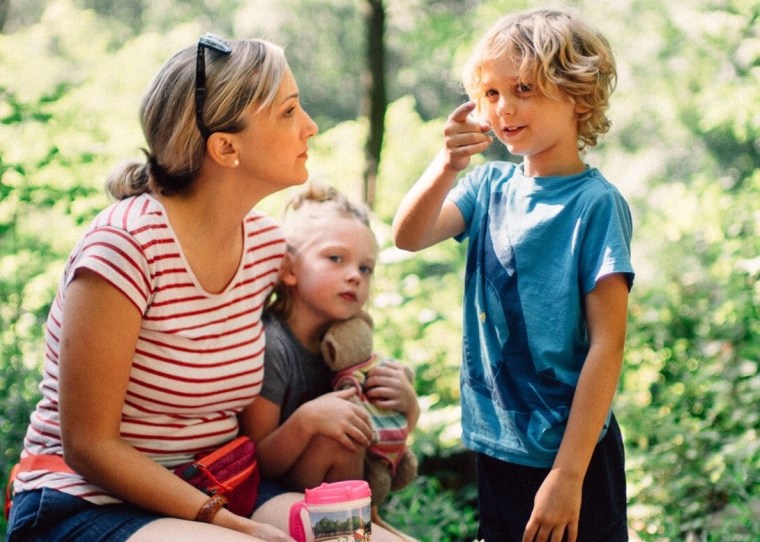 "Honestly, I think my kids forget that I'm their mom when they listen to it," said Thomas. "They really love it, and I didn't expect that."
But Thomas also emphasizes that the podcast, which has been downloaded more than three million times since its release date, is for parents and kids alike.
"We wanted to create something that parents and kids could listen to together that is full of hopeful things happening in the world," said Thomas.
The "hopeful things" covered on "Wow in the World" include scientific studies about doctors using slug slime for medical purposes and proof that playing Pokemon Go may help introverted people make new friends.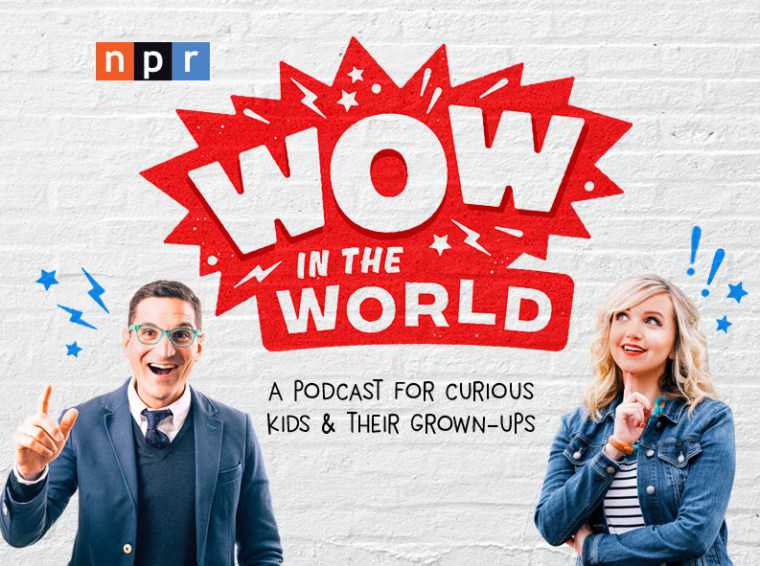 "We take these hard science topics and mix the facts with fantasy," Thomas explained.
"Wow in the World's" fantasy elements include an imaginary carrier pigeon named Reggie, a shrink ray and a time machine. And, the duo says they frequently add in jokes just for the moms and dads tuning in.
"We do a lot of that thing in the show where it's sort of a wink to the parents to say, 'This is for you, too,'" said Raz, recalling an episode where Reggie, the carrier pigeon, couldn't master the crane kick — a nod to the 1980s film "The Karate Kid."
Anya Grundmann, NPR's vice president of programming and audience development, says nothing sparks imagination in both children and adults like audio stories.
"Our core podcast audience is at the age where they have young kids," said Grundmann. "With this show, we are hoping to help families put down their screens and share the wonder of science through the fun, imaginary world that Guy and Mindy have created."