Starting a new school -- whether it's a transition from middle school to high school or a move to a school from one state to another -- can produce a lot of anxiety.
Take Nathaniel Philipp, 9, who asked his mom for a combination lock -- not to secure any of his prized possessions, but to practice. Nathaniel is moving from elementary school to intermediate school this fall and while he feels confident about the move, he worries about the locker.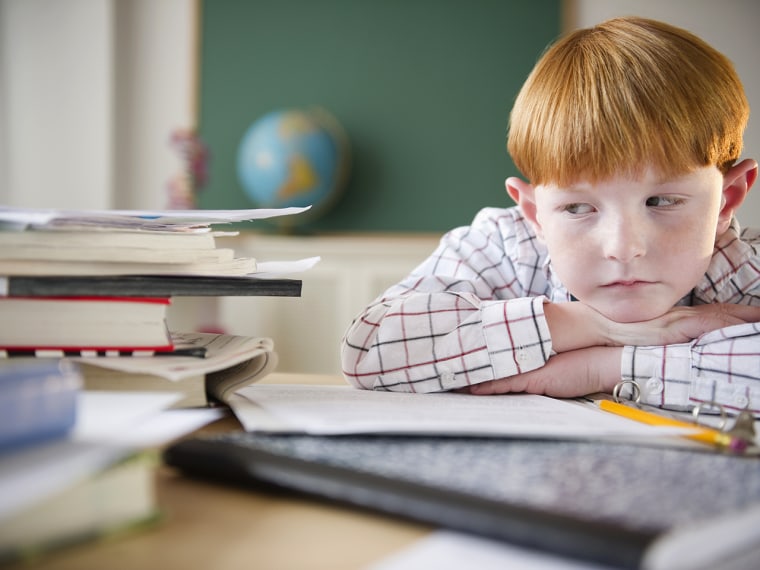 "He's very excited to go into a new school," explains Jen Philipp. "[Intermediate school] offers a little more freedom."
Philipp, who lives in Center Valley, Pa., has been practicing with her sons before the school year. Her youngest, 5-year-old Benjamin, is also starting fresh -- entering kindergarten -- and she wants both kids to be prepared for the new challenges.

More From Today: Should Kids Wear School Uniforms?
Soon, the boys will go to bed and wake up earlier to ease back into the school hours. Mom practices reading and letters with Benjamin, while Nathaniel tackles fourth grade subjects. Both are attending orientation at their new schools to meet their teachers and tour the school.
"I really try to make it as stress-free as possible," Philipp explains.
As stressful as making new friends or changing classes or figuring out a locker combination might be, experts say you can make the transition to a new school smoother.
Go to orientation
"Schools have open houses or picnics and I would strongly recommend that the family goes to these to make these connections," says Vita Nemirovsky, founder of Homeworks Educational Consulting. 
At orientation, students and parents meet the teachers, counselors, and administrators and learn about academic and social expectations.
Students also learn the layout of the building: they can locate homeroom, the gym, the cafeteria, and other landmarks before the first bell rings.
"The first big transition is the physical environment," says Amy McCready, TODAY Moms contributor and founder of Positive Parenting Solutions.
"The more that [parents] can prepare the child ahead of time, [the better]."
Do your homework
"Go online and check out the school's website," says educational consultant Michele Borba.
"When [parents] are learning all the rules, the kids will see the photographs."
Those pictures help new kids learn how students dress. She recommends that parents find a local, hip store and purchase a cool item – such as a backpack, sneakers or jeans -- to help their children assimilate.
But doing research is more than helping a child look fab. Find out what clubs students can join. If teachers list their course requirements online, browse those to squelch any academic fears. If a child is particularly worried or has a special need (a history of being bullied or a medical condition, for example), make an appointment with the staff and learn how the school deals with such situations.
Make friends
Riding the bus can feel terrifying. Try finding a "bus buddy" -- another neighborhood student who can be an ally. Or find a current student to show a new kid the ins and outs at the school.
"Ask for a peer or an older student to teach [your new student] where the lockers and the cafeteria are," suggests McCready.
Also, sign up for for sports or clubs; connect children to things that interest them.
"Be savvy. You can't make a friend for your child when your child gets older, but you can create commonality," says Borba. "If your child enjoys [playing] guitar, you can connect with a club."
Join the PTA or PTO
"If the parents have time to join the PTA, PTO, [they should]," recommends Nemirovsky. "It is just as important for parents [to make connections]."
When parents get involved, they meet other parents. If the children are younger, this might be a great way to introduce the new student to friends. If they're older, it might give the parents an inside track into what activities, clubs, and sports might be good for their kids.
"As soon as the parent gets involved with the new school, PTA, sports, that is going to help the whole family with school," says McCready.
Stay calm
It's normal for children to feel anxious, regardless of why they are switching schools. And it's natural for parents to worry about how well their kids will do, too. But, keep calm.
"Keep [your] emotions in check," McCready says. "You don't want your anxious feelings to rub off."