From glam mode to mommy mode, Jeannie Mai Jenkins has it covered!
The television host had her 1-year-old daughter, Monaco, in tow as she hosted the Miss Universe Competition in New Orleans on Jan. 14.
"Hosted @missuniverse while being mommy in sequins," Jenkins, 44, wrote in an Instagram post. "Had the best kikiiii with my work wifey @oliviaculpo and came home to my own Universe. What a magical night."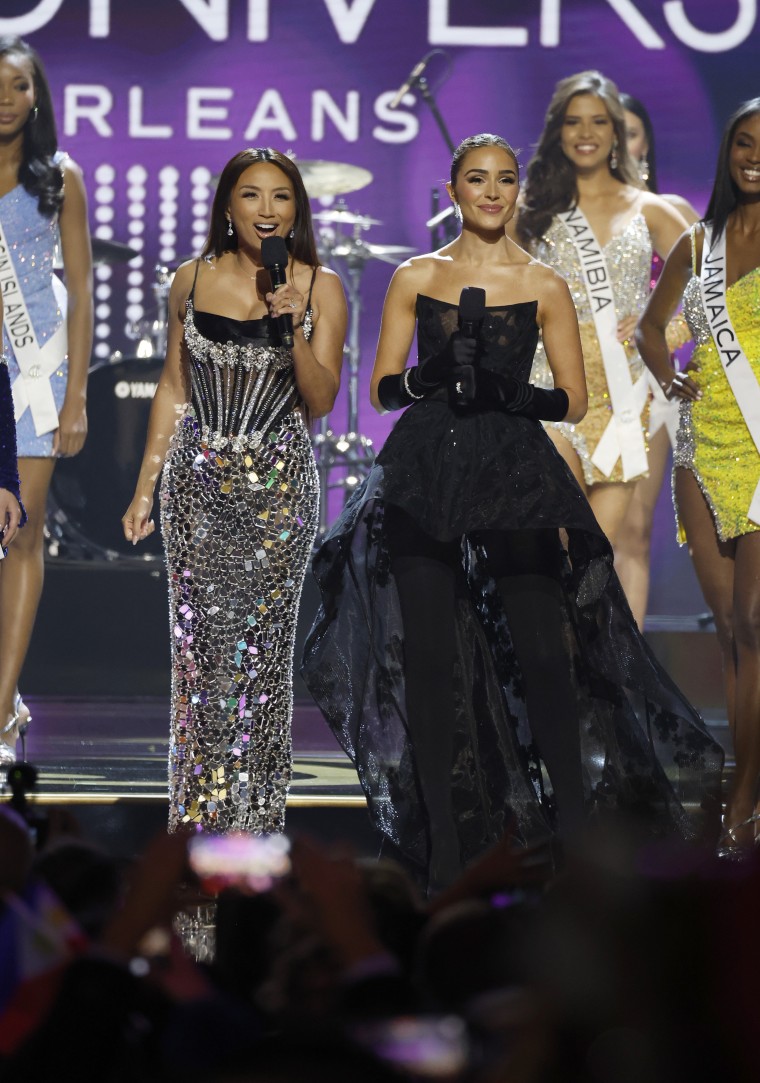 The co-host of "The Real" posted several adorable photos and videos of her daughter from backstage, including one video of baby Monaco toddling up to her and admiring her glittering dress. 
She also revealed her sweet nickname for her daughter, saying in the video, "Hi, Coco! Hi, Coco Bean!"
In another cute video, Monaco sat in another woman's lap in the audience and practiced blowing air kisses at her mom on stage.
Jenkins and her husband, rapper Jeezy, 45, welcomed Monaco in January 2022. 
The style guru has been candid about her mental health struggles after Monaco's birth, telling People last year that she "wasn't prepared for the hit" of postpartum anxiety.
"Here I am going through postpartum with worries, with heart palpitations, with an inability to sleep, and I was like, 'I'm not depressed; I'm actually super stoked and happy, but I'm worried and really anxious and fidgety,' and I didn't know what it was," she said.
In one recent Instagram post, Jenkins opened up about the importance of caring for herself and having "me" time — and modeling that self-care for her daughter.
"Before it was the afterparty but now it's the beforeparty w/ Coco for meeeee," Jenkins wrote in a November post, sharing photos and videos of herself glamming up for the 2022 Baby2Baby Gala in West Hollywood, California.
"I am so excited to show our daughter what it looks like when her mommy is doing ME, taking care of ME, making ME feel good inside and out," she wrote. "Baby girl, you are gonna build confidence from the inside out and I am honored to share with you now what took me years to learn."
The TV personality also shared a vulnerable post about her struggles with breastfeeding, sharing an inspiring reminder to moms not to compare themselves to other mothers.
"And two months later, I STILL don't make enough milk to feed my baby. I had to catch myself because it actually got to my mental, and things started to feel dark," she wrote on Instagram in March. 
"Comparing myself to other moms, frustrated from the ups and down of pumping an ounce one day, nothing the next..and this is ON TOP of all the anxiety this journey can bring," she continued.
"Not complaining, actually here to give moms out there, breastfeeding or not, all the flowers and praise for doing your best to care for your baby-formula or boob," she went on. "I have more respect for moms than ever in my life. And I have to remember me included."