Parents are probably always pleased when their kids offer to shovel the snow, but for one Virginia mom, the gesture brought tears to her eyes.
Teresa Adams of Crewe, Virginia was driving home from the DMV last month when her 18-year-old son Tommy demanded she stop the car.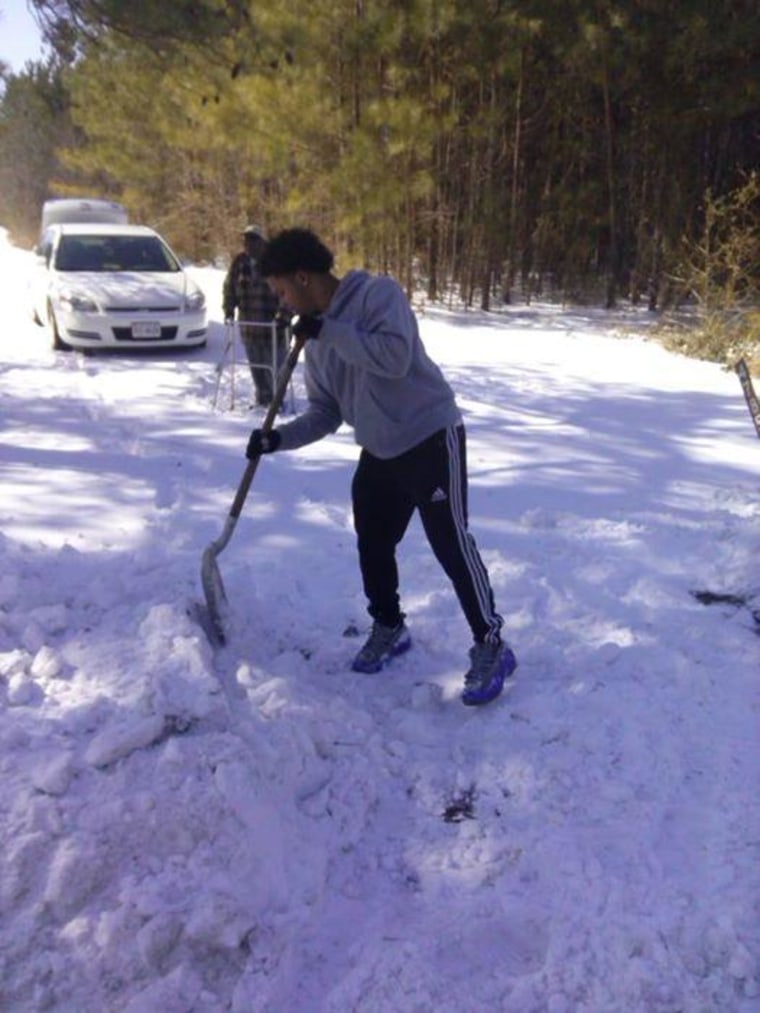 "Tommy was like, 'Mom, stop! Stop, stop,'" Adams told TODAY.com. "He scared me! I didn't know if another vehicle was coming toward us, or a dog was in the road. He tells me to turn around, and that's when I saw the old man with the walker trying to shovel snow."
Her son, a high school senior, hopped out of the car and offered to help the man, a stranger.
"The man looked at him like he was crazy at first," Adams, 37, recalled. "He was a little stubborn at first."
But Tommy insisted on helping, and spent about 15 minutes shoveling the mound of snow a plow had dropped in front of his driveway, Adams said. The proud mom, who has another 16-year-old son, waited in the car and snapped a now-viral photo of her son shoveling, which she posted on Facebook.
"It brought tears to my eyes," she said.
Local news stations spotted the photo and Adams said the past week has been a whirlwind of interviews, social media messages, and neighbors stopping to say congratulations. It's a good feeling, she said.
"I've been a single parent," Adams said. "I question myself a lot, because I can't teach him to be a man. I'm a woman … It just made me feel good. I was overwhelmed with feeling proud."
As the snow continues to pile up in parts of the country, Adams hopes her son's sweet story is a reminder that no good deed, no matter how small, goes unnoticed. As for all the attention, neither Adams nor her son expected that, she said.
"People see me out in public and say, keep up the good work, you're doing such a good job," she said. "I'm like, thank you, thank you, thank you. I never expected that. I was just happy he did a good thing."