Last month, Marvel Comics unveiled six special variant covers spotlighting bullying, attracting buzz on the Web and customers into comics shops. Now Marvel is following up with a full-length story in which some of its most powerful superheroes find that even they are not immune to being picked on.
"We'll be following some of Marvel's most popular characters — the Avengers, Spider-Man and the Guardians of the Galaxy — as they each experience bullying from their own unique perspectives," said Devin Lewis, editor of "Avengers: No More Bullying." "I can't delve too much into the plot, but thematically we're going to be exploring what causes someone to be a bully, how bullying affects a community, and how bullying can take on a number of forms. We're also going to explore conflict resolution, and how, when dealing with a bully, fists should be a last resort."
The 40-page comic comes on the heels of the variant covers Marvel produced in coordination with national anti-bullying group STOMP Out Bullying to draw attention to National Bullying Prevention Month in October. Two of the artists who drew those covers also drew the covers for "Avengers: No More Bullying," revealed exclusively here: one starring Spider-Man, plus a variant featuring most of the same heroes who will appear in the upcoming film "Avengers: Age of Ultron."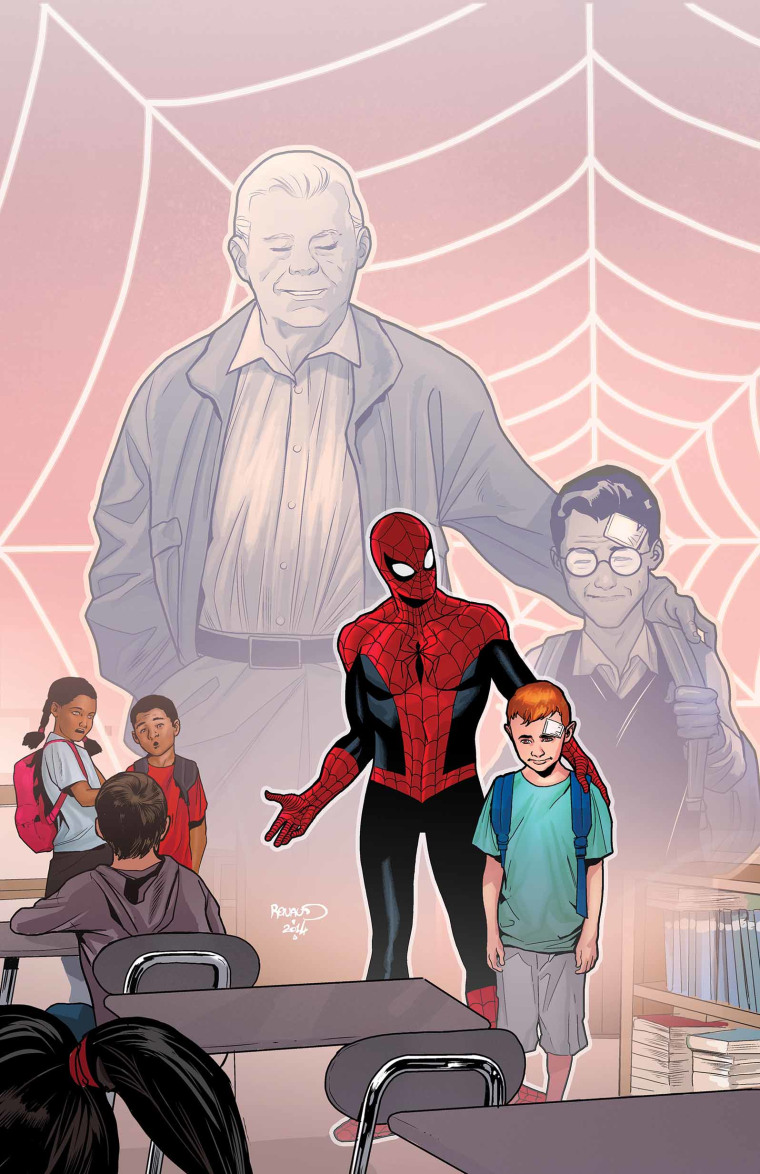 "When the art started coming in for the STOMP project, we knew we were on to something special, and though STOMP is not directly involved in this project, we absolutely wanted to continue furthering their anti-bullying message," Lewis said, adding the price would be $1.99, so it can get "into the hands of anyone who relates to it."
At New York City's largest comics retailer, Midtown Comics, Marvel's stand against bullying is doing well, co-owner Gerry Gladston told TODAY. "Our store managers have reported that customers, old and new, are coming in asking for them."
Brett Schenker, who blogs about politics, technology and comics, says the battle against bullies is part of a trend. "I think in comics and especially game culture, we're seeing a massive discussion about bullying currently, especially a toxic online culture. Unfortunately, it's been high-profile incidents that get the most news, and discussion only lasts for a short period generally."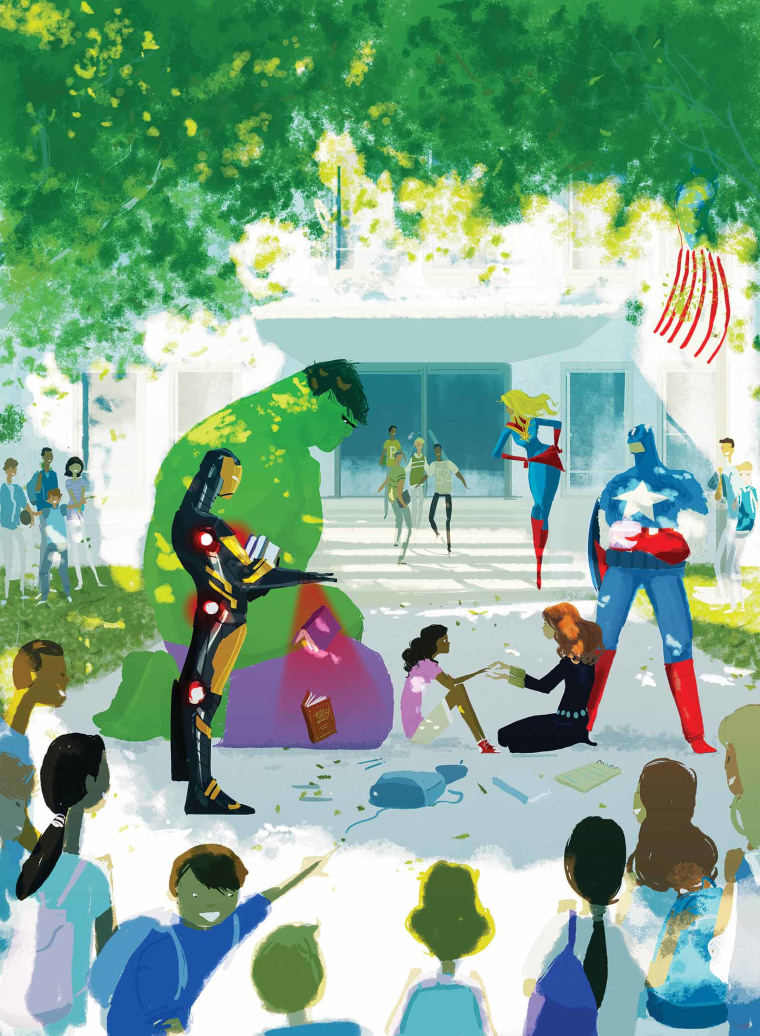 Comics fandom overlaps with video game culture, which has been rocked in recent weeks by GamerGate, an online campaign targeting female game developers starting with Zoe Quinn, who created an interactive game designed to foster understanding of depression. The backlash against what some see as efforts to impose political correctness onto video games is so vitriolic — including "doxing" (publishing individuals' personal information) and threats of rape and death — that on Sunday, video game critic Chris Suellentrop warned in the lead New York Times Sunday Review opinion piece that gaming "could go backward ... Instead of being a mainstream form of entertainment, it could end up being something like comic books, a medium that has never outgrown its reputation for power fantasies."
But "Avengers: No More Bullying" will run counter to that reputation, editor Lewis promises. Though it will have plenty of "swashbuckling superhero action," he said, "a book like this really gets its weight and meaning from how much heart it's got ... when you take away the shields and armor and web-shooters, what keeps these heroes going is that they know the value of tolerance and kindness."
"Comics can do wonders to teach morality and life lessons," Schenker acknowledged. "While it's nice Marvel is doing 'Avengers: No More Bullying' and a bunch of anti-bully variants, the discussion needs to be ongoing. And as a leader in the industry, they, and other publishers, need to be constantly involved — more so than just some covers or a one-shot. This reminds me a bit of painting things pink for a month, and ignoring the issue the rest of the year."
Follow Rick Schindler on Twitter.