/ Source: TODAY Contributor
What was meant to show a moment of sweet affection between retired soccer star David Beckham and his 5-year-old daughter, Harper, has become an issue that has divided the internet — again.
Beckham posted a photo on Instagram last Thursday captioned, "Kiss for Daddy," featuring the father and daughter planting a peck on one another while on vacation in Tanzania. The photo has 1.8 million likes on Instagram less than a week later.
While most of the Instagram commenters thought the picture of him kissing his little girl was adorable, a few naysayers were disgusted by the gesture.
Instagram user swedeinaus commented, "You people are sick for defending this. The truth will come out... this may have been acceptable in the 1990s, but times have changed, and we won't stand for it any longer. Children's innocence must be preserved."
Another, sdemussy, said, "Parents and kids don't make out!"
Supporters, such as mullen8522 said, "Love this pic daddy and daughter moment," and fellow commenter free_bird29 added, "Do not ever be scared to kiss your daddy. I am almost 30 and still kiss my dad and my papaw on the lips. Its sad that people don't understand. This is beautiful. I hope when she is my age she still does this and isn't scared of what people will think. #ignoranceisablindheart."
Never miss a parenting story from TODAY.com! Sign up for our newsletter here.
Almost a year ago, Beckham's wife, Victoria Beckham (aka Posh Spice) stirred up the very same controversy by posting a photo of herself kissing Harper on the lips. In a TODAY survey posted along with Victoria's kissing pic, 72 percent of 20,000 responders said, "Yes! It's okay to kiss your child on the lips."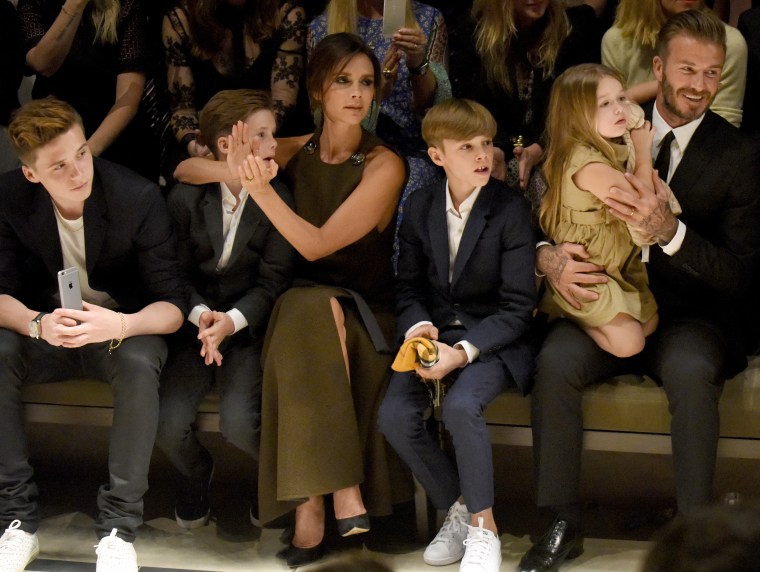 The Beckhams aren't the only celebrity parents who have come under scrutiny for their shows of parental affection. In December, actress and mom Hilary Duff experienced a similar backlash when she posted a pic of herself kissing her 4-year-old son at Disneyland.
Clearly, the Beckhams, who have four children — Brooklyn, 18, Romeo, 14, Cruz, 12, and Harper — are lip kissers. But what do the experts say about this practice? Even they don't always agree.
In response to a picture Harry Connick Jr. posted back in 2010, child and educational psychologist Charlotte Reznick said that kissing a child on the lips can be "confusing" for kids. In response, Australian child psychologist Dr. Fiona Martin was quoted as saying that it's "normal and healthy" for parents to be affectionate toward children. "It's communicating to your child that you love them," she said.