When Larisa Barth was 40 weeks pregnant, she endured the unimaginable.
"I was a normal pregnant woman preparing for my son," shares Barth, who lives in Browning, Mont. "I had a baby shower, our nursery was ready, I attended every one of my appointments, I was considered healthy."
On the morning of her due date in 2011, Barth woke feeling uneasy. She hadn't felt her son move or kick overnight, so she called her doctor. At her appointment, the nurses and the doctors searched extensively for her son's heartbeat, but it wasn't there. "I felt like I was dying but still breathing," says Barth.
Immediately after receiving this devastating news, Barth was induced and gave birth to her son Asher several hours later. 
"Within 20 minutes of his birth they brought in a fetal death certificate," recalls Barth. "My husband asked, 'Don't I get a birth certificate?' We were told we wouldn't be issued one because our baby never took a breath. It made me feel like I didn't have a baby because he was born dead and we were no longer recognized as parents."

According to the American College of Obstetricians and Gynecologists, stillbirth, or fetal death that happens during pregnancy at 20 weeks or greater gestation, occurs in approximately one in 160 pregnancies in the U.S.
Barth describes feeling like an outcast after her delivery of Asher and like she was the only one enduring this tragedy.
"Even though he was no longer with us, I continued to feel this need to parent him in some way. My hormones were all there, my milk had come in, I needed to mother him and parent him even though he had died."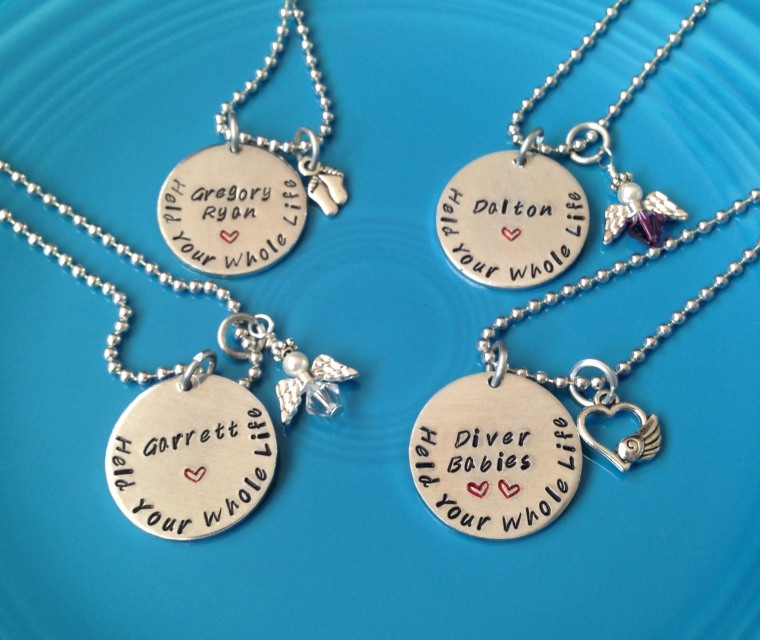 As a gift from friends and family, Barth and her husband received a necklace from the funeral home with an imprint of Asher's handprint. The necklace became a priceless possession to the couple, but it was expensive, nearly $500. This propelled Barth to launch her own line of necklaces, free to other parents grieving the loss of a child due to stillbirth.
The project, Held Your Whole Life, was named after a letter Barth wrote to read at Asher's funeral. In it, she described how she felt fortunate she was able to keep Asher away from pain and suffering because she was able to hold him his whole life.
Since its launch in 2012, Held Your Whole Life has made 2,500 free necklaces, shipped as far as Bulgaria and Australia. The delicate charms have the child's name and slogan "Held your whole life" imprinted on them. Currently, there are 1,800 open requests for necklaces and a 3-month waiting list from parents requesting that their stillborn child's name be memorialized. Barth funds the project through donations and sponsorships, and works with 13 volunteers.
Experts say acknowledging a stillborn child through a necklace or other type of memorabilia is one of the best ways to help with the grieving process.
"Grieving a stillbirth is very different from grieving a person you got to know on the 'outside' world." says Dr. Irving Leon, a clinical psychologist specializing in reproductive loss in Ann Arbor, Mich. 
"In those instances you can recall his face, his voice, favorite memories, etc., whereas for a stillbirth there is precious little to remember. So creating such memories can help concretize the loss, facilitate grieving, and make more memorable and meaningful what was lost."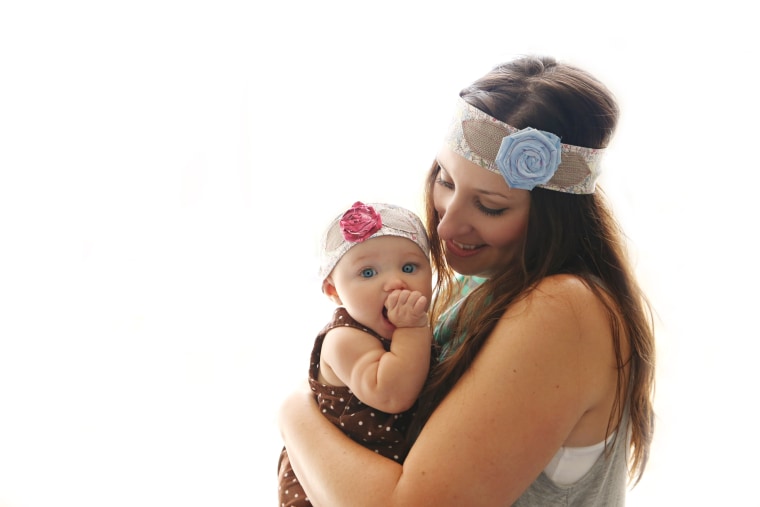 As recently as 35 years ago, Leon says that parents facing this tragedy were instructed not to grieve and to forget the loss. They were prohibited from seeing their baby and told to have another baby as soon as possible.
"Now we encourage parents to allow themselves to grieve by seeing, touching, holding and getting to know the baby they loved in utero but sadly did not get to identify as their son or daughter. The task after this loss is to make it real, a challenge in light of how shocking and unexpected the loss is," he said.
This challenge, tackled head on by Barth and her husband through "Held Your Whole Life," is her way of ensuring her son, and many others, continue to be remembered and acknowledged even after they're gone.
"It's not just the loss of the child but it's the loss of your hopes and dreams," says Barth. "I feel like I lost my innocence."
And she is not alone. Leon says that the most beneficial thing you can do to help bereaved parents is to simply sit with them and listen to what they're feeling: "The bereaved parents need to know they are not alone in their grief, but that they are understood and cared about."
"I hear so many stories from families that get to tell complete strangers about their babies just because of their necklaces," says Barth. "This is so important because we need to break the silence surrounding pregnancy and infant loss so that no mother or father has to grieve alone."