A 12-year-old Florida girl stole her father's car, picked up her friend and the pair drove across state lines to allegedly meet a person they met online — but the girls turned themselves in after seeing their faces on TV, officials said.
A missing child alert was enacted Thursday morning for the 12-year-old and a 14-year-old after the girls were last seen in their hometown of Lake Butler, Florida, believed to be traveling on the I-10 highway toward Louisiana. NBC News is not identifying the girls.
Chief Deputy Capt. Lyn Williams with the Union County Sheriff's Office said the department had information that the girls could have been traveling to "meet someone they met online."
However, it's not clear who that person was or if they were an adult.
Two children drive 400 miles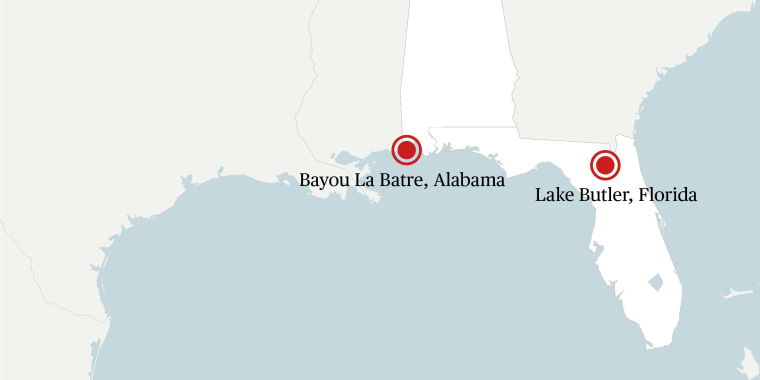 Alerts were issued with the National Center for Missing & Exploited Children for Florida, Georgia, Alabama and Louisiana, with special attention to areas around Baton Rouge, Williams said.
Officials said that there was no adult with them and no foul play was expected. 
The girls ultimately saw themselves on TV in a Missing Children alert at a gas station in Alabama and turned themselves in to local authorities. 
That same afternoon, the Union County Sheriff's Office announced the alert was canceled and the girls were located safe in Bayou La Batre, Alabama, about 400 miles away from their hometown.
Multiple agencies were involved in looking for the girls including the FBI and the Florida Department of Law Enforcement.
Williams said that there were some "suspicious circumstances" that raised "red flags" regarding the online person the girls may have been trying to meet and the matter was turned over to the FBI to investigate.