As a foster mom to a baby who was born to a woman addicted to drugs, Hindi Zeidman discovered that swaddling was a way to calm the baby. But she couldn't find a swaddle blanket that could contain the 3 month old, named Oliver.
"Nothing contained him, nothing worked," she says. "Although he was really little he had strong muscles and could kick out of everything."
So Zeidman created a swaddle that would work, a creation—the Ollie Swaddle—that has since led the 35-year-old entrepreneur to found her own company.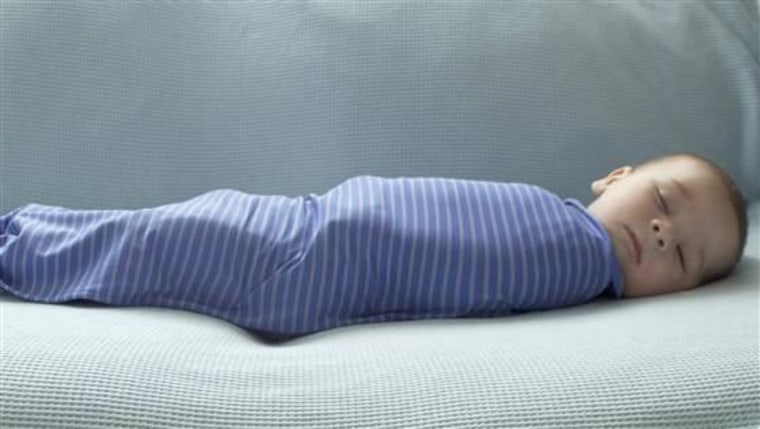 Zeidman first learned about the importance of swaddling as a teen when she worked as a candy striper on a maternity ward.
In 2008, she became a foster parent to Oliver, a tiny, fussy baby who wouldn't eat or sleep. His birth mother did crystal meth when she was pregnant, so doctors said he was developmentally months behind and was failing to thrive.
"His previous foster parents really struggled with him," says Zeidman, of Upland, California. "They couldn't deal. He was really difficult."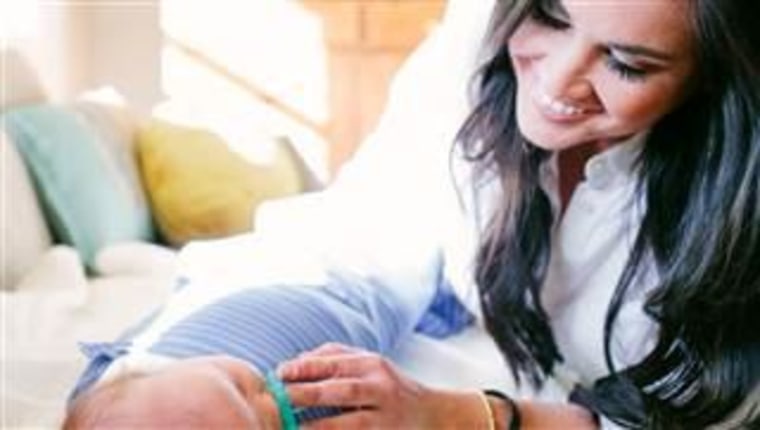 Dr. Kiti Randall, a pediatric neurodevelopment psychologist, in San Bernardino, California, who worked with Oliver, strongly suggested that Zeidman try swaddling him.
Zeidman bought every swaddle blanket she could find, but he broke loose of them all.
So, she consulted with Randall and developed her own version.
When designing the Ollie, Randall urged Zeidman to make sure the fabric was breathable to avoid babies overheating. She also noted that people have expressed concerns that babies wrapped "too tight for too long can get hip dysplasia," so they made sure the fabric was stretchy, and has velcro so parents can adjust the tightness and size of the swaddle.
Another concern about swaddling is the same worry about any blanket being in a crib—that it can get too near the face and suffocate a baby—so the Ollie's fabric is thin, not bulky, and the swaddle starts lower than many competitors.
"The Ollie went through a few different trials," Randall says.
The American Academy of Pediatrics has stated that when done right, swaddling is safe, and it recommends these guidelines.
"Swaddling is really beneficial," Randall says. "There's been some concerns about how people swaddle…. But swaddling when done right is an effective technique to help calm babies and promote sleep….Many, many important things happen in deep sleep."
Once Zeidman had a swaddle that worked, Oliver started sleeping, eating and learning how to calm himself, and then Zeidman was able to work with him on attachment and developmental milestones. Less than a year later, in 2009, he was adopted.
"He had so much improvement," Randall says. Her friends and colleagues now use the Ollie swaddle, and she gives them out to low-income patients who can't afford them. "They report really improved sleep and regulation," Randall says.
Inspired by her experience with Oliver, Zeidman went back to school and earned a master's degree in social work specializing in infant mental health in 2010.
In her spare time, she worked on perfecting her swaddle. She launched her company in February 2014 and The Ollie Swaddle is now sold on Bluefly, Amazon and her website, www.theollieworld.com.
Zeidman justifies the $48 pricepoint, saying you don't have to buy small, medium and large like some swaddles and sacks. "You only need one," she says.
Stay-at-home mom and blogger Val Detweiler loves the Ollie Swaddle so much, she has two for her 4-month-old son Jackson. (You never know when baby is going to have a blow-out diaper, Detweiler says.)
"It's basically like a hug around your whole body," says Detweiler, 27, of Lacey, Washington. "Babies sleep best when they're being held by mom or dad—the swaddle stimulates that feeling of having arms wrapped around you."
Her favorite thing is that she doesn't have to take the swaddle off to change diapers. "You just lift up the bottom," she says. "It's the best thing ever…There is no swaddle on the market that's like this one. It's so easy to use it—my husband can use it, it's that easy."
The Ollie is now her go-to baby shower gift. "What better gift to give a new mom, than a couple hours of sleep."
This article was originally published Mar. 4, 2015 at 4:18 p.m. ET.