When David Bond, a documentary filmmaker from South East London, asked his daughter how much she loved television, her response nearly knocked him off his feet.
"A hundred billion percent," answered 6-year-old Ivy in a bored drawl. "I love to sit in front of it all day long. It's so relaxing."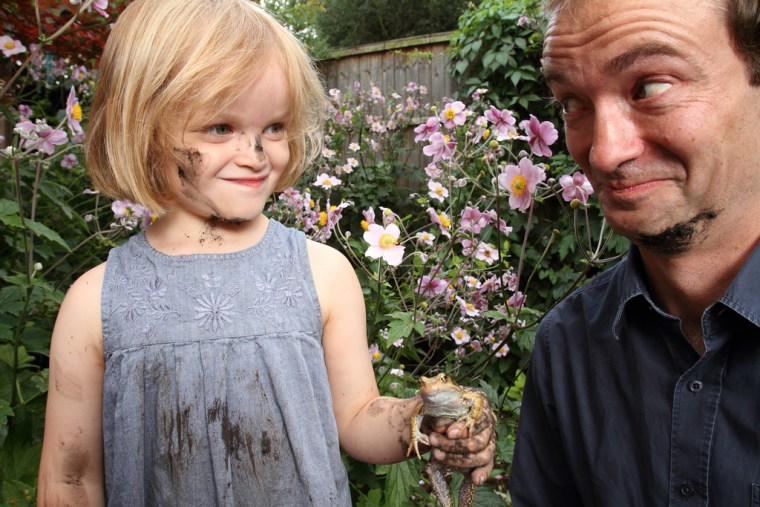 Bond, a father of two, was admittedly disappointed by her answer, but says he wasn't all that surprised.
"I spent all my time on the computer or looking down at my phone, so naturally the kids wanted to do the same," he explains.
His children's reliance upon gadgets and technology for entertainment felt like a far cry from the childhood Bond remembers.
"When I was growing up, we had TV and computers, but I remember playing outside far more than what I saw in Ivy and (4-year-old son) Albie's life. As soon as I got home from school, I'd throw down my bag and run out to play. My children didn't do that and I wanted to find out why."
The result was a documentary three years in the making. "Project Wild Thing" is a bid, led by Bond, to inspire children and adults to change their behavior and swap at least half an hour of "screen time" for "wild time."
"This film is a personal story," says Bond. "In filming 'Project Wild Thing,' we attached a camera to my daughter's head to see how she spent her time. Nearly a third was spent on screens. She spent just 4 percent of her time playing outdoors, the same length of time she spent in the bathroom."
Bond says that with such limited time outdoors, he was concerned about the example being set for his children's generation.
"I am aware that my generation has ignored many of the major environmental choices, leaving it up to our children's generation to make difficult choices on housing, energy and water use. I'm deeply concerned that if this generation grows up without a connection to nature, then they won't care enough about the natural world to want to fight to conserve it."
In collaboration with the film is a campaign called the Wild Network, which joined over 750 UK-based environmental, education, parent and other organizations who believe children thrive most when they're outdoors.
"Children need nature and nature needs children," says Chairman Andy Simpson. "Wild Network is a response to an urgent problem. Children are spending an ever increasing amount of time indoors and often in sedentary pursuits. If children do not experience nature, they are unlikely to value it."
Bond decided the best way to get his kids outdoors was set the example and go outside himself.
"I'm a strong believer that young children take their lead from their parents. I take them to an old Victorian cemetery around the corner from our house and it's a fantastic place to play. There's beautiful green space to run around and the crumbling gravestones make great hiding places."
The result, he found, was children more in tune with their surroundings and compassionate to their natural environment.
"Ivy and Albie have really learned to look at their surroundings. They love watching the birds come feed themselves outside the kitchen window and are slowly learning to name them," Bond says. "Recently, a local fox was killed by a car and it really bothered them. I don't think they would have cared a year ago."
Simpson says that is the goal of the Wild Network: children and parents connecting more with nature and, as a result, each other.
"Nearly every adult's best memories from childhood are about being outside with people you care about and having fun," says Simpson. "This is not about turning the clock back or anti-technology. The Wild Network and 'Project Wild Thing' is about children having fun in the best place possible, in nature."