While Jacob and Sophia may still top the list of popular baby names, the most influential name of the year is one that sparked a trademark battle (and likely, inspired many imitators): Blue Ivy.
When picking the Name of the Year, the folks at the popular site BabyNameWizard.com don't necessarily go for popularity. Instead, they choose a name that either ties into current events or reflects changes in our culture.
"Our name is usually a time capsule of the trend in names," Laura Wattenberg, author of the book "The Baby Name Wizard" and BabyNameWizard.com founder told TODAY Moms.
Back in November, the site sent out a call for nominations and they came pouring in. Popular suggestions for the year also included Mitt, Trayvon, PSY, Katniss and Sandy. In the end though, it all came down to Blue Ivy.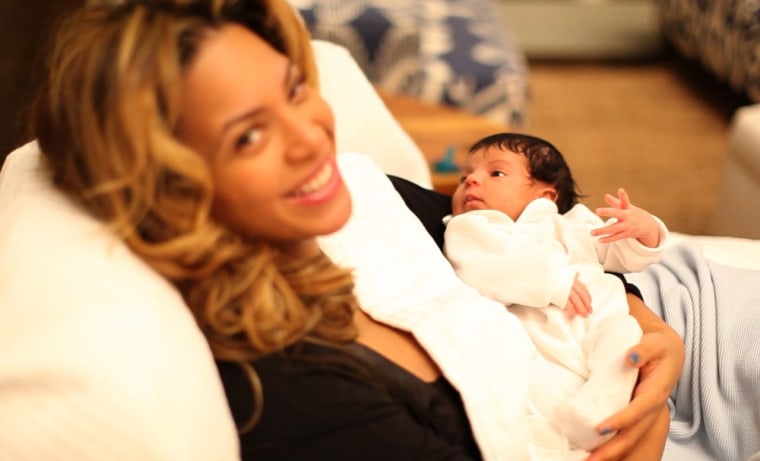 Why Blue Ivy? Because it reflects a larger trend of parents everywhere searching for unique names and the desire so many of us have to keep those names for ourselves. While Beyonce went to the lengths of trying to have her baby's name trademarked, many moms of more average means have fiercely safeguarded their own baby names. Whether we announce it as "our" baby name, trying to stake claim to it among friends and family, or we refuse to share the name until the birth, afraid that someone may steal it, a number of us perform our own informal attempts to trademark our baby names.

Jay Z and Beyonce "carefully crafted a unique name for their daughter and have gone out and defended that name," Wattenberg said. "That's happening all across America. Our sister site's 'Ask the Name Lady' column is bombarded by people who feel their name is being stolen. We feel that baby names should be [unique] like user names or domain names. There's a lot of competitiveness out there." 
The celebrity couple's trademark battle over their daughter's name isn't the only reason Blue Ivy was selected as the name of the year. While we used to think of unusual names as the domain of kooky Hollywood types, that's no longer the case – almost everyone's picking unique and unusual names these days.
"There is no normal now when it comes to names. The top names today are just one-quarter as popular as the top names were in the 1950s. The number of babies getting unique names has just soared," Wattenberg said.
So, why the shift in the naming process? After generations of using more traditional names, why are we suddenly abandoning "Jason" and "Jennifer" for "Jayden" and "Brooklyn"? Wattenberg believes the trend has been a while in the making. She says it first started with the rise of individualism in the 1960's, but that it really accelerated with the advent of the Internet in the 1990's.
"Our parents couldn't have known how popular a name was. No one kept track of that information," Wattenberg said.
It wasn't until the 1990's that the Social Security Administration started reporting on the most popular baby names. That measure of name popularity started after an employee, Michael Shackleford, wrote a program to sort names when he and his wife were expecting their daughter. And, as they say, the rest is history.
Did you do anything to "protect" your chosen name, or worry that someone would "steal" it?
Dana Macario is a Seattle-area mom who annually checks on the popularity of her kids' names – and groans as they go up the list.