He's less than a month into being a daddy for the first time, but Ashton Kutcher has this whole parenting thing down pat. Well, mostly. On his visit to "Conan" Monday night, he shared what the learning curve of becoming a father was like — and the fun story behind how his baby with Mila Kunis, little Wyatt Isabelle, got her name!
On being a baby whisperer: "Staying home for the first couple weeks, I've learned the little things that like will calm the baby down," he said. "So, I feel like I'm a baby whisperer now. So I like to give the baby to my friends and let it cry for a second and be like, 'Let me just take care of that.' Any sort of hero fantasy that I have is completely satiated."
How they picked Wyatt: The original name for the baby went out with the bathwater; it just didn't fit. So Kutcher said, "I just started listing off anything and everything that I saw. ... Then I was like, 'All right I've got a really dumb idea. What about Wyatt?' [Kunis] goes, 'That's it.' And I was like, 'Really? I did it?' She was like, 'Yeah, that's it.'"
On buying Wyatt-filled domains: Web-wise Kutcher and his fiancée took care of Wyatt's future social media presence tout de suite. "We immediately went home and we reserved all the domain names. ... I don't want a porn site with my daughter's name on it! It's unacceptable to me and it is not gonna happen!"
Why he owes an apology to his own parents: The transforming experience of becoming a parent ... well, it's all true, he said. "It's unbelievable. It's the greatest thing on earth. As soon as this child was born I immediately like wanted to call my parents and just apologize because I never knew how much they loved me."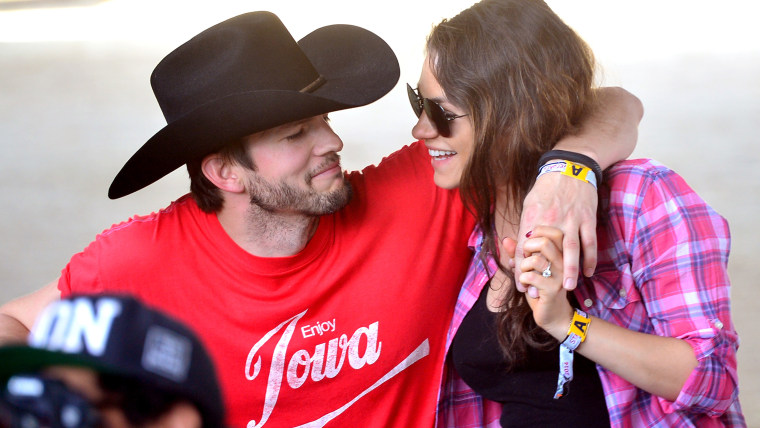 Check out the video to catch all of Daddy Kutcher's thoughts on parenting — he's definitely not punking us on this one.