International adoption is common in the United States, although parents in other countries are just as eager to adopt. 
Meet Priscilla Devries and Richard Dros, who live in the Netherlands and wanted to have biological kids, "but it was medically not meant to be," they said.
So they turned to adoption, but finding a child born in their native country is virtually impossible, as only one or two babies are put up for adoption each year, the couple said. Next stop: the United States, where a woman who gave birth to a girl last month chose the couple to be the baby's parents.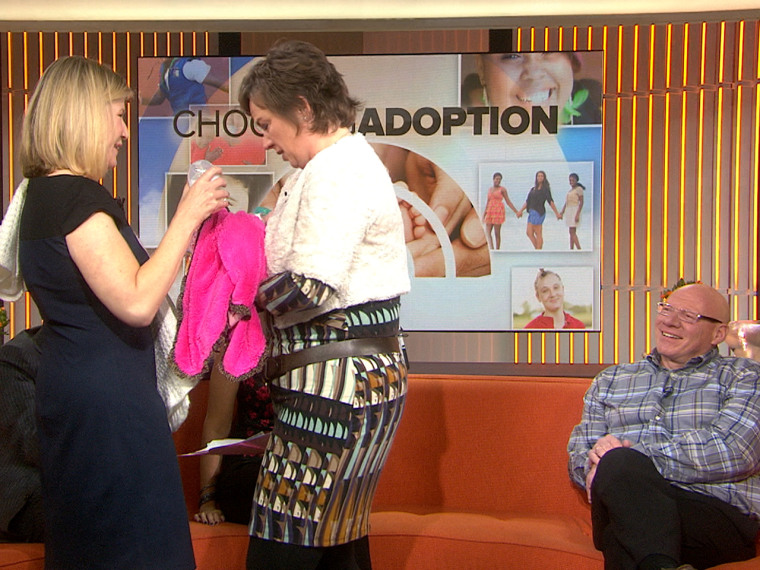 Priscilla and Richard decided to name their new daughter Sky.
They also agreed to meet her for the first time live on TODAY on Thursday and the tears started flowing even before the baby made her first appearance.
"We waited so long, so we are very excited to see her, so we can't wait," Priscilla told TODAY's Savannah Guthrie and Matt Lauer.
The meeting was part of Choosing Adoption on TODAY, a week-long look at adoption, from the perspective of families as well as kids waiting for their forever homes. 
Several families celebrated the finalization of their adoptions live on the show Thursday. 
Priscilla and Richard met their new daughter in Studio 1A. A representative from the Adoption Arc agency brought out the baby girl and handed her over to her new mom, who showed her off to Richard. The couple beamed and kissed as they cradled the infant, who was exactly 30 days old on Thursday.
"I'm in heaven; that's why we chose her name Sky," Priscilla said. "She's beautiful. We're very happy."
They stroked the baby's tiny hand and cheek, kissed her and gazed at her, hardly taking their eyes off the newest member of their family.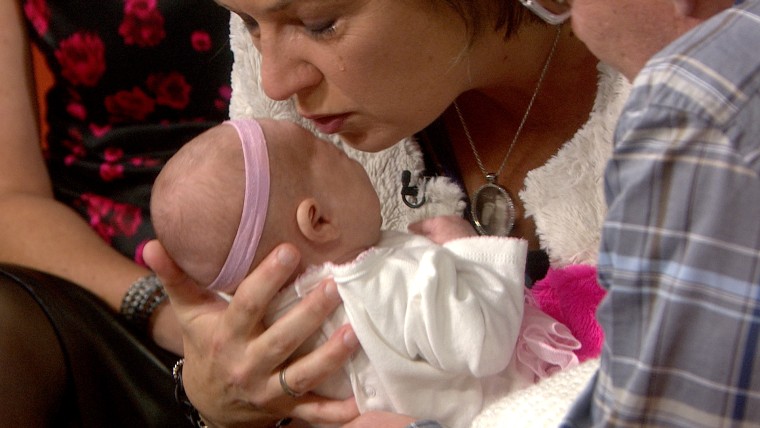 The couple has a 3-year-old son, also adopted from the United States. He watched his parents meet his new sister on TV at a hotel with grandma and grandpa.
It's rare for non-American couples to adopt American kids, with only 100 such adoptions taking place each year.
But the couple, who are both police officers in the Netherlands, said the birth mother chose them, believing they could offer a safe home for Sky. Safety was the number one issue for the woman, who has had "much trauma in her life" and loved the fact that they are in law enforcement, they said.
The birth mother will always be in their hearts and part of their lives, they added.
"Open adoption is very important for us," Richard said, noting they hope to tell Sky everything about how she came to be part of their family. "We will raise her with all the love we have."