More than a year after having her first child, Ever Imre, Alanis Morissette visited her doctor. Following his 25-hour birth, she had been experiencing worrisome symptoms, including pain, insomnia, sluggishness, and vivid, disturbing images of her son and husband being injured. She learned that she had postpartum depression (PPD), and her doctor helped her treat it.
Now, 14 months after having her second child, Onyx Solace, Morissette reveals in a People interview that she again has been struggling with PPD, which started mere "seconds" after delivering the baby girl.
"I had a pretty good sense it was going to happen again," she told People.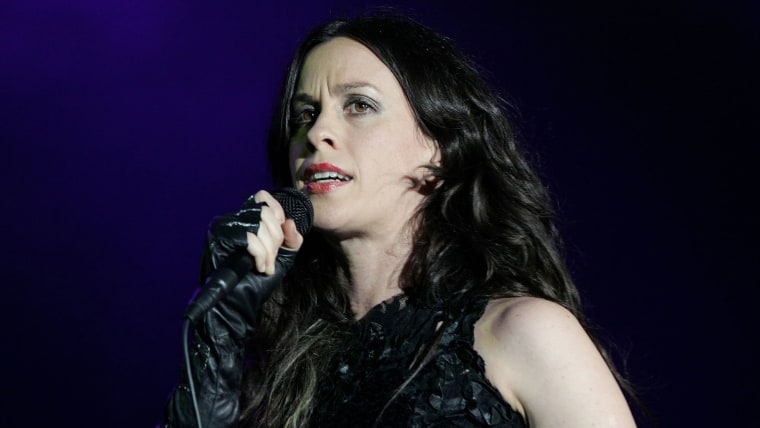 The Grammy-winning singer shared her story to help other women with PPD feel less isolated.
"The stigma remains in a really big way," she told People. "There's this version of eye contact that I have with women who have been through postpartum depression where it's this silent, 'Oh my God, I love you. I'm so sorry.'"
Postpartum depression is common. The American Psychological Association (APA) estimates that as many as one in seven women experience PPD, which is more serious than "baby blues." PPD can occur immediately after birth or up to a year later and, unlike the baby blues, it often requires treatment. Common therapies include counseling and medication.
Morissette is taking medication, talking with a therapist, exercising daily, relying on homeopathic remedies and writing loads of songs.
"I wrote many, many songs over the last three months," she told People. "I had to start writing songs, or I was going to implode."
What's more, she said this bout of PPD is "four times worse."
Dr. Christine Greves said she hasn't heard of PPD increasing in severity with each pregnancy, but having it once increases the chance of it returning.
"Maybe because they are more aware, the symptoms may seem more severe," said the doctor at the Center for Obstetrics and Gynecology at Orlando Health. "If a person has had postpartum depression before, it puts them at a risk at having it again."
Greves said she tries being proactive with patients with increased risk.
"If they have a history of depression or postpartum depression I get them a counselor before they are in desperate need," she said.
While Morissette's getting treatment, the singer admits that she tries shielding her children and husband, Mario "Souleye" Treadway, from her PPD.
"My main priority is that I want to make sure both of my children are loved and bonded with and provided for," she said. "Poor Souleye sometimes gets the dregs of my exhaustion at the end of the night. Even holding hands at this point is a deeply intimate experience."
An avoidance of intimacy often occurs in women with PPD. Other symptoms include:
Anhedonia
Increased or decreased appetite
Anxiety or panic attacks
Out-of-control, scary thoughts
Feelings of guilt or worthlessness
Increased irritability or anger
Uncontrolled crying or sadness
Panic about being a bad mother
Fright at being left alone with the baby
Unhappiness
Insomnia, sleeping too much, restless sleep
Lack of interest in the baby
Inability to concentrate, remember, or make decisions
Thoughts of hurting yourself or the baby
The APA recommends that anyone experiencing these symptoms for more than two weeks seek help. Any woman who is thinking of harming herself or her baby should immediately see a mental health professional.
Sometimes diagnosis of PPD is delayed because women think hormonal changes or sleep deprivation cause their feelings. But seeking help remains essential.
"It is very important for a woman to not be afraid and to let her doctor know if she is feeling this way. ... It is not a stigma. It is a fact. It happens," said Greves. "There is hope it will get better. It does."
While life with PPD feels exhausting and overwhelming, Morissette knows she'll overcome it.
"There are people who are like, 'Where's the old Alanis?' and I just think, 'Well, she's in here. She's having a minute,'" she told People. "I just know that there's a light at the end of the tunnel and try not to beat myself up."