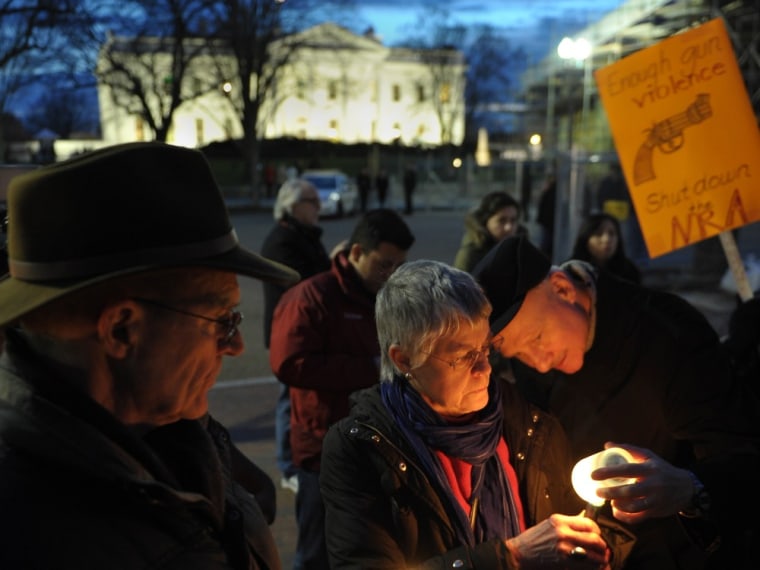 Parents everywhere reacted with the same horror to the shooting massacre at a Newton, Conn., elementary school that killed  more than two dozen people, 20 of them small children. But moms and dads don't speak with one voice when it comes to what this tragedy should mean for gun control. While all are united in their desire to protect the nation's children, they are deeply divided when it comes to how that should happen in terms of guns.
Some parents turned their shock and grief into arguments for stricter gun laws, but others say it's time to think seriously about protecting Second Amendment rights, and maybe even arm teachers so that adults can defend students against attacks like this. 
"I do feel that those kids would have been better protected, more lives would have been saved, if someone had had some type of weapon at the school," says Jillian Mae Hagle, of Tahlequah, Okla., the mother of a 1-year-old.
Other parents say the school shooting is a wake-up call for stricter gun control.
Bruce Ditman, father of Mila, 7, and Sam, 3, lives about half hour from Newtown.
"I like guns," he says. "We have Nerf swords and guns in my house and gun control has never been something I've been hung up on." Until Friday, when he watched children the same age as his, and parents just like him, suffer unspeakable pain and loss. Now he says enough is enough.
"We, as a country, have lost our privileges and proven ourselves undeserving of the type of freedom and access to weaponry we think we deserve," he explains.
For some parents, Friday's tragedy awakened memories of their own loss. Elaine Rondeau of Marietta, Ga., said she sobbed and sobbed when she heard the news – just like she does every time she learns of another mass shooting.
She and her husband Gordon lost their 29-year-old daughter Renee on Halloween night in 1994, when she was held at gunpoint, robbed, and then strangled in her Chicago apartment.
"Because of this powerful weapon, this gun in their hands," Elaine Rondeau says, "these criminals were able to hold our daughter captive, and kill her. If they hadn't had the gun, they never would have been able to get in in the first place."
Rondeau said the Connecticut tragedy makes her frustrated that, in her opinion, there's been no real progress on gun control since her daughter's death 18 years ago.
In fact, Connecticut has some of the strictest gun laws in the nation.  Under Connecticut law, people under 21 are prohibited from purchasing or carrying handguns. Adam Lanza was 20. There are conflicting reports about how many weapons Lanza used during the shooting and how he got them. At one point, law enforcement officials told NBC News that Lanza had four handguns while he stalked the halls of Sandy Hook, but that could not be confirmed. It appears he carried at least two 9mm handguns, in addition to a rifle, which was the primary weapon.
Officials also told NBC News that Lanza unsuccessfully tried to buy a rifle at a Dick's Sporting Goods store in Danbury three days before the slaughter, but later said they could not confirm the report, which was based on tips from members of the public.
Law enforcement officials told NBC News that two 9mm handguns Lanza used in the Sandy Hook shooting were legally purchased and registered to his mother, Nancy, who was among his victims. 
Some moms see access to firearms as just part of a larger equation when it comes to protecting children and teachers from this kind of violence. Dr. Melissa Arca, a mother, pediatrician, and blogger, believes we can't talk about gun control without talking about our mental health system.
"Yes, there need to be changes in our gun control policies," she told TODAY Moms.  "But would troubled young individuals be able to carry out horrific acts of violence if they received the medical support they need?"
Lynne Roberts, a mother and grandmother, agrees that the problem goes deeper than gun ownership – but disagrees that gun control policies need tightening.
"[Sandy Hook] is a tragedy," Roberts says. "But no sane person goes out to do something like this. This tragedy was brewing for years before it manifested itself in this awful occurrence."
Roberts, the coordinator for the Massachusetts chapter of Second  Amendment Sisters, a nonprofit self-defense advocacy group for women, says gun-free zones like schools and hospitals can become "soft targets" that attract people looking to wreak havoc and destruction. She believes that if Lanza had known that someone on Sandy Hook Elementary's school grounds had a gun to defend students, he probably would have picked a different place to attack.  
Still, the thought of gun control weighs heavily on the minds of many parents as they try to make sense of the tragedy. Melinda Blanch, the mom of two boys under 3 and a resident of New Haven, Conn., says she's conflicted. She understands the constitutional right to bear arms, but points out the constitution was written at a time when a musket was the biggest threat.
Until Friday she wasn't opposed to private ownership of firearms, like the handguns used at Sandy Hook, with a limited amount of ammunition.  But as a mom, the stories of those little ones at the elementary school shook her to the core. Now she favors much stricter gun laws.
Most of all she, says, "Let's hope as moms we can have some productive discussions and come up with real ways to prevent another situation from arising like this in the future." 
Related stories: