Adult-only New Year's Eve parties are highly overrated. At least, that's what you discover once you have kids. Shopping for an outfit to wear to a fancy party, doling out big money for a sitter, and paying for champagne over-indulgence when the kids wake you up at the crack of dawn — nope, not worth it.
Turns out, celebrating New Year's Eve is great when you include your little ones. We consulted a crew of creative moms who are expert entertainers to give us pointers on how to throw a festive, kid-friendly gathering, and they all agree: Have activities for big and small people to do throughout the evening, and the countdown to midnight is a blast.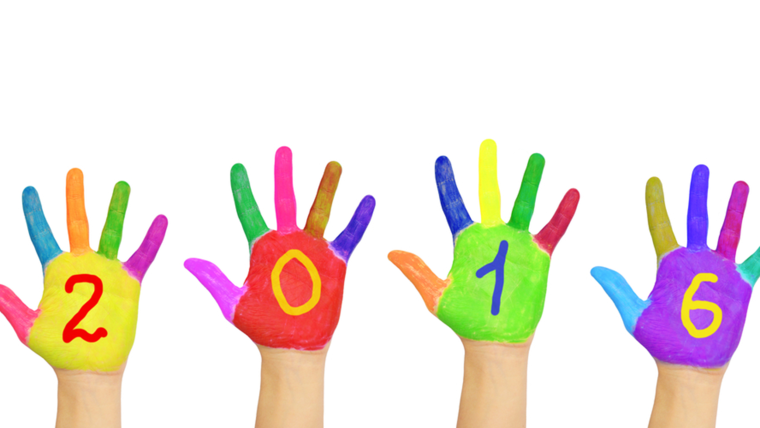 "Having kids in the mix at a New Year's bash brings the fun-vibrations to new heights. We've always had our young'uns with us for the countdown and now that they're older, I'm glad we didn't ditch them for all-grown-up soirees," says Meredith Sinclair, a mom of two who blogs at MeredithPlays.com. "Taking a little bit of time to pre-produce the New Year's fun makes for a truly festive time for everyone involved."
Of course, the six-hour countdown suggested here doesn't have to be followed exactly. If you've got really little ones, compress it into a shorter amount of time. There are benefits to doing the countdown well before the ball drops in Times Square.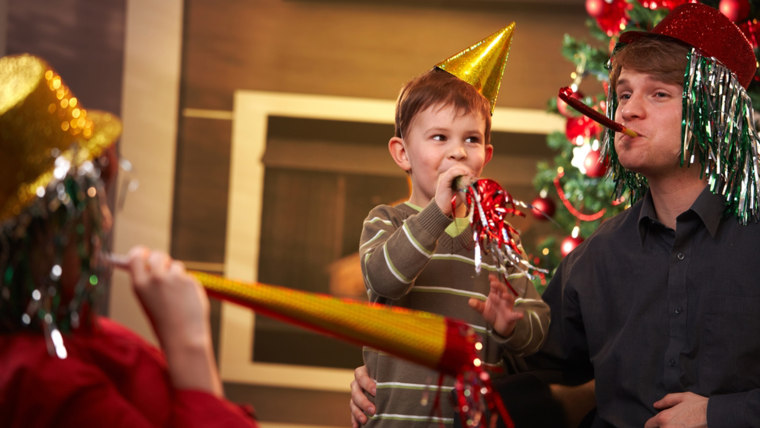 "One year we did the countdown at 7 p.m. for our kids and we had to pause [while counting down] at 5 because one of the babies had a diaper blowout," says TODAY Parenting Team contributor Amanda Mushro, mom to kids ages 6 and 4. "You can't pause during the real countdown!"
6 p.m.
New Year's around the world: Let little ones ring in the new year with those who do it first around the world. Post a world map and mark the locations and times they get to holler "Happy New Year!"
"At each hour throughout the night, give the kiddos a surprise bag of something fun to do," Sinclair says. "Dollar store finds like Silly Putty, inexpensive balloon-animal-making kits, punch balloons, etc. ... are all perfect for independent and engaging play over the course of the night."
Confetti creators: Have stacks of colored paper and scissors ready for kids to cut the paper into small bits. (This should buy adults plenty of time for that first glass of bubbly!) You can store the confetti in plastic cups that can later be handed to revelers as midnight approaches. Jill Simonian of TheFabMom.com suggests stuffing the confetti into balloons, and having older kids blow them up. When balloons are tied tight, write 'countdown times' in marker on the outside of balloons. It's 11 p.m.! It's 11:15 p.m.! Pop each balloon when it's time to count down to midnight.
7 p.m.
Personal time capsules: Adults and kids alike will love this creative way to look back at the highlights of the past year. Have a table filled with inexpensive craft boxes or even Pringles cans. Create a simple questionnaire that each person can fill out. Then, use festive stickers and adhesive letters to decorate the 'time capsules.' "We LOVE looking at our capsules the following New Year's Eve to see which of our predictions came true and how much we've grown and changed," says Sinclair.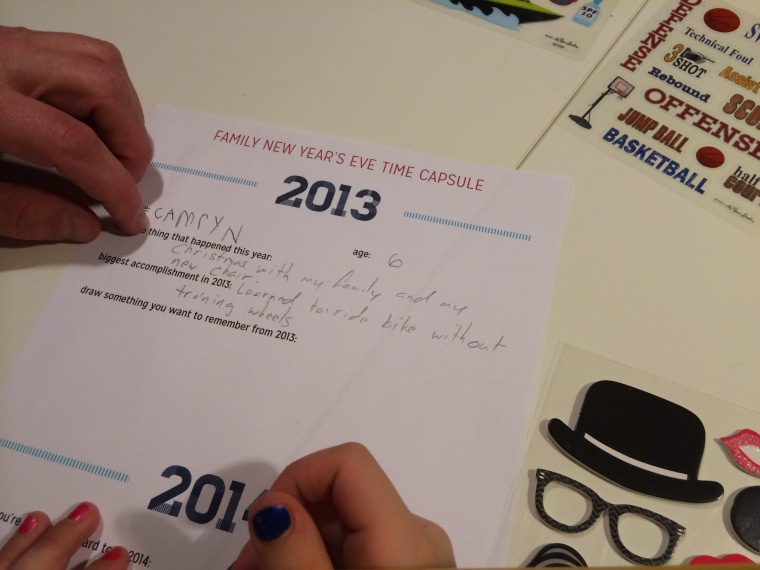 Food that's fun: The food table can still be beautiful and accommodate both adult and kid foods. The trick is to make the kids' food look like adult food, says Mushro, who offers her littlest guests fruit sushi, veggies and dippers in a cup, or chicken Nuggets served like shrimp cocktail but on a single serving of ketchup or ranch dressing.
8 p.m.
Get the party poppin': A popcorn bar goes a long way in pleasing guests of all ages, says Kimberly Schlegel Whitman, Southern Living editor-at-large and a mom of two kids. Make a bag of plain popcorn for each guest and then set out "mixers" in bowls, from M&Ms, chocolate chips and cinnamon-sugar to dill, rosemary, salt, paprika and lime zest.
Make some noise (makers): Paper plates, rice, glue and popsicle sticks come together to create a simple noise rattle, suggests Simonian. Each kid should decorate two paper plates using markers, paint and glitter. Then glue two plates together, leaving a small space unglued. Fill the plates with rice and seal them together with glue, using a popsicle stick as a handle.
9 p.m.
It's midnight somewhere: If your little one's eyelids are getting heavy, you can move up the midnight toast for them, says Mushro. Use a plastic champagne flute, fill with milk, and top with a cookie. Or make a "mocktail" with sparkling cider, mixed with rock lollipops or gummy bears.
10 p.m.
Pass the peas: So how to incorporate those lucky black-eyed peas? They actually make a great pizza topping, suggests Whitman. Use store-bought pizza dough to create individual pizzas. Top with pesto sauce, tomatoes, cooked black-eyed peas, red onions and mushrooms.
Top it off: What's a New Year's celebration without party hats? Simonian uses black Solo cups, large rubber bands and leftover tinsel from Christmas. Use a hole punch on opposite sides of the cup near the rim. Cut the rubber band so it's a long strip and insert in both holes, tying knots to secure them. Glue tinsel around the rim.
11 p.m.
Desserts, come one, come all: With an hour left, it's time for a sweet ending. Set up a hot cocoa bar with marshmallows, peppermint and whipped cream. Or, create a fondue bar with kid-friendly dippers (fruit, cookies, marshmallows) and the adult side (shortbread, gourmet marshmallows, fancy biscuits).
Simonian suggests having a paper-covered table where kids roll ice cream sugar cones in melted chocolate, then sprinkles. "It makes for perfect little kid dessert (they love the mess!) but keeps them happy."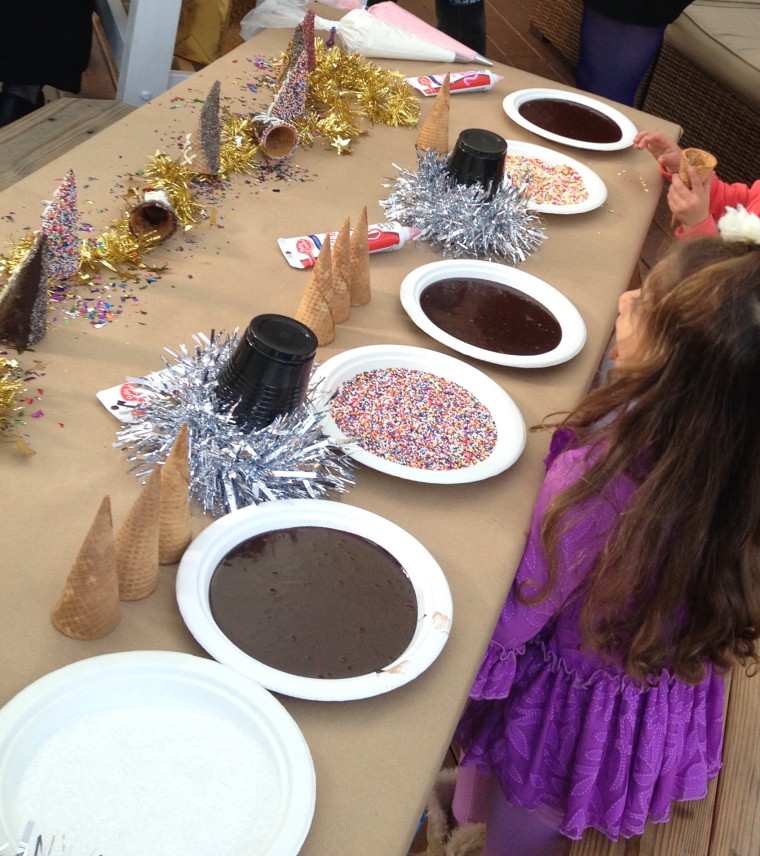 And if the kids are happy, well, so are the parents.