Last July, a taco truck in Philadelphia blew to pieces. Twelve people were injured, five of them critically. Investigators say a leak in the propane tank was to blame.
Many people have barbecue grills in the backyard. Could this happen at your home?
Investigators say yes — it happens more often than you think. There are 7,000 gas grill fires every year, according to the National Fire Prevention Association, many from leaking propane.
In 2013, Byron Fuchs was grilling for a Fourth of July party at his home in West Palm Beach, Florida. He bent over to light his propane barbecue when there was an explosion, engulfing his body in a wall of fire. "As soon as I did it, I looked down at my arm and I [saw] the skin melt off," he said.
It turned out Fuchs had left the propane on too long, allowing it to build up inside the grill and ignite. Home surveillance cameras rolled as he ran to his swimming pool to put himself out. Moments later, paramedics arrived and rushed him to the ER.
Fuchs got second-degree burns on his arms as well as other burns on his legs, "and of course my face, my hair caught on fire," he said. And he isn't alone: Other dangerous explosions are posted all over YouTube.
To find out just how powerful a blast can be, NBC News set up a demonstration. With Minnesota firefighters standing by, Jeff Rossen's investigative team opened the gas valve on a propane grill to simulate a leak.
After just a few minutes, a giant ball of fire erupted from the grill, blowing the doors open. Flames shot out of the top and poured out of the bottom.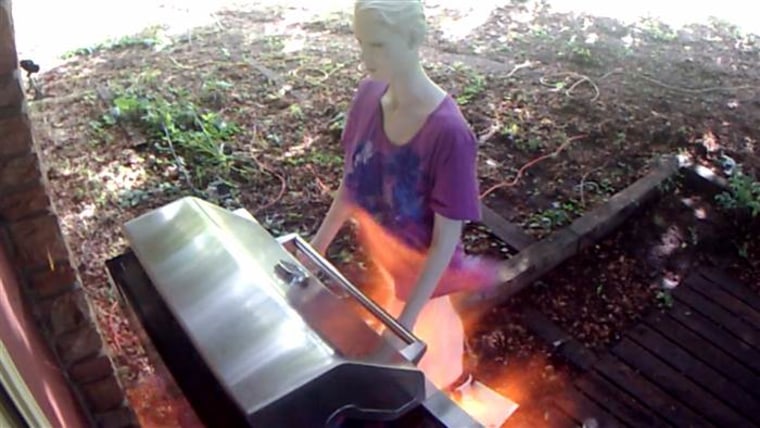 According to James Novak, a fire investigator for the St. Paul, Minnesota, fire department, the most common mistake people make when grilling is: "They turn on the gas, they leave the cover down, they hit the igniter and they get an explosion from a buildup of gas."
The solution, Novak said, is to keep the lid open before you light the grill: "Turn it and light it right away. Don't wait and let it build up gas. And then you don't want to lean over the top so you singe your face off or worse."
Another tip is the soapy water test: Spray all your hoses and connections with soapy water. If you see the soapy water bubbling, that means you have a gas leak there, "and you either need to tighten that up or you need to replace it if it can't be tightened up," Novak said.
The industry says grills are safe if used properly. And experts say there is even more you can do.
If you keep hitting the igniter switch and your barbecue doesn't light right away, don't keep hitting it: Shut off the gas completely, and wait three to five minutes before trying to light it again. If gas has built up, that'll give it time to dissipate.
Also, keep your grill at least three feet away from your house: That way, if there is a fire, it doesn't spread.
And, of course, follow the instructions on your grill or propane tank — they're always printed right on the side.
To suggest a topic for an upcoming investigation, visit the Rossen Reports Facebook page.