The Holderness family burst onto the scene last December, when they made a funny "XMas Jammies" holiday video that was ultimately watched by more than 15 million people. Video spoofs on back-to-school and Thanksgiving followed, and now mom Kim, dad Penn and their two kids have a new holiday video to share. Here, Kim tells TODAY what their big year has been like, mean YouTube comments and all, as part of "2014 Voices," a special series of essays and interviews with newsmakers behind some of TODAY.com's biggest moments of the year.

Let me start by saying NO.

No, we had no idea when we danced in the driveway in our Christmas pajamas that several million people would watch it.
No, we had no real savings when my husband Penn took the giant leap and gave notice at his cushy news anchor job to help build our video production and digital marketing business. (Every time we'd get ahead, a big-ticket item would break.)
No, we had no idea whether this huge leap would lead to success or sleeping on the floor in my in-laws' basement.
But, YES, we are humbled daily, grateful always, and still worry this crazy ride will run off the rails.
Our 2013 Christmas video started innocently enough. We couldn't get one of those magical, perfectly posed photos all our friends seem to capture for their Christmas cards. We were building our video production business (Greenroom Communications) — so a video seemed like a perfect solution.
The response was unbelievable. Within a week we received 13,000 emails. THIRTEEN. THOUSAND. Many were from businesses looking to hire us to make videos and create digital marketing plans. Had our gamble paid off already? Read on.
We spent weeks and weeks trying to answer the kind emails from strangers, ignoring the harassing messages (more on that later), and following up with legitimately interested businesses.
For our small business, we were in over our heads. We lost out on some great opportunities because we didn't have enough people in place to do the work. We quickly needed to hire a team to help handle the workload. This is the point when I wanted to curl up into a ball and wave the white flag. The stress of providing for other families, as well as ours, was (and continues to be) overwhelming.
Remember, not only did we have no savings — now we were paying out more on the hopes these opportunities would in fact lead to happy, paying clients for our company. Penn held my hand and we leaped... again. I'm so glad we did.
Now we have this crazy crew of talented people who amaze me everyday with their creativity and work ethic. I'm proud of the work we've created behind the scenes for companies and brands.
We had expected to build a company from behind the camera; we didn't expect people to want us in front of the camera as a family.
We've been incredibly careful about the brands we've partnered with — our kids are a part of this, too, after all. Right away, we were offered a lot of money to star in a video for a children's snack food — a sugar and food coloring-filled snack food. No, we didn't think people would consider us relevant in a few months but we weren't going to put our faces on a product we didn't believe in. Many food companies with similar food reached out to us. The money was tempting given our financial situation — but we held steady.
As for our children, I don't think they grasp exactly what is happening — they are just thrilled to have Daddy home for dinner every night (impossible as an evening news anchor).
There have been questions about the effect this attention is having on our kids. I'll be honest... we don't know. But, yes, it's something we worry about. If we have an idea for a video, we ask Lola and Penn Charles if they want to participate. Ninety-five percent of the time it's an enthusiastic YES! When it's a "no," we drop it and never, ever force them. Ever.
Anonymous commenters can have their opinions on our parenting. They don't know us at all. AT. ALL.
Now onto those ruthless comments: I do have to say, first, most of the comments have been incredibly positive and supportive. But there are a few zingers buried in there. I get it; we are putting ourselves out there and that means we are opening ourselves to the judgment of the anonymous Internet. I get it. Still, it doesn't make it sting less.
Included in all those original emails were dozens of inquiries from television production companies who wanted to produce reality shows on our family videos. WHAT?! We really are incredibly boring. Penn and I argue over where we spend money and the fact he can't get his underwear into the hamper — but we don't have real table-flipping drama. Recently, one of those companies asked if they could focus on our growing business and the inherent drama during productions. This group wants the show to be uplifting and positive, while showing the natural chaos of deadline-driven work. We trust these people with our story. Stay tuned.
In light of protests, wars, and diseases dominating news cycles in 2014 it seems like a silly thing to be stressed about — but we were very stressed about our new Christmas video.
Since January, friends and strangers have been asking us what we were planning. We had no idea. NONE.
Every song I heard on the radio I would try to morph into some sort of family song. Everything felt forced and awful.
We wanted it to be the authentic holiday video newsletter we had sent our friends and family the year before. While going for a run on Thanksgiving morning Penn looked at me and said, "I think I got it."
The song is fast. Really fast. And it sounds exactly like our year felt — quick, crazy, and happy.
Catch up with all the Holderness family's videos on their website.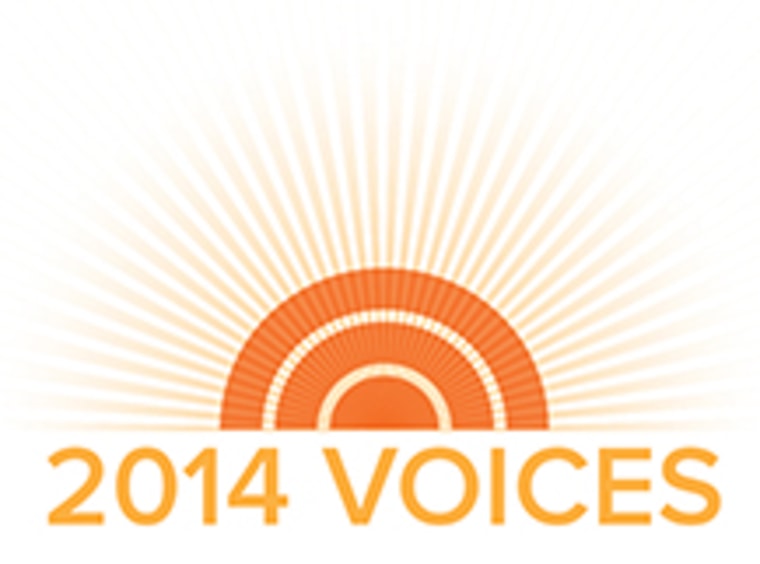 Find more of TODAY.com's "2014 Voices" here.
* Ice Bucket Challenge star on ALS fight: 'I want to grow old with my wife'
* Once obese but starving Texas girl sees healthy future months after surgery
* Rachel Frederickson on life after 'Biggest Loser' win: I found strength in this struggle