It's an age-old adage that the way to a man's heart is through his stomach, and for Stephanie Smith, that saying is literal. For the past year, she's been on a quest to make her boyfriend 300 sandwiches in exchange for an engagement ring, and she's documented the whole journey on her blog.
"What I've learned is that the journey is actually more important. With every sandwich, we learn a little bit about each other," Smith said Thursday on TODAY. "We have more fun, and we have a lot of great meals."
Unsurprisingly, there's been some backlash.
Smith, a reporter for New York Post gossip site Page Six, revealed she was the brains behind the 300 Sandwiches blog in a Post feature on Tuesday. Headlined "I'm 124 Sandwiches Away From An Engagement Ring," the piece delved into the blog's premise and Smith's journey thus far.
"My boyfriend, Eric, is the gourmet cook in our relationship, but he'd always want me to make him a sandwich," she wrote. "'Sandwiches are love,' he says. "'Especially when you make them. You can't get a sandwich with love from the deli.'"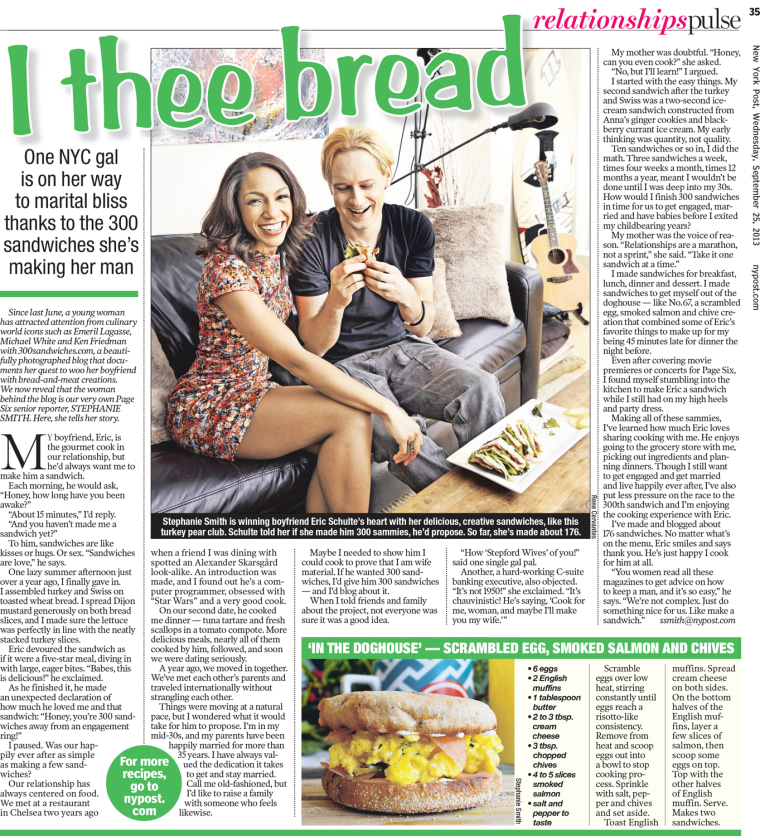 Smith says he loved the first sandwich she made for him so much that he declared, "Honey, you're 300 sandwiches away from an engagement ring!" And so the blog was born: Smith has so far painstakingly documented 174 carefully crafted sandwiches, ranging from lobster rolls to ice cream sandwiches to fancy ham and cheese. 
But the concept of a woman making sandwiches to win a husband didn't sit well with readers around the Web. Within hours of the Post's big reveal, word spread in the blogosphere like wildfire.
"A terrifyingly beautiful New York City woman is either preparing the most exquisite, slow-burn revenge murder of all time or has lost her goddamn mind, the New York Post reports today," Gawker writer Caity Weaver wrote, while New York Magazine jokingly suggested the project could still have a dark ending: "When she gets to sandwich 297, she reveals that she has been poisoning him, slowly and steadily, all this time."
The project reverberated throughout the Twitterverse, too, inspiring the hashtag #300feministsandwiches as well as a steady stream of feedback.
Thursday on TODAY, Smith suggested everyone relax. First of all, she pointed out that her boyfriend does most of the cooking at home.
"And second, if he wasn't the kind of guy that was worth one sandwich, I wouldn't be making 300 sandwiches," she said. "And plus it was a joke. It was light, it's funny. Come on, it's a sandwich. It's supposed to be just lighthearted."
For the record, boyfriend Eric Schulte said he plans to make good on his promise. 
"Oh of course," he told TODAY anchors Thursday. "I would have married her without one sandwich."
Not everyone sees Smith's sandwich project as a negative thing.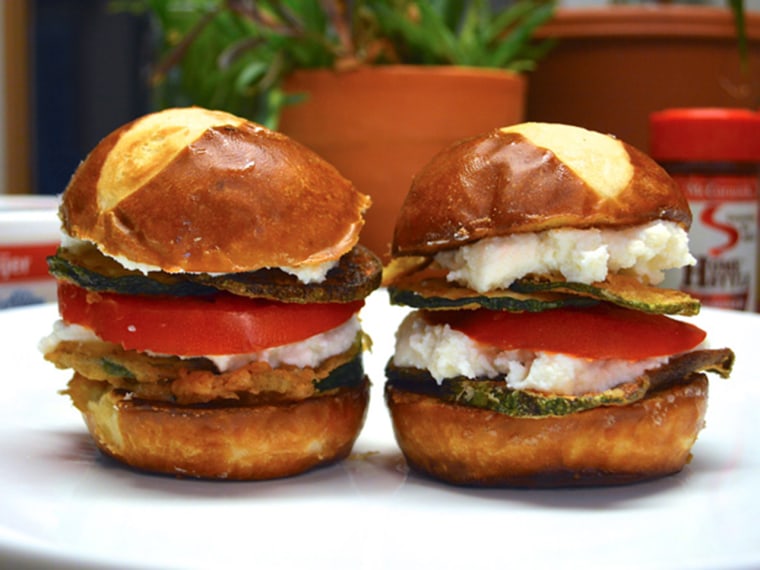 "On the most simple level, on the most primal level, to give food to another that's prepared with love is an extremely satisfying experience for both people," New York dating expert Tracey Steinberg told TODAY.com. "I think it's beautiful that she wants to be kind to her boyfriend. I think it's beautiful that she wants to marry her boyfriend. I don't think there's anything chauvinistic about this at all."

But to others, the project seemed like an unfortunate throwback to outdated gender roles. "It's like something from the 1950s. It's insulting to women," relationship expert Matt Titus told TODAY.com. "To be fair, every man is different, and maybe her man is that simple that she can make a sandwich and he'll fall in love with her… But I don't think the magic in the relationship is the bologna."
What do you think? Tell us!

Eun Kyung Kim contributed to this story.