Nouel Alba, 37, of the Bronx, N.Y., was arrested Thursday on a federal criminal complaint charging her with lying to FBI agents in connection with their investigation into a fraudulent fund-raising scheme related to the Newtown school shooting tragedy. The arrest came less than a week after Alba was the subject of a Rossen Reports investigation on TODAY.
On Dec. 21, TODAY aired  a segment that included an interview with Alba conducted by NBC's Jeff Rossen through the front door of her home (Alba refused to appear on camera, but consented to an audio interview). During the interview, Alba denied posing on Facebook as the aunt of Noah Pozner, a 6-year-old victim of the Sandy Hook shooting, and soliciting donations in his memory. "I never sent any message on Facebook," Alba told Rossen.
"Then why is your account number on it, your bank routing number, your email, and your PayPal information?" Rossen asked.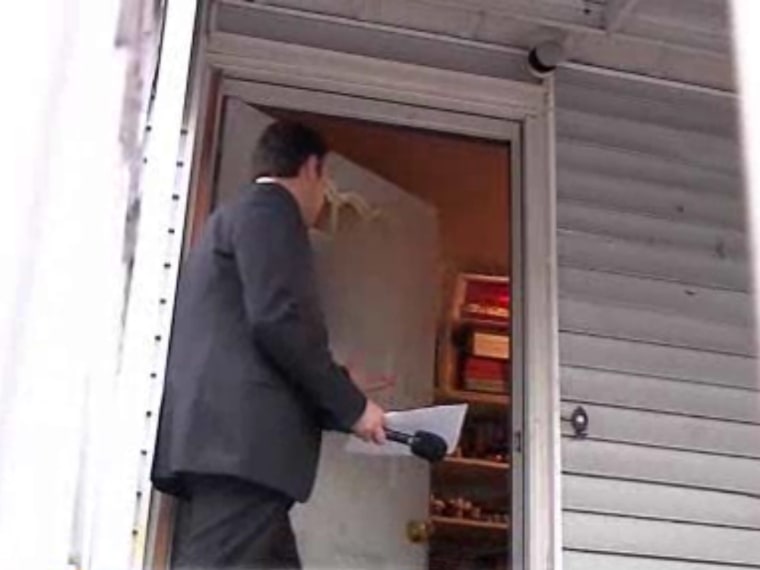 "Because I sell things online," Nouel replied.
"Because you sell things online? But then why were you posing to be a member of the Pozner family? They say they've never met you before."
"I never did that," Alba claimed. She alleged that someone else posted the fraudulent message using her account, and told Rossen that she refunded donation money that had been sent to her account.
But the criminal complaint filed against Alba on Thursday alleges that Alba not only used her Facebook account, but telephone calls and text messages to falsely claim to be a relative of a shooting victim and solicit money she claimed was for the child's "funeral fund." It also alleged that Alba falsely claimed to have immediately refunded any donations that she received.
Following her arrest, Alba appeared before United States Magistrate Thomas P. Smith in Hartford, Conn., and was released on a $50,000 bond. If convicted of making false statements to federal agents, she faces a maximum term of imprisonment of five years and a fine of up to $250,000.
More:
Rossen Reports:Scammers try to exploit Connecticut shooting
Petition calls for street to be renamed after slain Newtown teacher
Video: Moment of silence to mark one week since shooting
Video: Newtown's way of honoring its fallen angels
Michelle Obama's letter to Newtown: 'My heart aches for you'
Kid who fled Sandy Hook told man: 'Our teacher is gone'
Victims in shooting: Daring principal, fun-loving teacher, 6-year-old twin brother
Video: Sandy Hook teacher told students 'they were loved'