You remember Marilyn Hagerty: The 86-year-old shot to fame when her unpretentious (and very earnest) Olive Garden review in North Dakota's Grand Forks Herald went viral like crazy. 
Hagerty, who celebrates the release of a new book, a collection of her restaurant reviews for the newspaper called "Grand Forks: A history of American dining in 128 reviews," this week, is the best kind of viral star: Just going about her business, she became famous by accident. (She'll be on TODAY Tuesday to talk about her latest adventures.)
Unlike those parents who film their kids in hopes of YouTube glory, these folks, too, gained notoriety by being themselves. Fame, you could say, found them. 
1. NASA Mohawk Guy
His name is Bobak Ferdowsi, but he's better known as NASA Mohawk Guy or Hot NASA Guy. During the live broadcast of the Mars rover's landing in 2012, eyes suddenly shifted away from the rover and toward one of the people working in the control room.
A screengrab of Ferdowsi, with his head turned to the side to show off his Mohawk with stars shaved into the side, made Ferdowi had become a viral sensation, even before his name was known. Thousands of fans created crush blogs dedicated to him and a meme about his attractiveness (ex: "Guides a rover through space…and into my heart") made the rounds.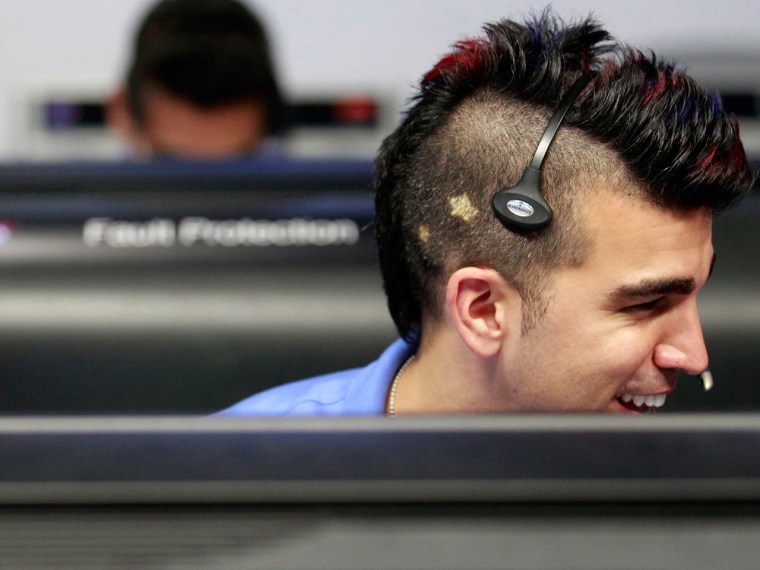 Even President Obama shouted out the young jet propulsion engineer when he called NASA to congratulate them on the success of their project. Since then, Ferdowsi has used his accidental Internet fame to encourage young people to get involved in STEM (science, technology, engineering, and math) fields and raise awareness about the space program.
2. Antoine Dodson
When his sister was almost raped by a man who broke in the window of their Alabama home, Antoine Dodson appeared on a local news channel expressing his fear of violence in the community. "He's climbin' in your windows, he's snatchin' your people up, tryin' to rape 'em. So y'all need to hide your kids, hide your wife, and hide your husband cause they're rapin' everybody out here," he said.
The clip went viral, catching the attention of "Autotune the News" video creators The Gregory Brothers, who turned Antoine's quotes into The Bed Intruder Song. (Half of their profits from the song's sale went to Dodson.)
Dodson embrace his new meme-dom with a website and a YouTube channel, sold T-shirts with his name and picture on them, and eventually launched his own app that helped people track sex offenders in their communities. In an appearance on TODAY in 2010, Dodson said he planned to use his new cash windfall to move his family to a safer area, adding "I hate that it happened this way, but a lot of good came out of it."
3. Ridiculously Photogenic Guy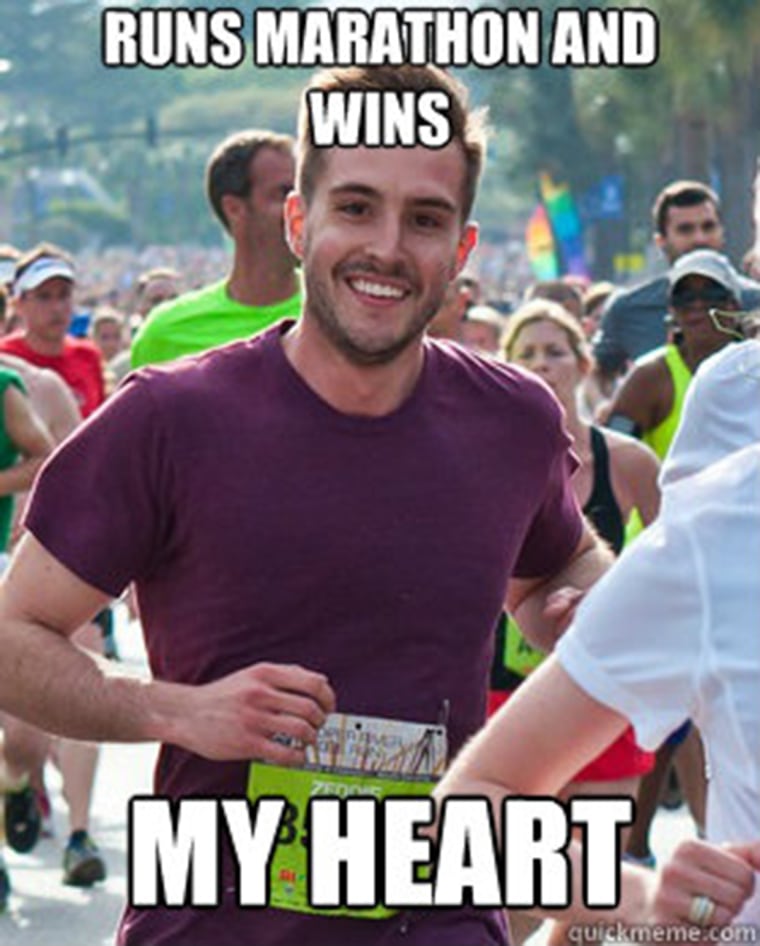 In 2012, a man took some photos of his friends running in the Cooper River Bridge Run in Charleston, South Carolina. One of those pics happened to capture a stranger named Zeddie Little in the background. After the photos were uploaded to popular image-sharing website Reddit, attention quickly began to focus on Little, whose good looks and warm smile earned him the nickname Ridiculously Photogenic Guy, or RPG. Soon RPG was being Photoshopped into all kinds of pictures, from wedding shots to news pics. The joke was that any picture, no matter how trashy or out-of-focus, would suddenly turn classy and elegant once RPG was inserted into it.
Although Little could have probably ridden the fame of his Internet celebrity (or at least booked a modeling gig) once his name was revealed, the South Carolinian preferred to keep a low profile. TODAY spoke to some friends of Little's, who all talked about what a great guy he is. 
Although there are several social media accounts claiming to be Little, none of them are legit. Sorry, ladies, he's also in a relationship!
4. Sheltering Suburban Mom
Carly Phillips is a stay at home mom and romance novelist whose titles include "Perfect Fling" and "Perfect Together." In 2011, her professional author photo was uploaded to Reddit, where it became the symbol of the "sheltering suburban mom" (sometimes just "suburban mom") meme. Examples of text used in the meme include "Lets kids watch PG-13 movies… when they're 17" and "Thinks video games will rot your brain… plays Farmville for six hours."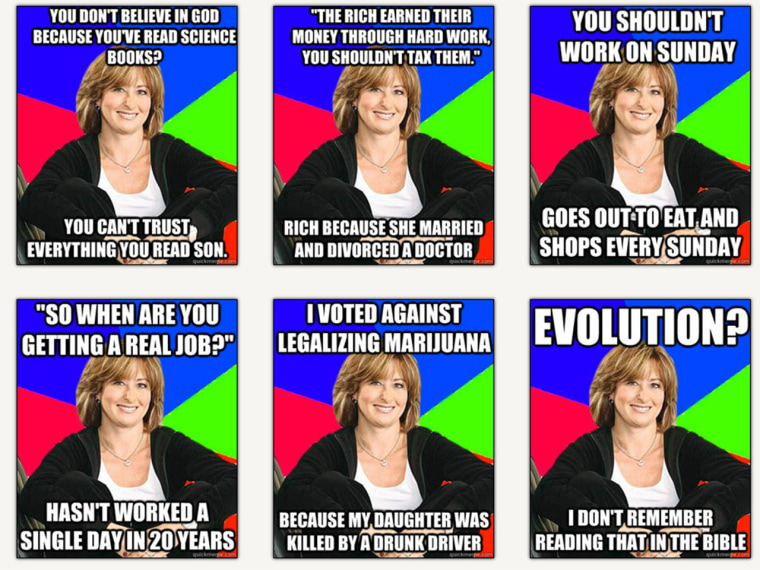 However, there was one person who didn't jump on the viral meme bandwagon — Phillips herself, who only found out about her online fame when a reader posted one of the pictures on her Facebook author fan page. Although she has taken the meme-ification in stride, she doesn't mention it in her official bio.
5. Double Rainbow Guy
Who hasn't been totally awed by the beauty of nature? A YouTube user with the name Hungrybear9562 posted a video of a double rainbow he saw in Yosemite Park in 2010, and got so emotional while filming it that he started crying.
The video sat, ignored, for months until someone on the staff of talk show host Jimmy Kimmel stumbled upon it. Kimmel tweeted the video to his nearly three million followers, and other celebrities began to retweet it. Soon, the video was a bona fide Internet hit.
Eventually, "Double Rainbow Guy" was identified as Paul Vasquez, a former trucker and firefighter who lived in the Yosemite area. Eventually, Vasquez landed a corporate sponsorship with Microsoft, who featured him (and his love of double rainbows) in a promotional video for their Windows Live Photo Gallery program.
6. Swampmusic12
In July 2013, a Tennessee man named Mark Brown started a YouTube channel using the handle Swampmusic12. Brown, a self-identified hillbilly with two pet raccoons, posted his very first video, which was of him dancing with his raccoon Rebekah. 
Over the next year, the video slowly grew in popularity, with fans loving Brown's exuberance — and the Hannah Montana-brand raccoon repellent he sprayed on himself in the clip. 

Brown quickly embraced his Internet celebrity and made several followup videos, including one where he took a shower with Rebekah. Soon after, he posted a vlog where he made a sad announcement — the videos had gotten the attention of Tennessee state officials, who seized Rebekah and said she wasn't allowed as a pet. Brown asked his fans to help lobby the state and get Rebekah back. So far, though, the two have not been reunited.
7. Lydia Callis
When New York City was preparing for Hurricane Sandy in October 2012, Mayor Michael Bloomberg appeared on TV to give residents advice about how to prepare. Next to him was a woman named Lydia Callis, who interpreted Bloomberg's remarks into American Sign Language. Quickly, Tumblr blogs paid tribute to her facial expressions and signing skills. However, it wasn't just viewers at home who were fascinated by Callis — fellow sign language translators were thrilled to see their profession catapulted into the big time. 
But that wasn't all for Callis — she was also parodied on Saturday Night Live, with comedian Cecily Strong playing Callis and Nasim Pedrad playing a fictional interpreter for New Jersey Governor Chris Christie. 
Callis herself kept a pretty low profile and turned down requests for interviews, claiming that her job was to interpret the news, not to make it. On Sunday, the New York Times reported she has used her fame to advocate for the deaf, and leads tours at the New York Public Library.