For 4-year-old Carson of Colorado Springs, Co., the familiar UPS brown truck means more than just delivery time. It signals a visit from his special friend.
Parents Jim and Karen, who requested their last name not be used, explained that a milk sensitivity required Carson to receive multiple deliveries a week of a special type of formula. Those frequent visits helped the boy form a strong bond with his local delivery driver, Ernie Lagasca, to the point where he would eagerly await Lagasca's arrival.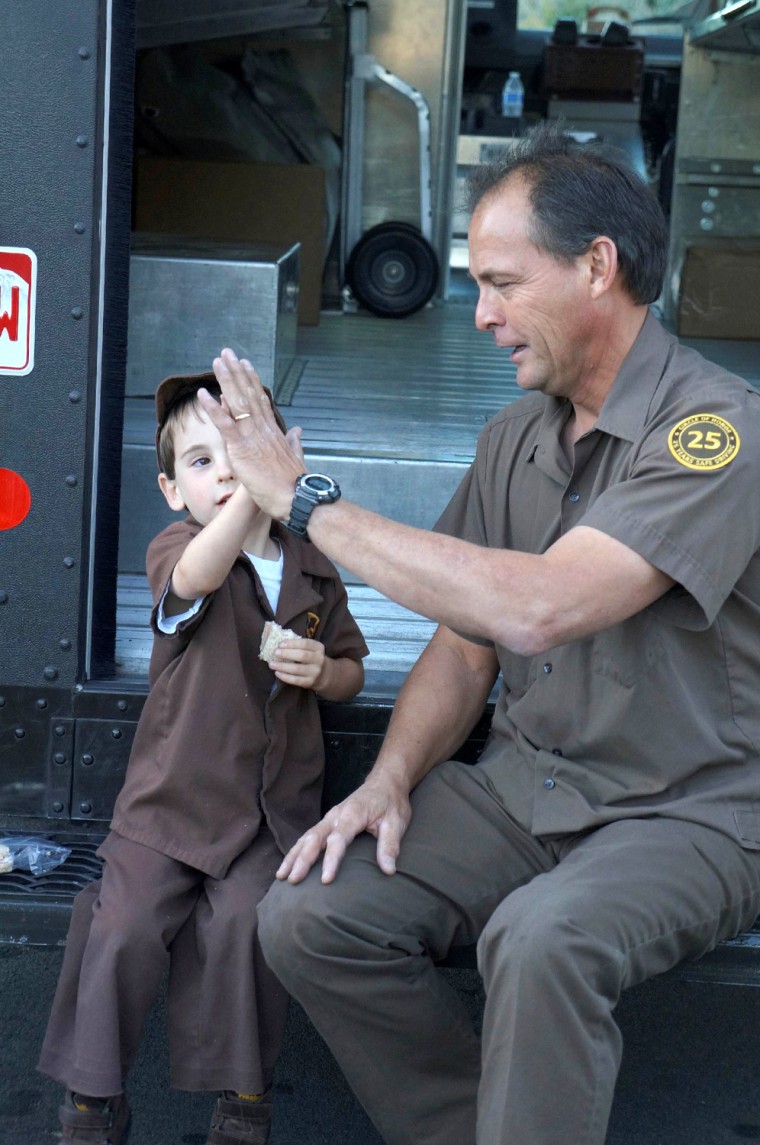 "He loved trucks. He would sit in the window when I drove by and over time, I started honking and waving," Lagasca explained. "It got to the point where he'd hear the truck coming and be waiting on the curb."
Eventually, Carson's interest in all trucks became specifically about the big brown truck and its friendly driver. Lagasca, who Carson refers to as "Mr. Ernie," was happy to indulge the little guy, and began to cherish the time they spent together. 
"[In] my job, I meet a lot of wonderful people, but Carson really stood out," Lagasca said. "Just to see him growing up so far in his young life, how I've made an impact on him. He adds a bright light into my life. It makes me feel my job is more worthwhile."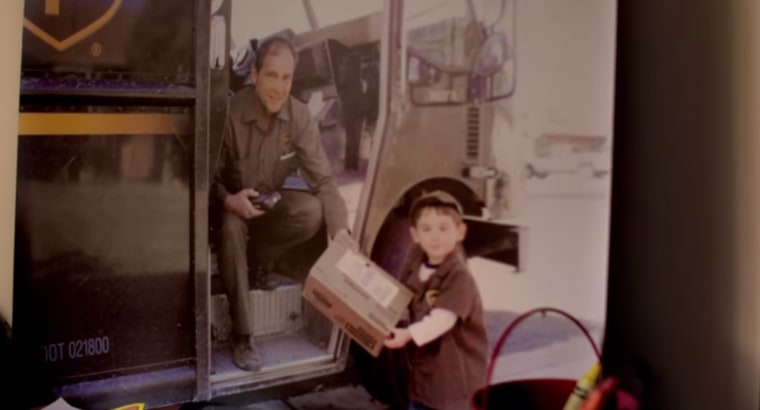 As the two spent more time together and their unique friendship blossomed, Carson realized his dream of following in Mr. Ernie's footsteps to become a delivery driver himself. He sports a miniature version of the company uniform, complete with matching cap, and turned the family's basement into a shipping department for when he "plays UPS."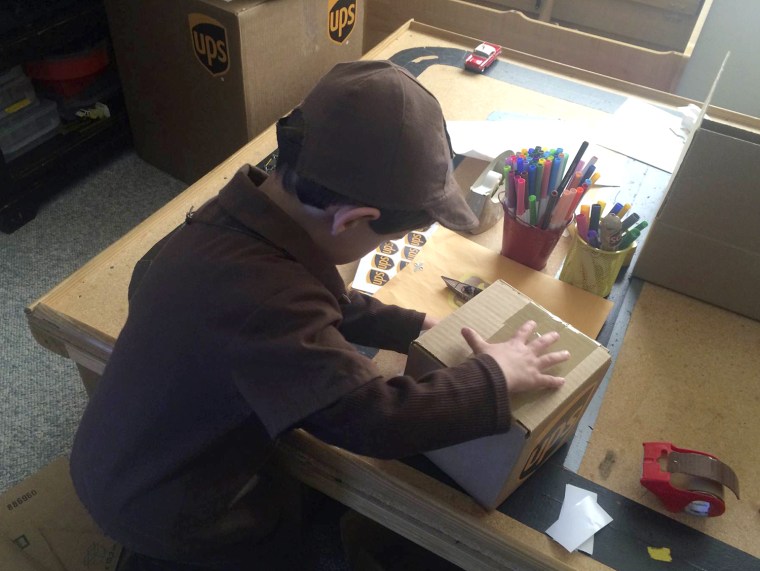 Karen and Jim couldn't be happier for the positive influence on their youngest son.
"(Lagasca) is out there making a difference to people everyday," Jim said. "So much so that a 4-year-old notices. As a father, I couldn't ask for anything more."
"To Carson, he's a bud. He's an excellent role model," Karen added.
Last month, UPS provided a special delivery, reuniting the two pals, who hadn't seen each other since Lagasca's route changed this summer. It started with an interruption while Carson was wrapping boxes.
"After all of this playing, there was a real knock. And there was Mr. Ernie," Karen said. And the driver had one more surprise in store for Carson: a child-sized UPS truck of his very own as part of the company's Your Wishes Delivered campaign.
"To see his face again, the way he lights up, it was pretty neat. It was all really heartfelt," Lagasca said of the encounter, which is now featured in a holiday commercial.
Neighbors have come to expect to see Carson riding his mini brown truck down the street at least once a week, delivering cookies and muffins from house to house and often singing as he drives. For the holidays, he plans on bringing candy canes and chocolate kisses as he dons his newly ordered UPS winter jacket.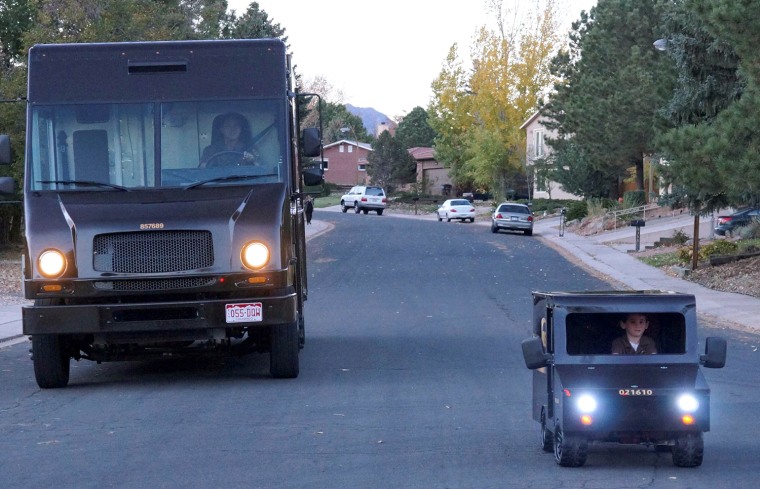 "The way this story has exploded, we think its just wonderful," Karen said, adding that she tried responding to each of the comments on UPS' Facebook page, but couldn't keep up as 400 comments quickly turned to thousands. She is currently putting together a scrapbook of media clips and articles and is making a copy, "so Carson can deliver it to Mr. Ernie for Christmas."
But for the family, it's about so much more than the attention.
"Carson won't just remember the video he made or the truck he got, he'll remember the relationship he made and everything he has learned," Jim said. 
As for how they explain this "whirlwind" to their 4-year-old son — who now says he wants to be a UPS airplane pilot since he's already mastered ground delivery — Karen puts it simply: "I tell him, 'you've made 3 million people in the world smile, because of your special story with Mr. Ernie."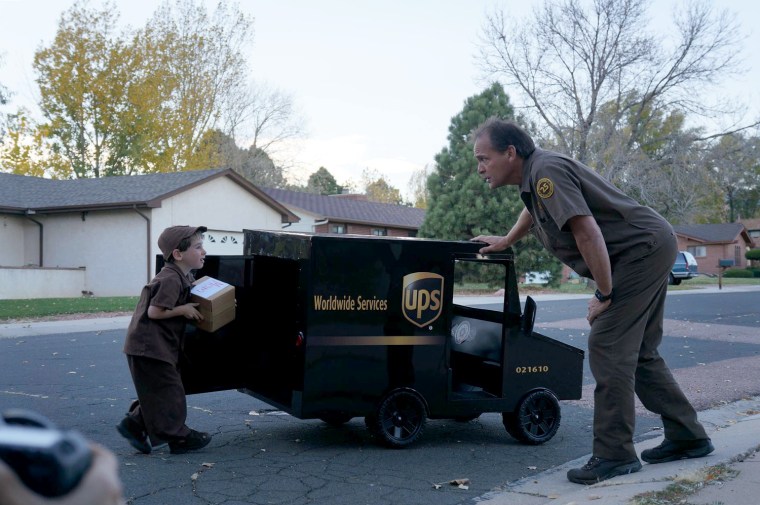 For each wish shared on wishesdelivered.ups.com or on social media using #WishesDelivered, UPS will donate $1 to charity, up to $100,000.