New footage from the first time the wreckage of the Titanic was seen by human eyes has provided a rare look at the ship in its best condition since tragically sinking in 1912.
The Woods Hole Oceanographic Institution recently released uncut footage from nearly 40 years ago that was shot during the first manned voyage to the wreckage in the North Atlantic Ocean in 1986.
The remains of the bow, railings and interior of the luxury liner that famously struck an iceberg and sank are seen for the first time after it took nearly 75 years to find the shipwreck 2½ miles below the surface.
Robert Ballard, who led the 1986 expedition, spoke to NBC News correspondent Joe Fryer about the discovery on TODAY Feb. 16.
"I must say, to literally land on the deck of the Titanic was quite amazing," Ballard said. "Almost just hard to believe."
The skeletal remains of the more than 1,500 people who died in the vessel are no longer present in the 1986 footage, but dinner plates, clothing, accessories and other items give a look into life in the early 20th century.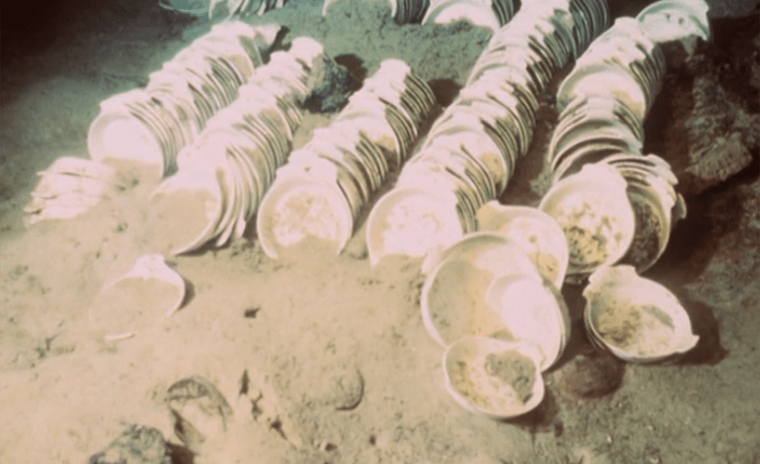 "It's sort of like their tombstone, and to see a mother's shoes next to her baby's shoes, that's pretty powerful," Ballard said.
The newly released footage comes as scientists have discovered that metal-eating bacteria are rapidly turning the Titanic's remains into dust.
The scenes shot by Ballard's crew help rewind the clock.
"It was really literally entering a preserved museum, and the deeper you got into the ship, the more preserved it was," Ballard said.
Ballard said the 1986 video also helped inspire James Cameron to pursue filming his classic 1997 movie "Titanic," one of the most popular films of all time. Cameron even set up a private screening for Ballard before it premiered, and Ballard said he was surprised to see how accurately Cameron depicted the iconic ship.