After going deaf in one ear and steadily losing hearing in the other, a 13-year-old girl burst into tears when she realized she could finally hear her mother's voice again.
"I said, 'Hi, baby,' and she just started crying, and I started crying," Betsy Eshelman of Ballwin, Missouri told TODAY. "It was wonderful."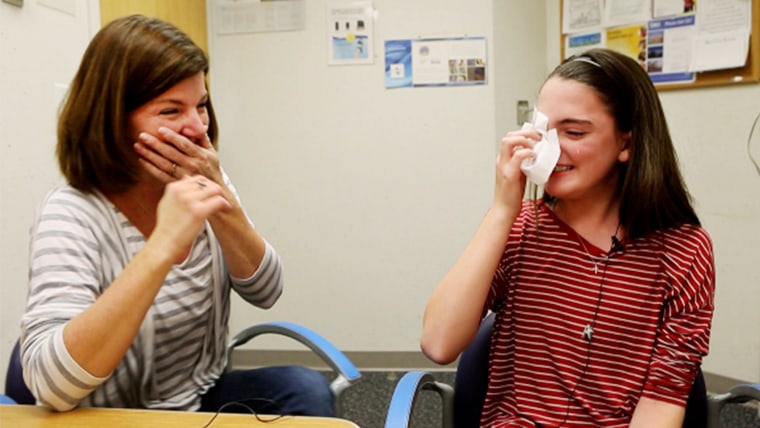 Her daughter Amanda has enlarged vestibular aqueducts, which caused deafness in her left ear at a young age. Even with the help of a hearing aid, she's been losing hearing in her right ear, too.
RELATED: 'You'll never play sports again': Teen makes miraculous recovery
"She would look at me and say, 'I can't hear, Mom. I don't like this. I can't hear,' and we would go get tested and sure enough, the right side had gone down. So we would adjust the hearing aid but then (later) she would say, 'I can't hear, Mom. I don't like this.' ... It's hard for a mom to watch."
At school, Amanda would sit at the front of the class, often asking the teacher to repeat things or trying to read lips.
Last month, she underwent a cochlear implant surgery at St. Louis Children's Hospital, during which doctors implanted an electrode array in her left ear. While most people hear sounds acoustically, the device would help Amanda pick up sounds electronically. On Dec. 1, they activated the implant.
RELATED: 'It's going to get worse': Nearly 30 percent of teens have hearing damage
"We went into it kind of cautious," Eshelman said. "They had said she hasn't heard on this side for at least ten years, we don't know if it will work, if her brain will be able to recognize these signals. So we were a little bit nervous, trying not to get our hopes up as we walked in."
Her daughter was scared, too.
"I was very excited, but I was a little nervous that it wouldn't sound how I wanted it to sound, or it would be different than I thought it would be," Amanda told TODAY. "Then they turned it on and it was awesome."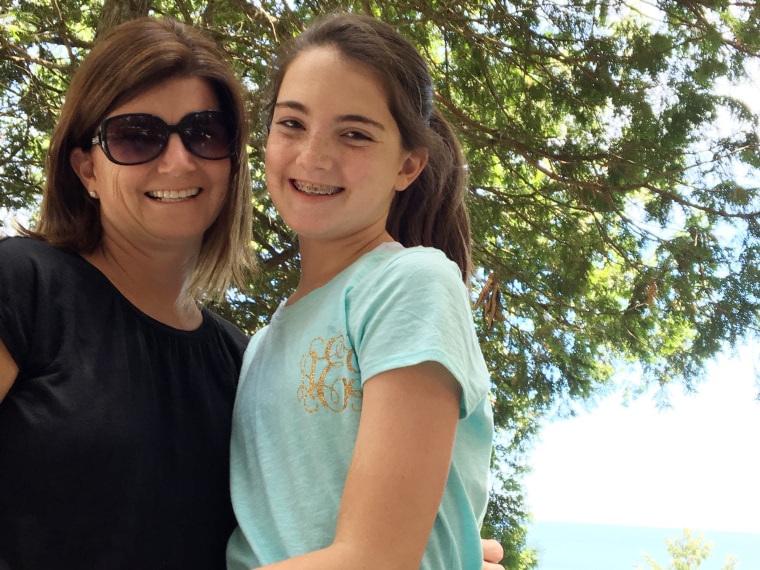 The surgery was a success. A moving video captures the moment she learned she could hear again, showing the mom and daughter reaching for each other through happy tears.
Now Amanda is hearing sounds she never knew existed — like her cat purring and the sound of water running.
"It's been great," Eshelman said. "She made the comment that she didn't realize how loud we all were! She didn't realize how quiet her world had become."
"Every day gets better," Amanda added. "I just realize how lucky I am."