Many husbands send roses to their wives on special occasions, but one Army officer went a step further by enlisting more than a dozen strangers to help deliver his bouquet.
On his flight home from Afghanistan a week after his 20th anniversary, Scott Hinson enlisted 19 fellow passengers to give his wife a rose as they got off the plane.
"I knew I wanted to give some roses, so I thought, 'How can I do something different?' That's when I started working with my daughters," the chief warrant officer said Tuesday on TODAY.
The couple's two teenagers stood next to their mom holding up a sign, "Welcome home Chief Hinson," so that people would know who to hand the roses to.
Kristi Hinson said she was totally caught by surprise.
"I saw two passengers coming down with a single rose each, and I was like, 'What in the world?' So I dismissed it and turned around and looked back up the escalator, waiting for him," she said. "Before I knew it, they were behind me saying, 'Happy anniversary,' and that's when I realized that those roses were for me."
Hinson had the event recorded in a video he posted on YouTube, which captures his wife's amazement as strangers approached her with roses and congratulatory greetings.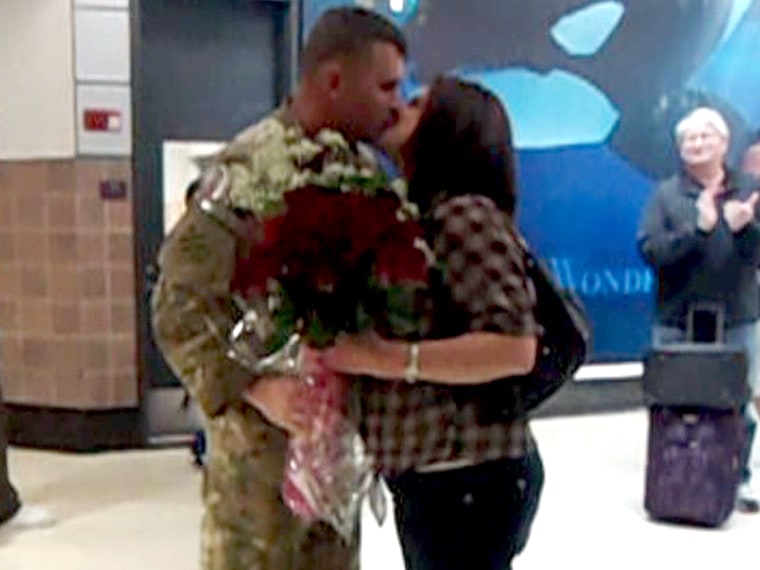 "You must be Kristi. Happy anniversary," one woman said, handing her the flower and giving her a hug.
Kristi Hinson can be seen wiping away a tear at one point after realizing what is happening.
Her husband delivered the 20th rose.
The USO office in Atlanta provided Hinson with the logistical help in pulling off his surprise, getting the roses delivered to him during his connection.
The logistics on the plane proved more difficult, however. A flight attendant helped hand out the roses, but to some people who had not been prepped by Hinson personally. And a few individuals started making detours once they got off the plane.
"People kind of meandered through the airport, stopped, get coffee and kind of took a break," Hinson said. Fortunately, others saw what was going on and helped to pick up the slack.
"Some of the other ones picked it up, and saw them and said, 'let me take this rose on.' So they were very helpful."
More:Veteran's gift to soldier's girlfriend goes viral
Reunited with family, homeless man who returned ring says he's 'got it all'