Simone Biles has her eyes on Paris.
The legendary gymnast, who in August won her record eighth U.S. championship, told Hoda Kotb on TODAY on Sept. 7 that she hopes to compete in the 2024 Summer Olympics in Paris.
Hoda playfully asked her what she should do if she had to place a wager on whether Biles would go to the Olympics next year.
"Right now, I would say that's the path I would love to go, so I wouldn't mind if you put it in the 'yay' section," she said.
"She's going to Paris!" Craig exclaimed.
"We were hoping that was the case," Hoda said.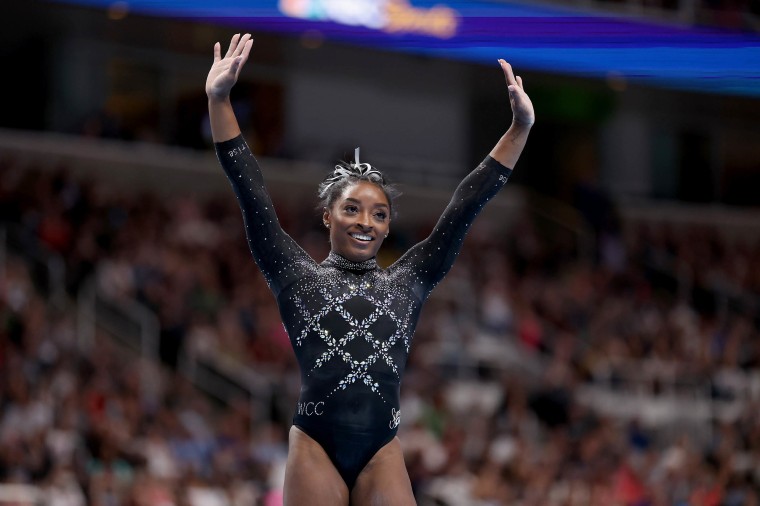 Biles returned to competition in August at the U.S. Classic, which she won, before she competed again at the national championships three weeks later.
In 2021, Biles left the Summer Olympics in Tokyo after getting a "the twisties," a mental condition which affects how a gymnast can understand where they are in the air. She has also been open about her own mental health struggles.
Biles told Hoda she has continued to evolve since she was in Tokyo.
"I think I have to take care of myself a little bit more and listen to my body and making sure that I'm making time for the important things in my life, rather than before, it was just 'go, go, go,' and then making time after," she said.
"This time around, it's being intentional, going to therapy, making sure everything is aligned, so that I can do the best in the gym and be a good wife, good daughter, good friend and all of the good things."
Hoda noted that Biles has returned to competition with a vengeance after wondering if she would come back "cautiously" or "dive in the deep end." Biles said she had a plan for what she was doing.
"I think we have to be a little bit more cautious about how we do things, so everything that we're doing leading up to this next games or whatever is very intentional, so we've been kind of playing it on the down low this time, making sure mentally and physically are both intact," she said.
"So I think it'll be different, but it'll be good."
Biles also had a strategy for returning to competition and maintaining her cool to enable her to perform at her best.
"A lot of trust in my coach, my teammates, myself, most importantly, coming in that gym and making sure I'm doing those numbers, repetitions, feeling confident in them," she said.
"There were times when I would come in the gym and I'd be like, 'You know what? I don't think this is going to work.' And then I was like, 'No, I'm going to give it another day.' ... So I think just showing up and putting that work and that effort in really came to play, so as long as I showed up for another day and kept putting that work in, then it kind of went down and dwindled."
Biles says the results have been good, even at moments when she is down on herself.
"Right now I'm feeling really good. I think I still sometimes doubt myself, but I'm still doing my therapy and making sure everything's aligned," she said.