It was shortly after 4 a.m. on the foggy morning of December 29 when Shanell Anderson took a wrong turn in the dark in a suburban Atlanta neighborhood.
The 31-year-old supervisor for a newspaper delivery service was substituting for an employee who had called in sick when she accidentally drove her SUV into a large pond. Her Nissan Xterra began filling with water, its doors held shut by hundreds of pounds of water pressure.
Anderson had nothing to break the windows with, but she did have a cellphone. She dialed 911.
"911, what is the address of your emergency?" the dispatcher answered. "Where's your emergency?"
"I'm in a car in a lake," Anderson replied.
"Where?" said the dispatcher. "Where are you?"
"The Fairway!" Anderson answered.
"Give me the address again, make sure I have it right."
"The Fairway and Batesville."
"Batesville and what?" the dispatcher asked.
"The Fairway is a street, ma'am."
"The Fairway?" the dispatcher repeated. "I don't have that."
"Ma'am, I'm losing air very quickly," Anderson said.
"Give me the address one more time, it's not working," the dispatcher asked.
"The Fairway!" Anderson yelled, and spelled the name. "F-A-I-R-W-A-Y!"
The 911 recording captured the dispatcher saying "I lost her" before the line went dead.
It took first responders nearly 20 minutes to get to the location and almost another nine minutes to find Anderson's car 8 feet underwater. By the time they dove into the lake, broke into the completely submerged SUV and removed her from it, she was unresponsive.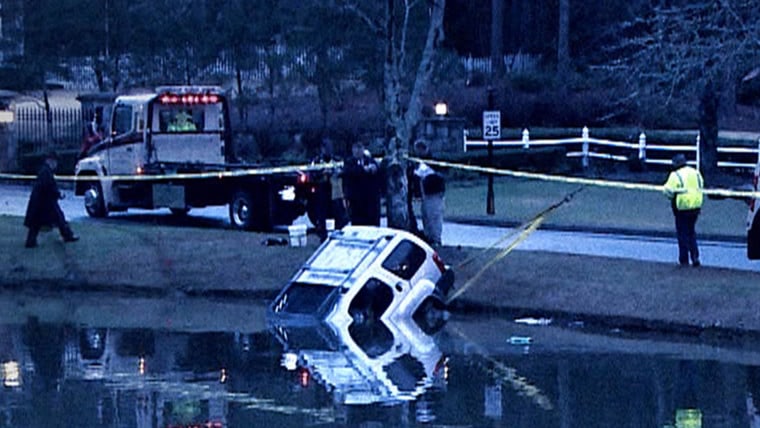 Paramedics were able to restart Anderson's heart. She was taken to the hospital, where she clung to life in a coma for a week and a half before her organs failed and she died.
The reason it took responders so long to find Anderson is because she was sinking into a pond in the next county. Her desperate call to 911 was picked up by a cell tower in Fulton County, but the pond she was trapped in was actually in Cherokee County. The 911 dispatcher who took her call couldn't find Anderson's location because the map on her system only showed Fulton County, where she worked — not nearby Cherokee County, where Anderson was.
The 911 center Anderson's call was routed to is one of many around the country that still rely on dated cell tower technology instead of something as widely used as Google Maps. Wireless 911 calls get routed to the wrong call centers so often that many dispatchers have dedicated buttons to transfer callers to neighboring departments.
Brendan Keefe, chief investigative reporter for NBC Atlanta affiliate WXIA, was the first to report on the problem with the 911 system there. His report prompted NBC News and Gannett-owned news outlets across the country to launch their own investigations into the issue.
"It has one fatal flaw; it stops at the city line," Keefe said of Atlanta's 911 system. "If you hit a cell tower outside their jurisdiction, they don't know where you are."
"If the phone had automatically routed to the correct jurisdiction, this very well may have had a different outcome," Carl Hall, chief of technology at the Public Safety Department in Alpharetta, Georgia (in Fulton County), told Keefe in an recent interview. Hall oversees one of the most advanced 911 centers in the nation, accredited in the top 2 percent and equipped with the latest gear.
"The address of that tower determines which 911 center that call goes to," Hall told Keefe. "It's not based on the location of the telephone; it's the physical address of the tower, not the physical address of the phone."
Adding to the delay, Fulton County's 911 follows the industry standard of using proprietary maps instead of technology like Google Maps, which most of us have installed on our cellphones.
"That's the whole point of 911— finding you quickly," said Anderson's mother, Jacquene Curlee. "But when it matters, when someone's life is in danger, they can't find you. That is absolutely absurd."
To demonstrate the problem, TODAY national investigative correspondent Jeff Rossen visited a 911 center in Fairfax, Virginia, with Steve Souder, director of the Fairfax County Department of Public Safety Communications. Rossen dialed 911 from inside the center and asked the responding dispatcher to identify his location.
Consulting a computer, the dispatcher replied: "Showing 4610 West Ox Road."
"Absolutely not," Souder said. "That's about a quarter of a mile from where we are."
"And we're inside a 911 center," Rossen said. "And they still can't find us."
Responsibility for fixing the problem falls to the Federal Communications Commission. "We need to concentrate on the technologies that make cellphone information and location available to 911 centers instantly," said Jamie Barnett, a former FCC official who now represents a coalition of emergency responders and 911 dispatchers who are pushing the commission and Congress to improve 911 systems. "The technology exists that can provide it within seconds."
"It is unacceptable that I can make a wireless call and people can't find me," FCC chairman Tom Wheeler acknowledged to Rossen. "Local government controls what happens with 911; the wireless carriers have the technology, and we have the oversight, with jurisdiction over the carriers, but not over local government.
"And so our job is: How do we keep pushing?" Wheeler continued. "And what we've recently done is to come up with a new set of rules that have pushed further."
The new rules "demand 40 percent accuracy within the next two years," Rossen pointed out. "How bad is it right now, if in two years the goal is 40 percent accuracy? Which I think we can agree is not a great number."
"We have to push to make sure that both the wireless carriers and the local 911 folks are prepared to be able to exceed that and to give the kind of expectation that you and I have a right to have when we call 911," Wheeler replied.
Wheeler also revealed that the FCC is developing a 911 app — like Uber for 911. He said that there is no timetable yet for when the app will be ready.
But that is not good enough or fast enough for Shanell Anderson's mother.
"Her death was so senseless," Jacquene Curlee said. "Our 911 system doesn't work."
To suggest a topic for an upcoming edition of Rossen Reports, email us.