/ Source: TODAY contributor
Things were finally coming together for Jennifer Pearson to get her dog. She had wanted one since law school 13 years back. Pulling 80-hour weeks as a lawyer before, she now had a flexible job in college fundraising and a house with a yard outside of Dallas.
Pearson, 36, had a soft spot for dachshunds, fondly recalling her family pet when she was just a girl. Hyper pooches weren't for her, but a small, well-mannered dachshund would be perfect. Her criteria seemed simple - but judging size and temperament in pictures she saw online was not.
"Most of the rescues and kennels take very basic photographs that are not good for facilitating adoption. The dog looks mean when he's not. The description was just their names," explains Pearson, who wanted a rescue dog. "You need something to go on."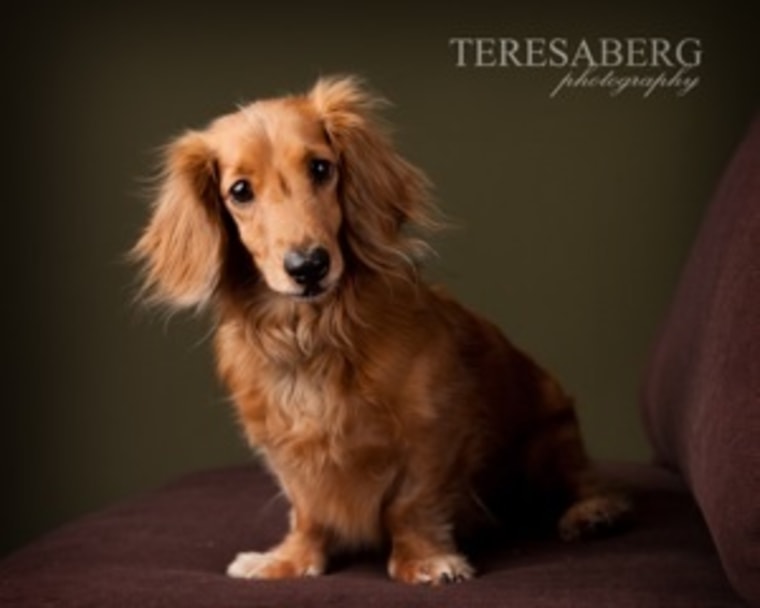 She then saw these doggie portraits on the Dallas-Fort Worth Dachshund Rescue Foundation site. "You can really see the dogs," says Pearson, who initiated a 12-page application for adoption.
Photographers, like the one who took those portraits, are setting up photo shoots with ownerless pets to capture their personalities — and help people looking to adopt an animal to connect with their pictures.
"The pictures I was seeing online were just terrible. This couldn't be true. These dogs and cats don't look very good. When you go in to meet them, these are terrific pets," pet photographer Seth Casteel says. "These animals don't have a voice. They need photos to show how they really are."
Location, location, location
Casteel, 30, discovered that he could help pets find owners while still working at Sony Pictures Studios. He offered to photograph five kittens abandoned on a movie lot —sneaking the orange and gray kitties into an executive's office "used for important meetings with movie stars" and unleashing them on the upholstered furniture (location, location, location!). His pictures were emailed company-wide. All got adopted.
Casteel has been volunteering as a photographer at shelters across the country since 2007– catapulting his career as a globetrotting pet photographer, with clients including stars like Ellen DeGeneres and Denise Richards. He just started the non-profit Second Chance Photos, which offers tips and workshops for people who want to photograph shelter animals.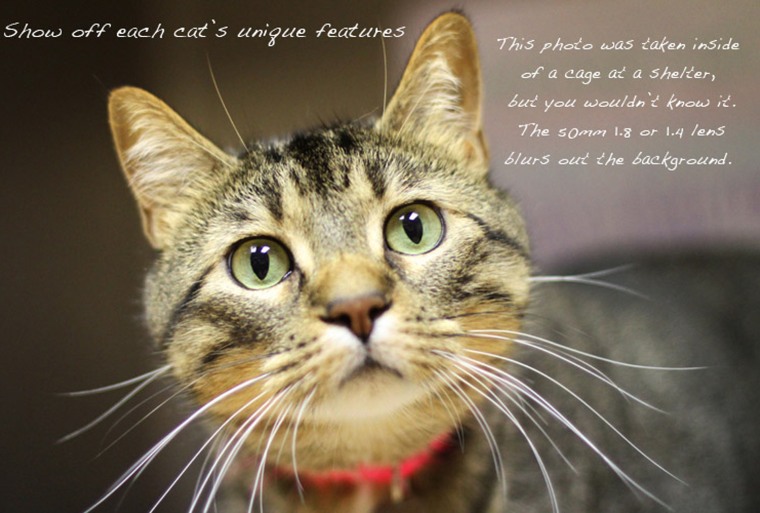 Amanda Fisher has been an adoption coordinator for four years at the Macon County Animal Control and Care Center in Illinois — and has overhauled her photo shoots since taking cues from Casteel. Before, the 21-year-old would be spread-eagle, clutching a dog psyched to be outdoors with one hand and a battered point-and-shoot camera with the other. In the winter, she slipped on the ice several times. Ouch!
Photos with personality
Since January, Fisher has gripped a Canon Digital Rebel XT donated by Casteel with both hands, thanks to nice co-workers who handle the furry models. She prefers shooting by a lovely bench in front of the shelter, employs toys and her own noises – and recently laid on the ground to calm down a camera-shy subject named Brittany. She's an English Setter Brittany Spaniel mix, mystically with one blue and one brown eye.
"The camera makes a big difference. It makes me feel better. I'm doing more," says Fisher, who hasn't tracked the impact of her pictures. "I still think they [the pictures] don't do them [the animals] justice. I'm learning all the time. I'm learning how to show their personalities. People are noticing the pictures more."
Nanette Martin, who has photographed for publications like Sports Illustrated and People, says pictures that get noticed can save the lives of animals.
During a photo assignment on the animal rescue effort in New Orleans after Hurricane Katrina, she got wrapped up in helping displaced pets. The experience snowballed into 8,000 pictures of shelter animals and her co-founding of non-profit Shelter-Me Photography in February 2009.
Martin once photographed a pit-bull mix named Scooby. After his adoption, Scooby was put in the backyard with his owner's other dog and they fought — grounds for euthanasia. "They wouldn't put him down because of his picture. They vowed to find Scooby a home," Martin says of shelter staff. "They searched for a while – but they did [find him a home]."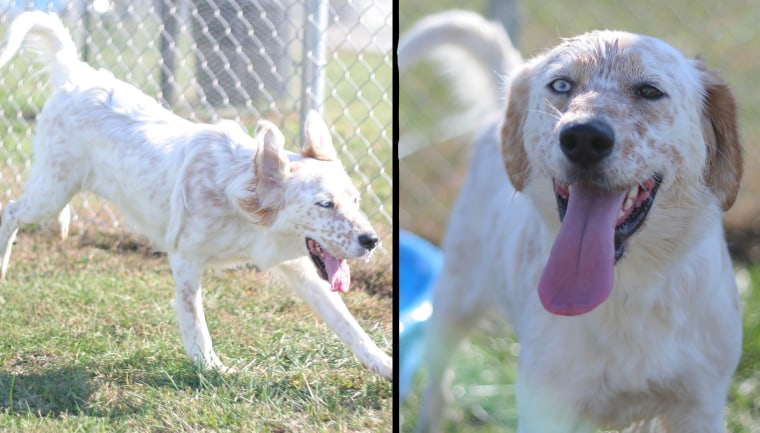 Increased adoptions
Teresa Berg, a Dallas-based portrait photographer, says it's harder to find homes for some dogs. She has worked with local rescue groups since 2007, and photographs the tough cases in her studio: the deaf one, the one with the bum leg, the black one. Berg dresses dogs for adoption success. "To get a dog adopted, I'll go to a tutu if I had to," she says. "We try not to do cross-dressing — but we have put pearls on pit bulls before."
But do the pictures get the pet adopted?
Yes, says Kathleen Coleman, rescue coordinator for the Dallas-Fort Worth Dachshund Rescue Foundation, which has worked with Berg for four years and strives to have her photograph all the dogs in its small program.
The rescue group's dogs used to stay in the foster program for half a year or more — but now get adopted in a couple months, even the black and tan ones, who could linger as long as a year before. That allows their group, which selects dachshunds from area shelters, to find homes for twice as many pooches, about 50, a year. Lastly, the group's Petfinder.com traffic has tripled.
Gail Buchwald, senior vice president at the Adoption Center for the American Society for the Prevention of Cruelty to Animals, agrees that photos are usually what catch people's attention because most people find out about adoptable pets on the Internet. However, resources vary from shelter to shelter, and setting up a photo shoot can take a backseat to just caring for the animals.
"There are far more animals that are homeless than homes for them. Shelters are stretched. Budgets are stretched," says Buchwald, who says shelters benefit from volunteers who can photograph. "They're making sure sick animals are attended to and healthy ones are going up for adoption. Taking a photo is an extra step out of their day. It takes a tremendous amount of patience. Shelters have to do what they can."
Buchwald says that better photos foster pet adoption – but falling in love with the cutie-patootie in the picture doesn't guarantee a life-long match. And an adorable photo, she warns, can make an animal lover do crazy things. One family who saw a picture of a pooch who looked eerily like their deceased dog embarked on a several-day drive across the country to meet the look-alike, whose personality was polar-opposite to that of their former pooch.
"As a service to yourself, for each person looking for a great match, hold back a bit and ask a lot of questions about the pet's personality," Buchwald recommends.
Captivated with a photo
When Pearson looked at a photo of a miniature dachshund who a couple gave up after they split, she thought the wiener dog's character came through.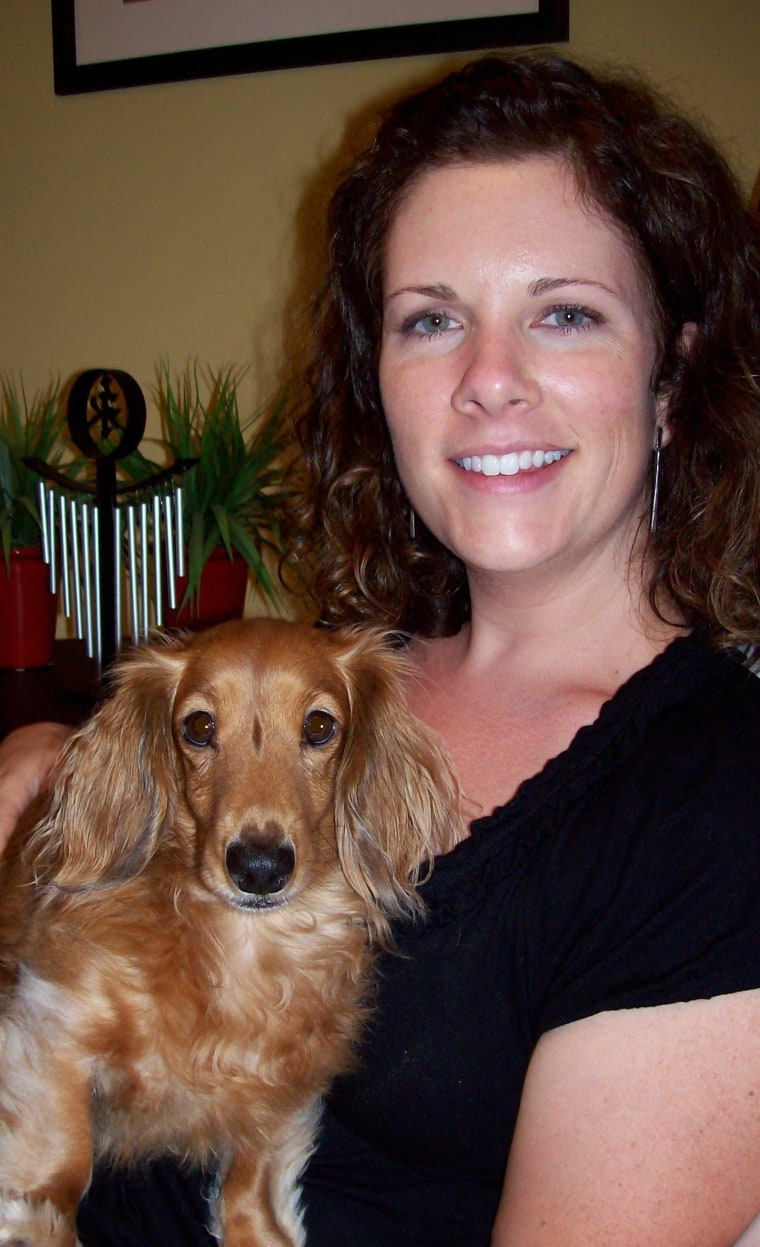 "She looks like a very docile, inquisitive dog. She just looks precious. I thought, 'If she's half as precious as her photograph, this is it!"
And then they met.
"The lady handed me the leash. I started walking. I just knew she was the right one. I saw the personality of the dog in this photograph. And confirmed it when I met her."
Pearson and her dachshund, named Heidi, now live happily together with her parakeet in Frisco, Texas.
Heidi enjoys sitting on the porch with her ears flapping in the wind, peering through the sliding door for hours – and combines body language and soft whining to say she wants to eat, go outside or be loved, Pearson explains.
"She tells me, 'This is the deal'. They're pathetic little whines. So cute," she gushes.