The parents of Missouri man Ryan Ferguson, who has been in prison for nearly 10 years for a crime he says he didn't commit, believe he should be released immediately now that an appeals court vacated his murder conviction on Tuesday. 
"We feel totally vindicated,'' Bill Ferguson, Ryan's father, told Savannah Guthrie on TODAY Wednesday. "Everything that Ryan has said has come to be true, and he is an innocent man and he should be freed immediately." 
On Tuesday, the Missouri Court of Appeals Western District vacated Ferguson's murder conviction nearly a decade into his 40-year prison sentence. Ferguson, 29, was convicted in 2005 of second-degree murder and first-degree robbery in the death of Columbia (Mo.) Daily Tribune sports editor Kent Heitholt, 48, on Halloween night in 2001. Heitholt was found strangled in the newspaper's parking lot.

"Under the facts and circumstances of this case, we conclude that Ferguson did not receive a fair trial,'' Judge Cynthia Martin wrote in a summary of her decision. "His verdict is not worthy of confidence."
The appeals court ordered that Ferguson be released if prosecutors do not file notice of a retrial within 15 days, according to the court document. The prosecution has not indicated whether it will move for a retrial or drop the case. 
"We have no idea at all (about the prosecution's intentions), but it seems rather dubious considering there are no witnesses now,'' Bill Ferguson said. "They've all admitted they committed perjury, and there's no physical evidence, so there's no merit. This case has no merit." 
Ferguson's parents were able to speak to their son Tuesday after the ruling by the appeals court. 
"He was somber, but very, very happy,'' Bill Ferguson said. "He realizes there's another chapter to go, but he was elated, and he expressed that and expressed his happiness toward the great support he's received." 
"We won a major battle,'' Ryan Ferguson said in a statement read by his attorney, Kathleen Zellner, at a news conference Tuesday. "However, the war continues. I need your help now more than ever. (I) look forward to sitting at the Thanksgiving table with my family, if justice permits."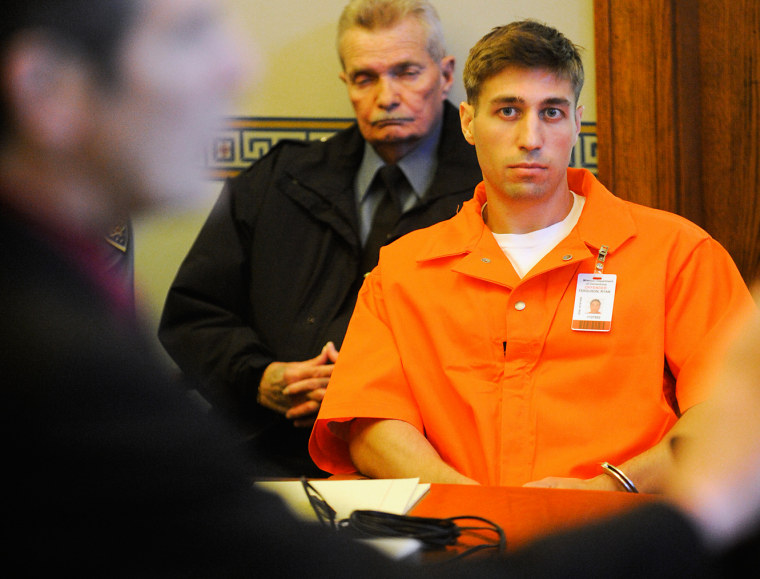 Ferguson's parents remain optimistic that their son will be released, but understand the process may not be over. 
"I think the last nine years have taught us to be cautious,'' Leslie Ferguson, Ryan's mother, told Guthrie. 
Ferguson, who admitted to drinking at a nearby college bar on the night of the crime, was convicted on the strength of the testimony of childhood friend Charles Erickson and night custodian Jerry Trump. However, Erickson and Trump admitted in 2012 to a lower court judge that they lied on the stand during Ferguson's trial and recanted their accounts. 

"I lied and said I remembered things I didn't remember, and said he did stuff that I don't remember him doing or me doing,'' Erickson said in court last year. 
In 2005, Erickson pleaded guilty to second-degree murder and first-degree robbery and testified he had a "dream-like" memory of he and Ferguson committing the crime. Trump testified that he saw Ferguson in the parking lot of the newspaper on the night Heitholt was killed. Fingerprints and strands of hair found at the scene did not match Ferguson or Erickson, and there was no physical evidence tying Ferguson to the crime.
The ruling by the appeals court also means Heitholt's family has to once again deal with the pain of his loss. 
"We feel very badly for the family, and we always have,'' Bill Ferguson said. "We feel like the prosecutor has misled the family all the way through this. They said that they had evidence that they didn't, and they totally misled them. Now we're in the process of trying to find the perpetrators of the crime ourselves."