A group of runners didn't have to say a word to pay tribute to the strength of their city on the two-year anniversary of the Boston Marathon bombing on Wednesday.
They just spelled it out instead.
The runners covered a 4.5-mile Back Bay route that spelled the word "Boston" when charted on GPS, a tradition that started two weeks after the horrific event in 2013.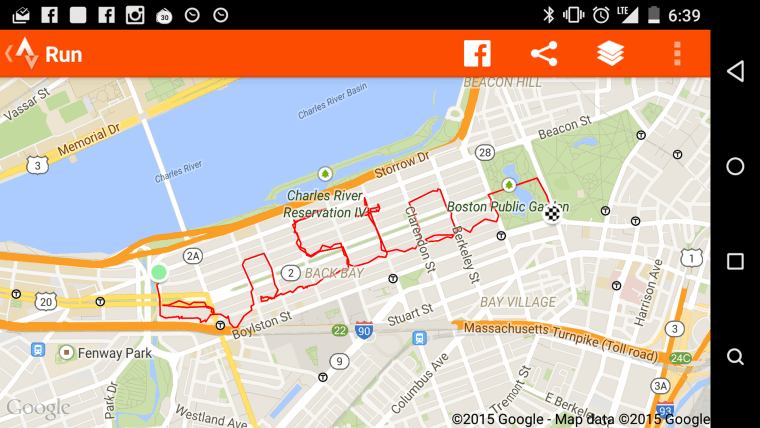 "I was about three miles from the finish line (in 2013) when I got a call from my best friend freaking out (about the bombing), and I instantly went into this crazy panic mode,'' Lisa Barton, president of Boston's Zoom Multisport triathlon team, who arranged the run, told TODAY.com.
"I just come back to that moment all the time. Anticipating those feelings for today gets me upset — it's a weird post-traumatic experience. The whole thing today is to just be with my people and other people who are going through the same thing. It's just so very personal."
On Wednesday, dubbed One Boston Day by Mayor Marty Walsh and Gov. Charlie Baker, Zoom Multisport had nearly 100 runners covering the looping course starting at 5 a.m.
The day saw an outpouring of generosity, from marathon bombing survivors throwing out the first pitch at the Red Sox game at Fenway Park to random acts of kindness captured on social media with the hashtag #OneBostonDay.
For the runners on the "Boston" course, the morning brought a host of emotions.
"There are times when we're running that we remember that day while we're out there and get emotional, but for the most part it's a happy event, supporting each other and the city,'' Zoom Multisport's Greg Soutiea told TODAY.com. "When I hear a siren or a loud bang, I still get reminded of those things and probably always will. It's not something that I'll soon forget, but I just try to focus on all the good things that came afterward."
One Boston Day comes on the heels of Dzhokhar Tsarnaev being convicted last week on all 30 counts related to the 2013 bombing. The 21-year-old faces either life in prison or the death penalty.
"With the trial going on in the last couple months, it's all still pretty raw and in front of us here,'' said Soutiea, who lives in Newton, Mass.
In advance of this year's Boston Marathon on Monday, Wednesday's run was a chance to share those emotions with friends and create a 21st century symbol of resilience by spelling out "Boston" on smart watches and cell phone apps tracking the run.
"I have a feed that has all of my friends doing the run in it, and it's just the map with 'Boston' on it over and over, which is so cool,'' said Barton, who has lived in the city for more than 20 years. "You're running down the street and then making a U-turn, going back, then going right - it's not a normal run, but you're doing it with the knowledge that you're going to have this great proof of it. Everyone just feels so connected to one another."