Hidden hazards inside your home are causing serious injuries to children. TODAY National Investigative Correspondent Jeff Rossen reports.
New numbers out this morning are startling: Every six minutes a child falls down the stars and is rushed to the hospital — nearly 100,000 children a year. Experts say there are three staircase dangers — flaws — that may be in your home right now.
Have an idea for Rossen Reports? Email us by clicking here!
Dr. Gary Smith of the Center for Injury Research and Policy at Nationwide Children's Hospital in Columbus, Ohio, conducted a groundbreaking new study, out this morning, exposing staircase defects. "Parents don't realize this is a lurking danger," he told us. "They don't think it's going to happen to them or their child."
Danger No. 1: The 'top of flight' flaw
According to Tracy Mehan, also of the Center for Injury Research and Policy at Nationwide Children's Hospital, "the first step in many homes is longer than all the remaining steps. So as a parent, you take a step, and your mind is tricked into thinking that all the remaining steps will be the same length ... which is particularly bad when you're carrying a child."
Aren't uneven stairs a building code violation? They are, Mehan agreed, but "unfortunately, many builders are not even aware of the code and it's not enforced."
So how does the top of flight flaw happen? Experts say many staircases are pre-made, and attached to the top of the floor later, creating that longer first step.
Read more investigative journalism from Rossen Reports
Maria Crews had no idea her stairs were uneven. But just weeks ago, she overstepped and fell while carrying her 5-month-old child Ariah, breaking her baby's leg. "As a parent, I was terrified: I didn't want to drop my daughter!" she said. "To know that there's a structure defect in my home that could have contributed to this is extremely scary."
In fact, researchers found, the most serious injuries are to babies being carried downstairs. When that parent falls, the child is three times more likely to be hospitalized. But there are things you can do right now. Talk to a contractor and they can solve the problem for you by adding a new piece of wood to your top step, Tracy Mehan advised.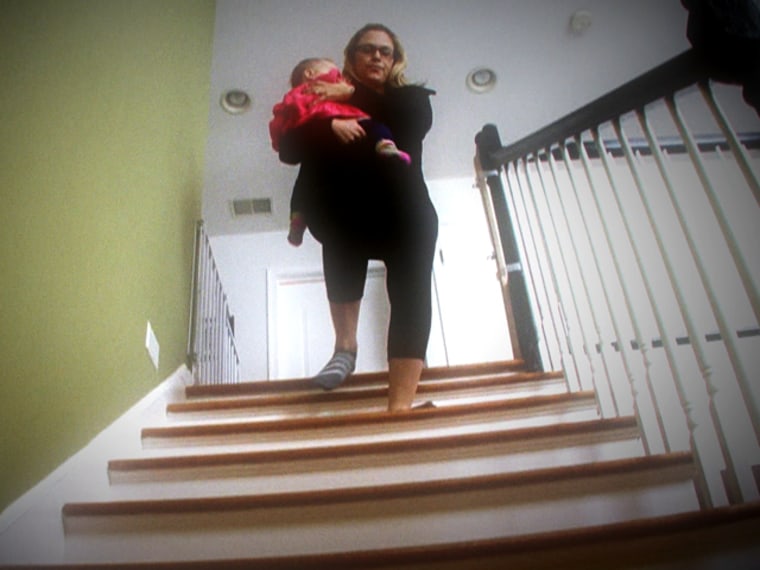 But contractors can get expensive. What should you do in the meantime?
"Just be aware that it's a problem," Mehan told us. "Be extra careful walking down the stairs, take your time, make sure you're not carrying extra items."
Danger No. 2: The 'chunky railing'
Tracy Mehan showed us an example of an unsafe stair railing. "It's so thick, it's hard to get your hand around," she explained. "So if I'm walking down the stairs, if I trip, I can't get my hand around in a power grip to stabilize myself."
Video: Rossen Reports: Is the ice rink making your child sick?
Mehan recommended replacing it with a thinner one that's easier to grip. And if you don't want to replace your current railing, you can install a second one on the opposing wall. Mehan showed us one bought for $25 at a home improvement store.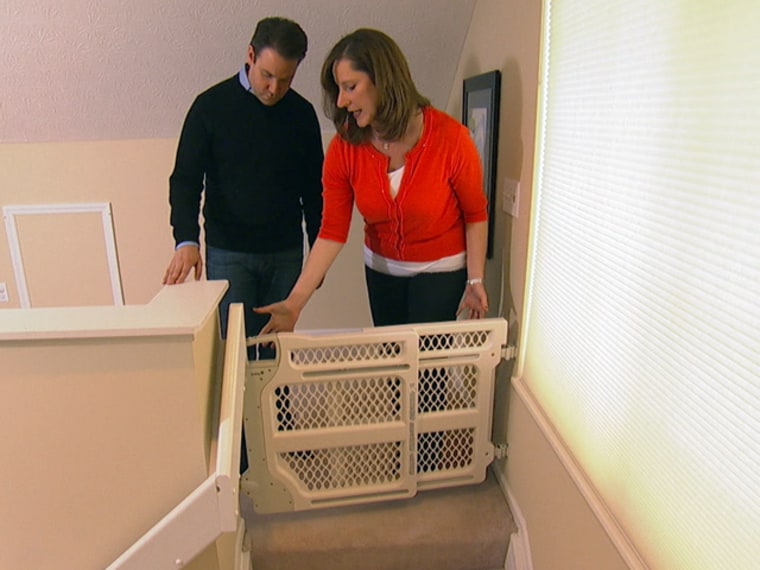 What's the test for a safe railing? "You have the grip where you can bring your hand all the way around, and your fingers go all the way around and can keep you stable," Mehan explained.
Danger No. 3: The 'gate flaw'
A lot of parents will use a pressure-mounted gate at the top of stairs "because it's inexpensive and they think it'll be easier to install," Mehan told us. "The problem is, many homes aren't designed to make it go flush and be tight against the wall ... they think it's enough just to have a barrier even if it's not perfectly tight."
The safer choice? A wall-mounted gate, Mehan says — one that's bolted to the wall. "It's easy to use, and once it's closed, its impossible for a child to push that down." And, she says, install a gate at the bottom of the stairs as well.
Doctors say it's not just parents who need to act, but home builders too. "We collectively can do much more to strengthen building codes, to make parents aware of the problems, and to make sure that homes are safe environments for young children," Dr. Gary Smith said.
So we wondered: Why isn't the industry doing more to fix this? The Stairway Manufacturers' Assocation says it's trying to educate builders, and work with them to fix these flaws.
And though it seems obvious: Keep your stairs well-lit and clear of obstacles like toys, bags and laundry — anything your kids can trip over.
Have an idea for a future edition of Rossen Reports? We want to hear from you! To send us your ideas, click here.