Don't underestimate the power of Ann Romney's cookies. Mitt Romney certainly doesn't.
The New York Times reported that top donors are often hosted at the Romney family's home on Lake Winnipesaukee in New Hampshire and the secret ingredient to successful hosting may not be the stellar views or political talking points, but Ann Romney's homemade cookies. The cookies are often served to the high-flying guests and the results speak for themselves: Mitt Romney has raised more campaign funds than his rival President Barack Obama over the past two months.
Campaigning and comfort food have gone hand in hand with the Romney campaign lately. On his recently-completed "Every Town Counts" bus tour that covered six states, he proved that it isn't just every town that counts — but also what's baking in their ovens and cooking up on their grills.
Mitt and Ann ate a slice of Abraham Lincoln's Cherry Apple pie and then tried their hand at making their own at Sweetie-licious bakery in DeWitt, Mich. According to the Sweetie-licious website, the bakery hoped that the pie would "hopefully aspire [the Romneys] to be selfless dreamers like Abe." In his campaign speech, Romney called Sweetie-licious owner Linda Hundt a "wonderful baker." No word if Hundt feels the same about Romney.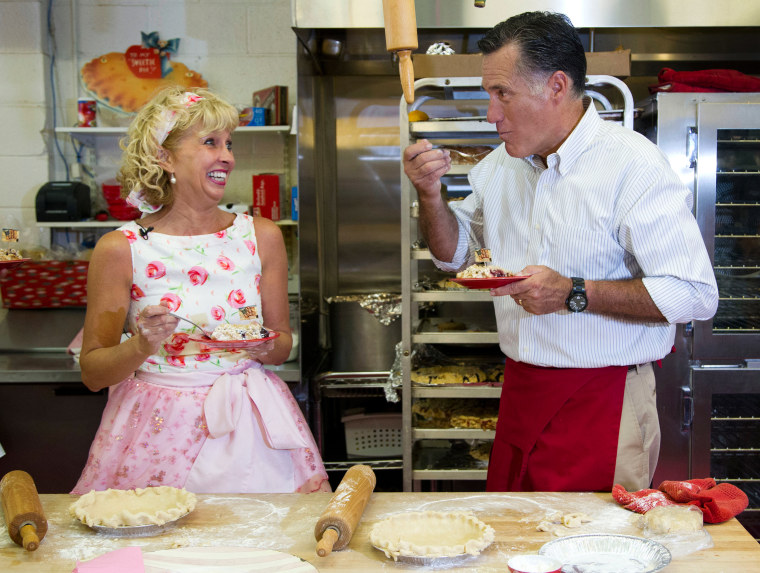 For their first public appearance on the campaign trail together, Mitt Romney and House Speaker John Boehner shared burgers together at K's, a local joint in Boehner's western Ohio district. After a quick stump speech, Romney found Boehner and asked, "Have you already ordered ... is that the idea?" Boehner said he'd take care of the ordering. "As long as I take care of the bill," Romney said, apparently joking, but Boehner ended up treating. The group, which included U.S. Sens. Kelly Ayotte and Rob Portman as well as former Gov. Tim Pawlenty and Ann Romney, ordered six cheeseburgers with everything on the side, three french fries, and drinks.
While in Pennsylvania, Romney stopped by a local Wawa convenience store for a meatball hoagie. He used his experience with the hoagie as a metaphor for government bureaucracy, in the way that competition fuels companies like Wawa to remain relevant to consumers through constant invention. He was referring to the ingenuity of the touch-screen ordering facilities. "You press that little touch-tone keypad, all right, you just touch that, and you know, the sandwich comes up," he said. "Go pay the cashier. There's your sandwich." Just like that.
Romney and his wife also have made sure to include some time for ice cream. Before a rally at Holland State Park in Holland, Mich., the Romneys pulled up to Holland's Captain Sundae ice cream shop for a refreshment. Romney had a "Peanut Butter Shipwreck," which combines vanilla ice cream, hot fudge, peanut butter sauce and peanut butter cups. Ann went the more conservative but no less delicious route, opting for chocolate soft-serve.
Mitt and Ann joined forces again to serve pancakes to the people at a Father's Day event in Brunswick, Ohio. More than a thousand people came out to share in the feast even though the weather was stormy and many had to line up for hours under umbrellas. When the sun peeked through, Romney took the opportunity to remind supporters of the sunshine he will bring to the nation if elected.  "But it looks like the sun is coming out, and I think that's a metaphor for the country," he said. "The sun is coming out, guys! Three and a half years of dark clouds are about to part. It's about to get a little warmer around this country, a little brighter."
TODAY.com contributor Jillian Eugenios could be convinced to run for president if she were promised ice cream and cherry pie at every campaign stop.
More: