Wednesday update: Rokerthon is underway. Click here to watch it live.
In Al Roker's neck of the woods, the forecast is "sleepless."
Al is attempting to set a Guinness World Record for the longest uninterrupted weather broadcast with the 34-hour "Rokerthon," which also aims to raise money for the USO. Watch a live stream of the weathercast on TODAY.com starting at 9:55 p.m. ET Wednesday. Al will be giving weather broadcasts non-stop until 8 a.m. on TODAY on Friday. 
What's he doing to get ready for —and to keep going — all that time with no sleep? 

"I am trying to get as much sleep as possible leading up to this,'' he told TODAY.com. "Then I'm going to go to sleep after the TODAY show Wednesday for about eight to 10 hours. Then during the Rokerthon, I will drink green tea, water, eat a combination of fats and proteins, and work out on an exercycle as much as possible."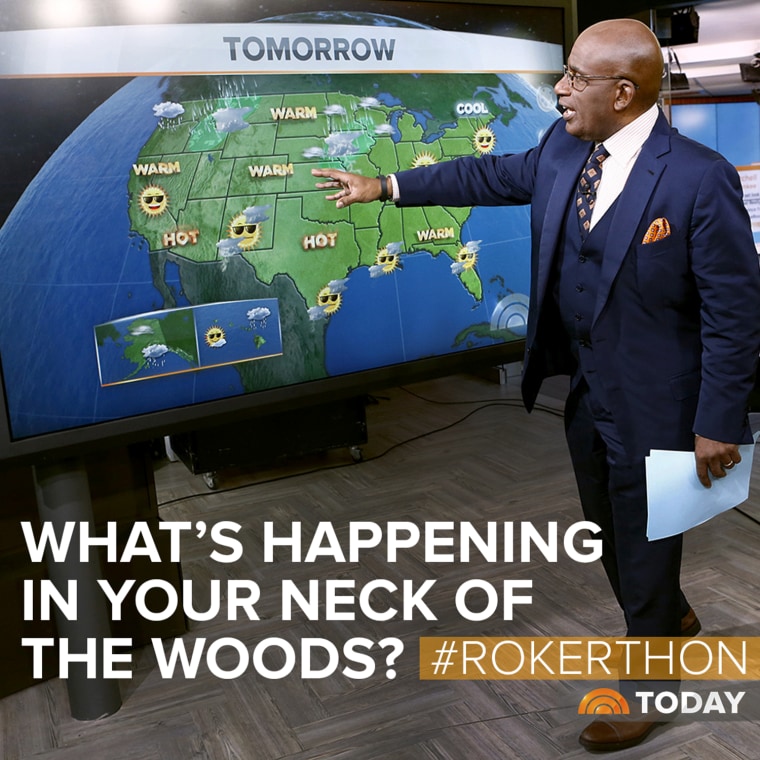 While Al wants to avoid too much caffeine and try to bank some sleep leading up to the attempt, it's really what he does during the all-nighter that will determine his success, says NBC Universal's Dr. Tanya Benenson, who has consulted with Al about the event. 
"For this situation, I recommended avoiding pure carbs —which can be tempting in the middle of the night for a quick energy fix,'' Benenson told TODAY.com. "This will lead to crashes, which really zaps energy. Protein-fat combinations are ideal like nuts, apple and peanut butter, Greek yogurt, cheese, that kind of thing. Al brought up salmon jerky, which is a great idea."
What Al drinks, and how much, will also be crucial. 
"Keeping hydrated is important,'' Benenson said. "Again, avoid sugary drinks, as they will make you crash. Caffeine can be quite useful for obvious reasons, but it is better to have low doses more frequently than a big dose (like a 12-ounce Starbucks) less frequently. Since Al isn't a big caffeine user, I suggested green tea. It has a very low level of caffeine and can help hydrate in the middle of the night. You tend to get cold in the middle of the night, so this will help nurture that as well. Leading up to the final hours and the [Friday] TODAY show, a big ol' cup of coffee or sugar-free energy drink may be necessary." 
By starting late Wednesday night, Al is taking the hard road to the record. 
"Since he is starting at 10 at night, this is going to be harder than starting at his normal start of the day,'' Benenson said. "So by 24 hours, it will be dark outside and I think his body is going to want to sleep at bedtime. If he had started in the morning, powering through the 24 hours and then the additional 10 would have been easier." 
Also, the more he moves around, the better, so the stationary bike in the green room will come in handy. 
"He should get up and walk around when he can,'' Benenson said. "If that means going outside for a shot even in the night, I suggest it. Having a stationary bike or something would help, too. Staying active is key. Getting natural light during the day will also be very important, so I suggest outdoor shots as much as possible." 
Al may also have some company. On TODAY's Take on Tuesday, he invited Willie Geist, Natalie Morales and Tamron Hall to join him for a sleepover on Thursday night, even though he won't actually be sleeping. 
"I can tell you weather bedtime stories,'' he said. 
This post was initially published Tuesday, November 12th. 
Follow TODAY.com writer Scott Stump on Twitter and Google+.