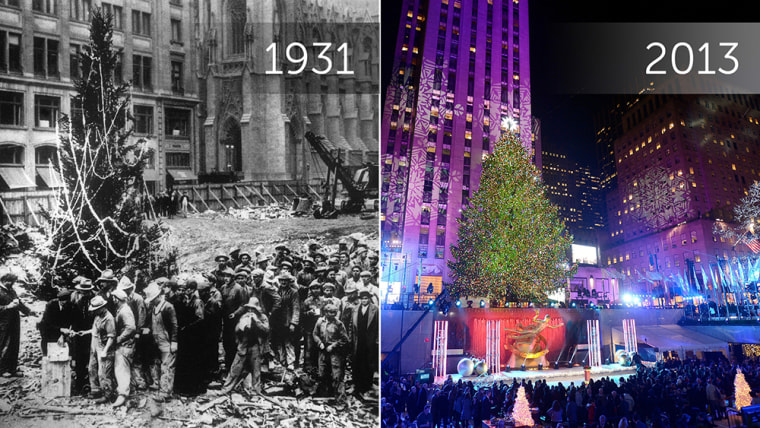 Since the first Christmas tree was unveiled on Rockefeller Plaza in 1931, it's become a symbol of the holiday seen around the world. The celebrated spruce (and beloved tourist attraction) will be coming down in a few days and in its honor, we're taking a look back at its humble beginnings.
This year's tree is a 12-ton Norway spruce that is 76 feet tall, 47 feet in diameter and about 75 years old. The Vargoshe family of Shelton, Conn., enjoyed the tree at their home for more than 20 years before opting to share it with Rockefeller Center.

"I think it's going to be very emotional for all of us," Louise Vargoshe told TODAY's Al Roker last month. "Seeing it lit here at Rockefeller Center and letting the world enjoy it I think is going to make us feel good and give the Christmas spirit to everybody."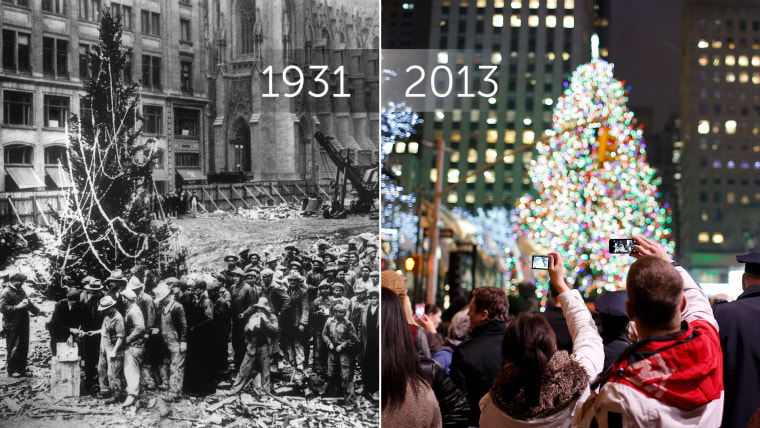 The tree is decked out with 45,000 multi-colored LED lights and topped with a Swarovski star comprised of 25,000 crystals. The 550-pound star measures 9 1/2 feet in diameter.

Rockefeller Center officially started its tree-lighting ceremony in the early 1930s, when a Christmas tree was erected in front of the then-RCA Building and covered with 700 lights, but the tradition began unofficially during the Depression-era construction of Rockefeller Center, according to The Associated Press, when workers decorated a 20-foot balsam fir tree with "strings of cranberries, garlands of paper, and even a few tin cans" on Christmas Eve in 1931.
Since then, Christmas trees in Rockefeller Center have ranged from 50-foot pines to 100-foot Norway spruces.
Spectators can come see the tree this week, and from 5:30 a.m. to 9:00 p.m. on New Year's Eve. The last day to view the tree will be Jan. 7, 2014, after which the tree will be milled into lumber and donated to Habitat for Humanity.